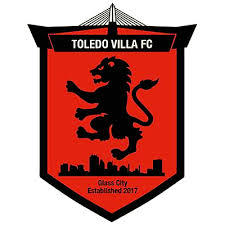 Toledo Villa FC Joins The NPSL Great Lakes Conference
Aaron Swiggum was born and raised in Adrian, Michigan. He starting playing soccer when he was five years old, and continued through high school and college. Today he, along with a few partners, runs the William Vaughn Company, a Certified Public Accounting firm in the Toledo, Ohio area that employs about 100 people.  When not operating his business, Aaron is a regular soccer dad to his young children who are growing up with the sport just like he did.
Last April, Aaron and one of his partners in the CPA firm, Dave Hammack, along with Aaron's friend and a local business executive Brett Stamats, decided they wanted to help grow the game in the Toledo area by investing in a team fans could rally behind.  Rather than start a club from scratch, the group decided to put their money into an existing local club, Toledo Villa FC, which played last season in the United Premier Soccer League. Toledo Villa won the UPSL's Midwest Conference, East Division in the Spring season.
The new ownership has ambitions for Toledo Villa to one day join the professional soccer ranks, and they felt the next step on that journey was to join the NPSL.  The team will play in the Great Lakes Conference against well-established clubs like Detroit City FC, Grand Rapids FC and AFC Ann Arbor.
Midfield Press was able to catch up with Aaron Swiggum and talk about the future of Toledo Villa FC.
Why did you get involved in Toledo Villa FC?  
My partners and I got involved in the club in April of last year.  We saw the growth in soccer in the country and thought maybe we could get in on the ground floor.  We found Toledo Villa FC and came in to help them financially. We took over management of the club.  Based on when we got involved, we didn't have time left to do a lot of marketing last year. On the field, the season was pretty successful, since won our division in the UPSL.  We made the playoffs but unfortunately we lost in the first round.
What drew you to the NPSL?
We saw the NPSL as a well run and well organized league which appealed to us.  There are clubs with a large following in our area. The league structure was appealing with the teams being shareholders in the league.  There is a collegial atmosphere among the owners that was also very appealing.
Will you be keeping a team in the UPSL as well as some NPSL teams do?
We are just going to stick with an NPSL team at this time.
Do you have a venue nailed down where the team will play?
We will return to Lyden Field at St John's Jesuit High School in Toledo, where we played our games last year.
What did attendance look like at your UPSL matches last season?
Due to our lack of time to promote the club last year we had under 300 people per game.  This year we are going to invest in more marketing and have a goal to get to 1000 per game.
Which teams are you looking most forward to facing in the NPSL Great Lakes Conference?  
There are a lot of great teams in the conference and we are looking forward to the challenge. We feel this will be a step up in the level of soccer.  We look forward to seeing how we stack up.
Who are the investors in the team, and what are your backgrounds?
I have invested in Toledo Villa FC along with two close friends of mine. Dave Hammack is a business partner with me at the CPA firm.  The other partner is Brett Stamats, who is a senior executive in the IEM and supply chain space. Like myself, Brett also has children who love the game.
What is the long term vision for the team?  Do you see the short season competition as the right long term fit in Toledo, or do you think you can grow into something like the full season, so called "NPSL Pro"?
The long term vision is to bring professional soccer to Toledo.  In terms of which pro league, we will watch and see how the landscape evolves. We have plenty of work to do in the meantime in Toledo.
What else should the readers of Midfield Press know about your club?
We are looking to build a program in Toledo that is good for the community and helps grow the game here.  We want to put a competitive squad that will put on a good show and hopefully be successful on and off the pitch.