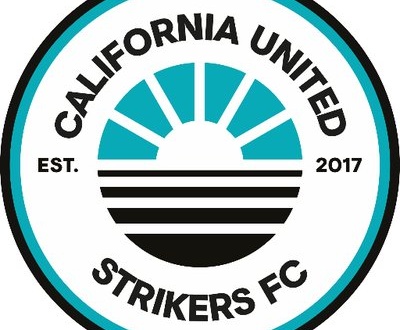 Second Chances are the DNA of California United Strikers FC
In some ways, you could look at the launch of the National Premier Soccer League's Founders Cup in August 2019 as a second chance at a first impression for California United Strikers FC.  The club was announced in 2017 as an expansion team in the Orange County, California market for the North American Soccer League. It came to be known as California United FC soon after, but played its first competitive matches in the United Premier Soccer League that Fall under the name OC Invicta.  They dominated the competition. They were ready to go for the NASL in 2018, but the United States Soccer Federation had other ideas. The NASL was not sanctioned for the 2018 season, leaving Cal United and other clubs in a tough position. Cal United kept operating its second team, now called California United FC II, in the UPSL while finding a solution for its first team.
The theme of second chances is built into the very heart of the club.  California United Strikers FC use the hashtag "Home of the Dream" because they aspire to be the go-to club for talented players in California who have slipped through the cracks of the US soccer system.  This is a personal passion for the folks running the club.
California United Strikers FC president Michael Collins played the game professionally for 17 years, earning 2 caps for the United States Men's National Team in 1988. Collins' prime took place in the time between end of the classic North American Soccer League and the start of Major League Soccer.  Players of Collins era lacked the opportunity of those that came immediately before and of those who followed. This is part of what motivates him in making California United Strikers FC a home for players in the Golden State who have slipped through the cracks of the current US soccer system. This passion is shared by VP of Soccer Operations Ron Gilmore, who started his career in soccer management as a marketing intern with the original San Jose Earthquakes back in 1979 and stayed with the club until 1985.  The collapse of the classic NASL led Gilmore to take his career outside of professional soccer until 2014, when he had the opportunity to help build Arizona United SC, which later become Phoenix Rising. For Collins and Gilmore, the idea of second chances is very personal.
Southern California is one of the most talent rich regions in the country.  The way US soccer currently processes talent is centered around the needs of teams in Major League Soccer.  With just two MLS teams in SoCal for most of the last decade, there are some extremely talented players who just get missed. The best example is of course Christian Ramirez, the talented striker whose consistent goal scoring record earned his way up from the lower divisions into MLS.  Collins and Gilmore believe that there are many more players like Ramirez who never get found because the mainstream system is not designed to serve them.
I was able to speak with Michael Collins and Ron Gilmore about California United Strikers FC, and how the project has evolved since it was first announced a year and a half ago.
1. Most of the folks who follow lower division US soccer are aware of the California United name at this point, but for those that aren't, can you share the background and vision for the club?
MC: Originally our vision and plan was to be in the NASL, so we could own our players and own our brand.  The biggest thing we wanted to do – and still want to do – is to take players who are around ages of 18-25, who have fallen through the cracks, sign them for a year, or year and a half, and help them move on to a bigger platform – Europe, LigaMX, etc.  We loved the NASL's model – they aspired to play at a very high level – but unfortunately that did not end up being an option.
We love Southern California.  We think there is a tremendous amount of talent in the area.  We feel there is so much talent in California that you could make a great national team just out of the players here.
RG: Our hashtag is home of the dream.  We exist to give guys a second chance. Guys who made a MLS or USL roster, but for whatever reason did not get their shot.  We have had seven players move onto to professional teams this year. We have players who moved on to Mexico, Sweden, Armenia and most recently four guys who signed with the Las Vegas Lights for next season.  
2. It has been quite a journey to get to your announcement about joining the NPSL Founders Cup.  you started with the NASL and we all know how that went through no fault of Cal United's. You looked closely at USL D3, NISA and NPSL.  What drove you to settle on "NPSL Pro"?
MC: It came down to as much of a timing issue as anything else.  This journey started in 2016. Our plans have been on hold for almost 3 years since the project started.  So it was important for us to move forward. We originally thought we would start play in 2017 in the NASL.  So it was important for us to get started. With "NPSL Pro", the amount of teams that they have committed to play in 2019 on the West Coast ended up being important.
RG: We are big fans of the UPSL, and we are going to keep our second team there.  However, our first team is winning games in UPSL by large margins, so we need a higher level challenge for the first team players.
3. Another part of your journey has been finding a long term stadium solution for the club.  Cal United originally intended to play out of Titan Stadium in Fullerton in NASL, and then you switched gears to the Silverlakes Sports Complex in Norco.  Your recent press releases indicated you were looking at Great Park in Irvine. What is your criteria for a suitable home for Cal United?
RG: We are in discussions with Great Park in Irvine.  That is our perfect world scenario home. Fullerton was a good fit when we were looking at Division II.  We think a smaller stadium would be a better fit at this level. We want to find a venue that has a grass facility, without football lines.
MC: We are in agreement that pro games should be played on grass.
RG: We also have a partnership with Strikers FC, which is Irvine based.
4. Right, one of the obvious changes in the press release was the name – California United Strikers FC.  We talked about how this is due to a partnership with the youth club Irvine Strikers. What value do you hope that Cal United gains through this partnership, and what value do you hope to deliver for the Irvine Strikers?
MC: Don Ebert and I were teammates back in the late 1980s.  We have known each other for a long time. I have been talking to Don about this pro team project for 4-5 years.  He was always going to be involved. We were looking at him as a Sporting Director because of his eye for talent and his development of youth players who have moved on to the highest levels.  He's had 72 players move on to the professional ranks: Christian Ramirez, Chad Marshall, Bobby Wood, Benny Feilhaber, Dave Romney, you could go on and on. We would like to do what Don has done in the Southern California area, find guy who are 18-25 who but have fallen through the cracks and give them another opportunity.
RG: College is not for everyone.  We plan to use our UPSL team as our second team and our "NPSL Pro" team as our first team, and have them train together.  That will be about 40 players total. All of them will have the opportunity to play on the first team and fight for their place.
MC: The value we are adding to Strikers FC is that now there is a professional arm to their organization.  
5. California United has been pretty dominant on the pitch since joining the UPSL.  How many players do you think will make the jump to the Founders Cup with you? I understand you recently had some players sign with the Las Vegas Lights.
MC: I think 80% of the current roster is at a level that can compete in "NPSL Pro."  I want to give a lot of credit to the UPSL and Lionel Lopez and Yan Skwara. UPSL has been a wonderful development platform for us, as well as a few other teams that have helped players get pro contracts in other countries.  The UPSL is kind of like the lower leagues of Brazil where you can find real talent. We are sort of like the Boston Red Sox or the New York Yankees of UPSL, where we have attracted the top guys in the league. We have a couple of former USL players training with us right now, actually, due to the reputation UPSL has built and our role in it.
6. There are a lot of California-based clubs in the NPSL Pro Founders Cup: Oakland Roots, Cal FC and ASC San Diego.  Plus, FC Arizona isn't all that far away from SoCal. You already run up against Cal FC in UPSL, but this seems like it could be the start of some good rivalries, doesn't it?
RG:  We are already off to a good start with Cal FC. We have to replay the US Open Cup game with Cal FC that got suspended last week, from the start.  Noah Gins is doing a phenomenal job with Albion group there. I think additional teams that will join the Founders Cup. There is a lot of interest even just here in California.
7. With Eric Wynalda out of the mix since he is now coaching the Las Vegas Lights in USL, do you have a head coach selected for the first team?
MC: We are still looking at it.  Don Ebert will be the Sporting Director, and we will work with him to find the right head coach.
8. Is there anything else you would like to share with Midfield Press readers that we did not already cover?
MC: We really take pride in the success that we have moved seven guys on to pro clubs.  We continue to reload with talent. Myself, Ron and Don are all products of a time where players did not have the opportunities we are trying to create with California United.  We really want to make a difference for players who are in the same spot where were, and help them get a better opportunity be it in Mexico or what have you. One of the measures of our success is how many players we can help get to a higher level.
Bonus Question: Who do you think will be California United Strikers FC's toughest opponent in the Founders Cup?
RG: We have played Reno 1868 and LA Galaxy II (twice) behind closed doors and we were competitive in all 3 games.  I won't share the scores because they were played behind closed doors, but it is fair to say we were very competitive.  We think we will have a great team.
MC: I would go with ASC San Diego. Albion has a great foundation to build from.
RG: I'll say Cal FC.