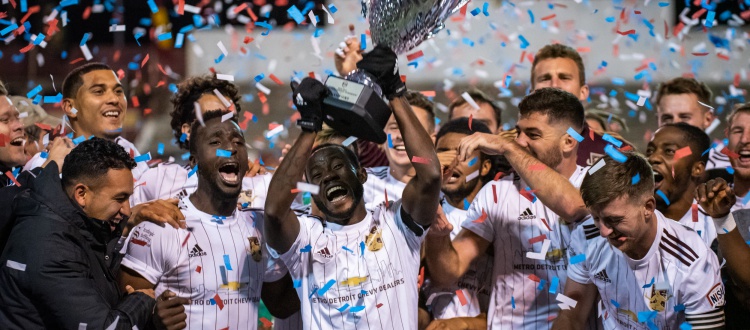 NISA Made The Best Of A Difficult 2020
(Photo via Detroit City FC)
I don't need to tell you that 2020 did not go as planned for anyone.  It has been one of the worst years in recent human history by many metrics. If, in search of a bit of escapism from it all, we zoom in on the area of lower league US pro soccer, we can find a bright spot in how the National Independent Soccer Association navigated its way through the year.
In January, I wrote an article laying out some things I thought NISA should focus on in 2020 to advance its standing as a professional soccer league and become more attractive to fans and investors. Obviously, all plans of that nature went into the trash bin when the COVID-19 pandemic hit. NISA did a good job adapting to the times, relative to most other sports leagues in the USA.
The road there was certainly not without some deeply disappointing moments. Like every other pro sports league playing games at the same time, NISA's Spring Season had to be cut short. Unique to NISA, the Oakland Roots left, Stumptown Athletic went into what appears to be an extended hiatus, the out-of-shape looking owner of New Amsterdam FC took the field as a goalkeeper and worst of all the New York Cosmos' last match in the NISA Independent Cup was marred by racial abuse against an FC Baltimore Christos player. 
Despite these serious lows, the highs for NISA helped advance the league forward as a more viable option for potential investors and a more attractive league to watch for fans than when 2020 started. Brand new expansion team New Amsterdam FC took the field by the Fall Season, joined by fellow NISA debutants and potential marquee club, the Cosmos. The league announced US soccer's first two men's pro clubs with African-American primary owners in the Maryland Bobcats and New Jersey Teamsters. The disappointment of the Oakland Roots leaving for USL was quickly washed away in an uncharacteristically brilliant PR move from NISA in announcing the sensational return of league co-founder Peter Wilt as the head of a Chicago expansion group only days after the Oakland news broke. This was followed weeks later by an impressive-looking expansion group in Rochester, NY led by former Rochester Rhinos GM Mark Washo.  That NISA has more such announcements in the near-term pipeline is even more promising, with rumors abound of as many as 6 applications for expansion teams landing in NISA's inbox before the deadline to apply for the Fall 2021 season.
Most importantly on the positive side of the ledger, NISA followed the lead of the NWSL and fielded an incredibly entertaining single-location tournament that went off without any COVID positive results. The tournament was broadcast by BeIN Sports in a way that fans could access for free online and set the stage for a potential future revenue-generating relationship with BeIN. Seven out of the eight teams in the tournament were fairly evenly matched on the field which made each game entertaining. Even New Amsterdam, the eighth team, was fun to watch due to the underdog factor. 
Further, NISA introduced some very interesting long term concepts with the Independent Cup, the affiliations with regional adult amateur leagues and the announcement of NISA Nation as its own apparent alternative to NPSL, USL League Two and UPSL.  While it remains to be seen how NISA Nation will turn out, the Independent Cup provided an interesting preseason competition showcasing some potential future NISA teams, and the affiliations with regional leagues brings some historic clubs that have won competitions such as the US Open Cup and the USASA's Steinbrecher Cup into the extended NISA family. The combination of NISA Nation and the regional partnerships appears to lay the groundwork for a larger open system that would fit NISA's original premise.
The NISA front office, led by commissioner John Prutch, and the league's clubs deserve credit for making the most out of a difficult year and for building a foundation for long term growth during an uncertain time. Lower division pro soccer in the US is an unforgiving business in normal times, and there are always going to be ups and downs.  As 2020 mercilessly wraps up, it is fair to say that NISA had more ups than downs and made serious progress in a turbulent year. While there is plenty of work to do, what NISA accomplished in 2020 is really more than could have been hoped for given the circumstances.