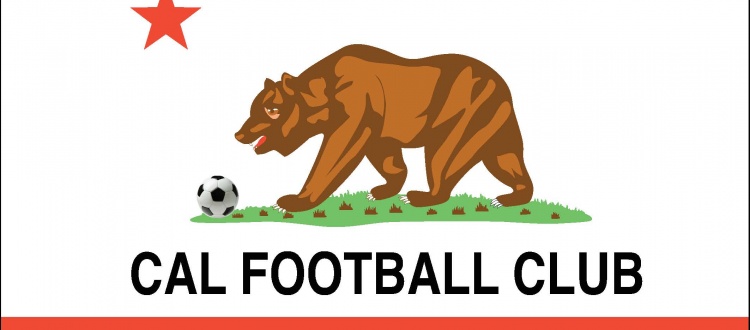 Cal FC Reborn, Reloaded and Ready For The Next Level
Since the advent of Major League Soccer, few adult amateur soccer clubs have flown as close to the sun in the US Open Cup as Cal FC did in 2012.  Their Cup run captured the imagination of soccer fans across the country and drew attention to the level of talent that existed outside of the professional ranks, untapped by a system that was doing a poor job of scouting outside of the traditional NCAA path to the pros.

US soccer legend Eric Wynalda was the head coach and face of Cal FC. His high profile and subsequent role as Technical Director of the North American Soccer League's Atlanta Silverbacks helped many of the 2012 Cal FC players make the leap to pro soccer. While Wynalda was the face of the operation, there were others working alongside him that made Cal FC tick.  Keith Costigan, a former USL and League of Ireland player, best known for his work as a commentator on national soccer broadcasts, played an essential role in finding the hidden gems in the greater Los Angeles area who had slipped through the cracks. Michael Friedman, a Thousand Oaks, California real estate and mortgage entrepreneur who grew up with Wynalda, funded the operation as team owner. Nick Webster played a key role running the team's training sessions.

Together, they built a team that plowed through local Southern California competitions, and in the process qualified for the 2012 Open Cup.  Their first major scalp in the Cup was the PDL champion Kitsap Pumas. They followed this up by knocking the USL Pro Wilmington Hammerheads out of the competition.  Then they sent shockwaves through the American soccer landscape by taking down the MLS Portland Timbers. The magic finally ran out against the eventual Cup runners up Seattle Sounders, but Cal FC had left a mark that people still talk about over six years later.

In the aftermath, the club received inquiries from both national adult amateur and professional leagues about joining their ranks, but the opportunities did not make sense financially at the time for Cal FC. Wynalda moved on to the Silverbacks along with a number of the key players.  The next year, Cal FC was edged in the US Open Cup qualifying by fellow SoCal adult amateur powerhouse, Doxa Italia. Cal FC qualified for the Open Cup again in 2014 and 2015, but lost in qualifying to the L.A. Wolves in 2016. In 2016, Friedman decided to put Cal FC on hiatus for a while to focus on growing his business.

In December of last year, Friedman reached out to Costigan about getting Cal FC back up and running. Costigan agreed to be the head coach of Cal FC. Cal FC joined the United Premier Soccer League, a national league which operates at a very competitive level of play in the Southern California area.  Costigan worked his magic again assembling a strong squad, and Cal FC rolled through the UPSL SoCal North division at a pace only matched by former NASL expansion hopeful California United II in SoCal South.

In addition to somewhat similar branding and history with Wynalda, the two Southern California clubs share a lot of common values around giving opportunities to talented local players who have fallen through the cracks.  Both clubs take pride in helping their players get have a platform to gain attention and then move on to higher level opportunities. Cal FC and Cal United recently met in a US Open Cup qualifying match, which ended 2-2, when the lights went out at California Lutheran University's stadium in the 88th minute.  There will be a replay of the match in February, but the table is set for a friendly rivalry in the NPSL Founders Cup starting next August.

Cal FC will very likely call Thousand Oaks, CA home in the Founders Cup.  The city, which gained national attention weeks ago due to the tragic shooting and wildfires that ravaged it, is right on the border of Los Angeles County and Ventura County.  Long drive times from the area to the Los Angeles MLS stadiums minimize the chance of many locals regular making the trip to see the Galaxy or LAFC, giving Cal FC the opportunity to position itself as the local professional team in a large area that is a youth soccer hotbed.  

I was able to catch up with Keith Costigan and Michael Friedman to talk about the re-launch of Cal FC in UPSL and their ambitions for the club as they move into a new era in the Founders Cup and beyond.

1. Cal FC is best known for the 2012 US Open Cup run in which the team beat the Portland Timbers of MLS.  What has Cal FC been up to since that time?
KC: When Eric Wynalda took over, we were colleagues at Fox, so I helped him get some of the players for that group in 2012 including  Richie Menjivar and Beto Navarro. So I've always had an affinity for the team. After that great Cup run they went on hiatus for a little while and we have come back recently.  Michael Friedman contacted me last year about whether I would be interested in helping him bring the team back in UPSL. UPSL gives a platform for players to showcase themselves at a high level.  Things have moved pretty quickly. Playing in the Founders Cup within 18 months of coming back is pushing fast but we are excited at the challenge.
2. Can you share a little bit about the investors behind the team?
KC: Michael Friedman was the guy who put everything together in 2012 and he is still the main investor behind the team.  Obviously when you go to a higher level the investment becomes a little bit bigger. Michael is the type of owner who you can tell what you need as a coach, and he will make sure you get it.  He cares about his players as people, not just the top players. He looks at is a family, if you played at Cal FC, you are part of the family. He was the architect from day one, so no changes there really.  Michael is the real glue to Cal FC.
MF:  In 2009, I created Cal FC.  I was just coming out of working at a youth club.  I had been a junior college coach. Some of my players had come back into town after continuing at four year colleges, so we decided to get a team together.  I have known Eric Wynalda since I was 10 years old and he was able to bring in some former MLS players and other quality players. In 2012, we were running strong so we entered a Region IV tournament in Ontario, CA. Our coach Nick Webster was a huge part of the 2012 run.  He ran the training. We had the best team in the area at the time. We ended up losing to PSA Elite and got second place in the tournament. We didn't realize this at the time, but second place got us an entry into the Open Cup. In the Cup, we went up to Kitsap and won there 3-1; we won at Wilmington 4-0; and then we faced the Portland Timbers and beat them 1-0.  Our run ended with the Seattle Sounders. In 2013, we lost in the qualifiers for the Open Cup. That happened to be the year that Eric was in Atlanta. We qualified for the Open Cup in 2014 and 2015.
In 2016, I put the team on ice.  In December 2017 I reached out to Keith, who was instrumental in bringing in the players in 2012 and was going originally to be the coach then until he couldn't due to his Fox Soccer commitment.  So in 2017, I went back to Keith. We reached an agreement in April 2018. By August we had our team together, and we went through the UPSL Fall Season undefeated in our division and went through our first two open cup matches with relative ease until we ran into California United II.   
We ended up playing Cal United in the Open Cup and it was 2-2 after the 88th minute until the lights went out and now we have to replay it.  We won't be able to replay until February, which effects the roster of both teams. Eight of our guys have been offered contracts by pro teams. Cal United has gone through something similar on their end.  Cal FC has placed over 50 players into professional ranks over the years and we have never received any compensation for training and development of these players. In the future, as part of Founders Cup and the full season league that follows on, we hope to be able to get compensation.  We have 12 guys left and I believe Cal United has 16 so it is going to look a lot different in February than it did a few weeks ago. We will add more players, but we want to see what is available on the market before making commitments right away.
In terms of my business background outside of Cal FC, I have had my real estate license since I was 18, and have been doing mortgages since I was 20 years old.  My family is involved with real estate, so I bought my first house at 18 years old and got a really early start in the business. I hid behind a phone for my first six years of my career so that people couldn't see how young I was and would just focused on how strong my knowledge of the real estate space was. The years following 2006 were a little rough due to the housing crisis.  In 2009, I was able to capture 600 properties over a couple years to sell for banks. We were doing loan modifications and remediation working through government entities. I started working for hedge funds in 2011, who were looking for distressed properties to buy. I am still doing real estate and mortgages through my business, as well as property management.
The club formally incorporated Cal FC this year, so that we can raise additional equity from investors similar to what Chattanooga has done to add to the investor pool beyond myself.
3. What drew you guys to joining the NPSL Founders Cup over some of the other league options that exist?
KC: The names in the Founders Cup are hard to match:  New York Cosmos, Miami FC, etc. There are tremendous teams with incredible history already involved.  Michael wanted to challenge Cal FC against teams of that level. He felt it was the best platform business wise and a great showcase for our players.  I think if you look at the vision for NPSL going forward it is an exciting choice, a bold choice, and we are excited to be a part of it.
4. What has the opportunity provided by UPSL meant to Cal FC?  
KC: UPSL is great.  Yan [Skwara] and those guys have put together a highly competitive league.  In Southern California, in particular, you have top level teams and players.  Cal United, L.A. Wolves among others. We are proud to have performed very well against teams of that caliber.  Anyone who asks me about UPSL will get a ringing endorsement from me.
5. You recently played your Open Cup qualifying match versus Cal United at Cal Lutheran in Thousand Oaks.  Is that where you plan to have the team play its matches in the NPSL Founders Cup?
MF: That is where we plan to play.  We have a lot of connections at Cal Lutheran and experience working with them.   It is a good facility. The L.A. Rams of the NFL train there.
6. Can you provide some context for these readers about Thousand Oaks and why it is a unique part of the LA market?
KC: For me it is a big soccer community.  It is a long trek from anyone in Thousand Oaks to make it down to support LA Galaxy and LAFC.  There is a great tradition here in youth soccer. We plan to tap into that and give them a product they can be proud of as representative of the region.  There is a bit of a void in terms of high level soccer due to the distance from the MLS teams.
MF: It is its own market. The traffic in L.A. makes it prohibitive time wise to get to the MLS teams from here.  Right now we average around 400 people a game and we anticipate based on feedback from the community that we can get 1500-2000 per game for the Founders Cup.
7. Right now the Cal FC logo is basically just the flag of California.  Are you guys planning to go through a branding makeover before hitting the big time in the Founders Cup?
MF: I think we are going to keep it.  We like it because it is not the traditional logo, but we may alter it a little bit.  There are no thoughts to rebranding entirely. I like to tell the players that any stadium they go to in California is our home stadium, because the flag is hanging up there.
8. Keith, as a former player in the lower leagues of US Soccer with the Harrisburg City Islanders and Portland Timbers when they were in USL, what role do you think a competition such as the Founders Cup can play and what types of opportunities can it afford players that might not be available in MLS or even USL?
KC: There are players that tend to get overlooked for one reason or another.  It is not as simple as the best players play in the top leagues. They might not have found a team that showcases their talents or the style of play might not suit them and they get missed.  We are going to give a platform for players who have the talent to showcase their ability and commitment to being the best they can be. Our goal is to make you play at the highest level possible.  If another team at a higher level comes in for one of our players, we are going to help them make that move. We see them as a lifelong member of the Cal FC family.
9. Will we see any of the Cal FC stars of the past return to the team?
MF: Richard Menjivar has signed on.  We would also like to sign Danny Barrera because he is from the community.  
10. Keith, we have seen a number of players come over from the League of Ireland and make a big impact in the US lower leagues.  Richie Ryan, Eamon Zayed, James Chambers, Colin Falvey being among the standouts in NASL/USL. How do you rate the League of Ireland against USL as a standard of play?
KC: That's a tough one.  I was on the edge of the squad when I played in the League of Ireland.  It is a very physical league. Stephen Kenny has done an amazing job at Dundalk, which is an incredible team.  Beyond that, the lower league teams here play a little more technically. Dundalk in the last few years would be the best team in either league but overall USL has more teams trying to play a more technical game which is more pleasing to the eye.  League of Ireland is very direct and physical which doesn't showcase the technical ability of the players as well.
11. What else should readers of Midfield Press know about Cal FC?
KC: We want to create a player-first club.  We want to put the interests of the player first.  We want to give them the opportunity to showcase their talent.  We want those that have the ambition and desire to play above this level.  This is not the top level you want to play at, and if you do well we will help you open doors at the next level.  We are excited to represent a region that does not have a team relevantly close right now.