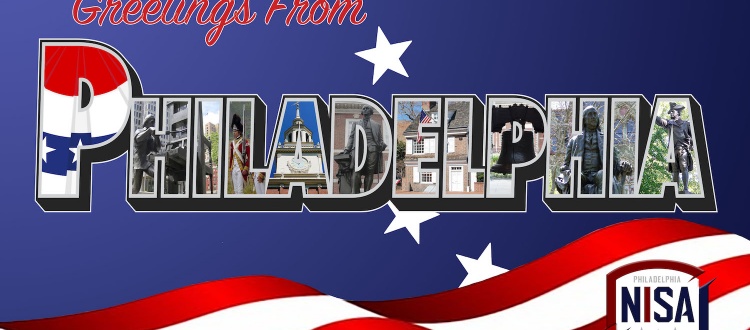 Philadelphia Set To Join NISA For 2019-20 Season
Official Information via NISA
Philadelphia became the third market confirmed for the National Independent Soccer Association's inaugural season today.  The City of Brotherly Love joins New England, announced earlier this week, and San Diego, revealed in our interview with Bob Watkins last month.  Only Philadelphia and New England have been formally announced.
"They have been playing soccer since 1881 in Philadelphia, and we are excited to be adding to that proud tradition," said NISA President Bob Watkins. "It is a city where they founded the first professional soccer leagues in America back in 1894 and three years later brought home their first national championship. NISA will be honored to add to that legacy when our inaugural season begins in 2019."
"Philadelphia is a city that has been in love with our sport for generations, and NISA is proud to call it home," added Watkins.
NISA will play a Fall to Spring schedule with a winter break, giving the Philadelphia NISA club a different calendar than the Philadelphia Union MLS team based in Chester, PA.
As with New England, the club's home venue, ownership and team name will be announced in the coming weeks.
Rumors and Speculation
The Philadelphia NISA group is expected to include the Philadelphia Fury, owned by Matt Driver.  The Fury's highest profile moment in recent years was when they drew 1-1 with La Liga side SD Eibar in a May 2016 friendly.
Driver has a long history in American soccer. He previously founded the Philadelphia Independence in Women's Professional Soccer, served as an assistant coach with the New England Revolution in MLS, and served as Technical Director and Chief Operating Officer for the South Jersey Barons of USL.  Prior to that he played professionally in Scotland. In recent years, Driver has been running the American Soccer League (ASL) and operating two teams in the league, the Fury and the Philadelphia Atoms, both of which share names with classic NASL teams.  He holds an A coaching license from USSF, per the ASL website.
The Fury currently play at Rowan University in Glassboro, New Jersey, which is about a 30 minute drive outside of center city Philadelphia on the New Jersey side of the Delaware River.  Richard Wackar Stadium at Rowan University seats 5,000 according to the University website, was renovated in 2009 and would appear to exceed the standards required for Division III sanctioning.  It is not yet clear whether the NISA team would play in the same venue at Rowan, or seek a venue in the city or in the affluent Main Line suburbs.  
It is understood that Matt Driver has secured the backing of investors who meet the Pro League Standards to help the Fury make this move.  It is something Driver has been working on for some time, as we discussed in our 2016 interview with him, when he was hoping to find investors to help the Fury join the North American Soccer League at the time.  Driver and representatives from the ASL also participated in the Summit For American Soccer in Chattanooga in March, along with representatives for still to be announced, but expected NISA groups in Atlanta and Dallas.
Update: The NISA twitter account confirmed the team will play in the city of Philadelphia in a reply to a question on that subject.