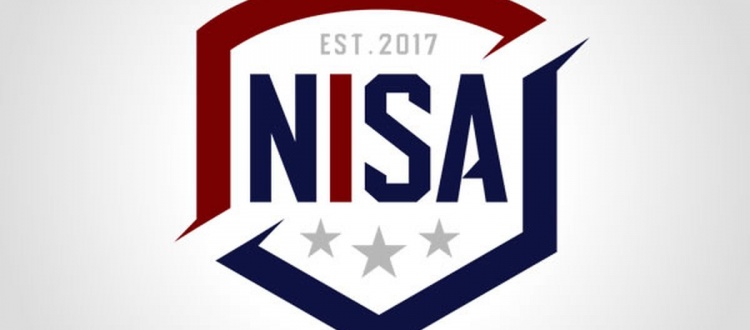 New England Set To Join NISA For 2019 Season
Official Information via NISA
The first official member of National Independent Soccer Association (NISA) is a club based in Connecticut, and will represent New England per a league press release.  The club's specific location, ownership and team name will be officially unveiled in the coming weeks.
"Next year, our clubs will excite fans across the nation," said NISA President Bob Watkins. "We have been eager to start rolling out our clubs for some time. Connecticut is one of the best soccer markets in America and we are excited to bring our community-based approach to the game to the Constitution State."
"Connecticut's soccer community has a long history of supporting the game, particularly our U.S. national teams," added Watkins. "The supporter culture in Connecticut is outstanding so we are looking forward to contributing to that."
NISA also gave some flavor as to how the league will contrast with MLS and USL in their press release, writing, "In a move away from the closed franchise model that is prevalent in American soccer, NISA operates an open system with no entry fees. This allows its member clubs to run comparatively higher payrolls rather than paying entry fees that frequently run in the millions. More importantly, it allows clubs to invest in the long- term assets such as stadiums, infrastructure, and youth academies that will make NISA clubs a stable part of their communities."
NISA intends to kick off in Fall 2019, playing a Fall to Spring calendar with a winter break, pending sanctioning from the United States Soccer Federation as a Division III league.
Rumors and Speculation
Stephen Thompson, former chairman of Dundee United in Scotland
While official details are sparse, we here at Midfield Press follow the lower league soccer rumor mill fairly closely.  Midfield Press understands this is the Connecticut group that we reported were among the initial NISA applicants in August 2017, making it one among a small number of initial applicants likely to make it to the league's intended kickoff next year. Speculation about the Connecticut-based NISA team centers around Stephen Thompson, the former chairman of Dundee United.  In February, an article in the Daily Mail suggested that Thompson was looking to establish a sister club to Dundee United in the United States.  Given Thompson is no longer chairman of Dundee United, it seems unlikely that there would be a link between the two clubs as speculated by the British paper.  However, Thompson's involvement with a Connecticut-based NISA team is a persistent rumor, regardless of whether there ends up being any connection to the Scottish club.
As for the location of the team, rumors have centered around the area of the Foxwoods and Mohegan Sun casinos.  The Mohegan Sun casino is home to the Connecticut Sun of the WNBA, who drew over 6600 per match in 2017 and 2018.  The casinos also host numerous concerts and indoor sporting events. The speculation is that a new outdoor venue may be in the mix in this area.  Other possible alternative locations would be in nearby Norwich, where the minor league baseball venue Thomas J. Dodd Stadium currently houses the Connecticut Tigers of the short season New York-Penn League. Other than the highly speculated area near the casinos, New Haven is another city that could support a pro team, and is home to 2017 NPSL champs Elm City Express. Hartford seems an unlikely location given the dual presence of Hartford Athletic, who join USL next year and Hartford City FC, a very successful NPSL club. Fairfield County (Stamford, Bridgeport, etc) also seems unlikely given the New England branding as that is closer to the New York metro area.
We will have to wait for the official team unveiling in a few weeks to learn whether these long running New England NISA club rumors are on target.   As far as NISA's sanctioning status, we may hear something sooner rather than later as the USSF Board is scheduled to meet on October 18, 2018 UPDATE: Per our subsequent interview with NISA president Bob Watkins, the league expects its sanctioning application to be considered at the December USSF board meeting. USSF prioritized the leagues starting in the Spring in its review process, and site visits to NISA clubs begin next week.