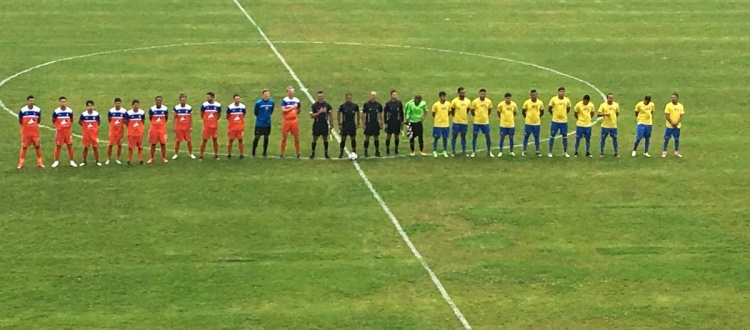 NorCal Game of the Week July 7th: El Farolito Edge Past Sol in the 1st Round of the NPSL Playoffs
The 2018 Golden Gate Conference Champions, El Farolito, made hard work of their first round playoff match up vs. former NPSL Champions, Sonoma County Sol, but managed to edge out a 2-0 victory at home to reach the 2nd round of the NPSL West Region playoffs.
Sonoma County Sol dominated long stretches of the match in the first half and late in the second half following a red card to El Farolito's Cristian Alvarez.
The four-time NPSL National Finalist, Sonoma County Sol, started the game on the front foot with the first shot on target from Brenton Frame inside of 5 minutes.
The best chance for the Sol early on was set up by last week's NPSL Player of he Week Omar Nuno, as he played Brenton Frame in on goal, but his 15th minute 1v1 effort was well saved by Farolito keeper Mario Martinez.
El Farolito was quick to respond however, as they forced Sol keeper Sean Taufer into a huge double save in the 17th minute of the match. First he saved the shot from Farolito's Edson Cardona and then the follow up by Julian Ayala to keep the match scoreless.
Sonoma had a few more half chances over the next 10 minutes of play as Nico Span fired just wide right before another chance fell to Omar Nuno, who just missed his effort wide of the post following a scramble in the box.
Then in the 30th minute of play, one of the major talking points from the game occurred. Nuno was away on the break and was pulled back by a Farolito defender. He chose to stay up and forced Farolito keeper Martinez into another expert save. Had he gone down it might have been a penalty.
The first goal of the game then came against the run of play as Farolito's Arnold Rivas struck a beautiful long range effort in off the cross bar to give the home side the lead headed into the half.
The second half was a cagey affair with more pushing and shoving going on than soccer before a hard challenge led to the red card to Alvarez of Farolito in the 61st minute of play.
Following the red card, Farolito was able to control the match more than they had at any other point in the match. They defended deep and looked to counter to get the second goal to end the match.
The second goal eventually came deep into stoppage time when Camilo Campo finished from just outside the 6 yard box into the far post to give his side the 2-0 lead and the right to host another playoff game in round 2.