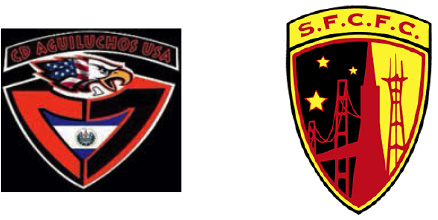 Open Cup Preview 2018: CD Aguiluchos USA vs. SF City FC
For the second time in three seasons, San Francisco City FC and CD Aguiluchos USA will square off in the first round of the Lamar Hunt US Open Cup. The only difference is that this time, the Aguiluchos will be the home side at Raimondi Park in Oakland, a venue located just on the east side of the Bay Bridge. Unlike in 2016 when SF City played host at the Beach Chalet on the far west side of San Francisco, Raimondi Park in West Oakland may not be the nicest field in the world, but to many Oakland natives it is in some ways the spiritual home of Oakland Soccer. Over the years, it has become one of the best home field advantages in the NPSL for the Aguiluchos.
The matchup in 2016 finished with the Aguiluchos advancing to play Sacramento Republic after a dominating 2nd half performance that resulted in a win by a score of 3-0. "They have some solid players," said SF City Head Coach Paddy Coyne. "The last match was a game of young hungry players vs. the wise heads of Aguiluchos. They slowed things down a lot and played to their strengths."
The 2015 and 2016 NPSL Golden Boot winner, Simon Rawnsley, opened up the scoring in the 64th minute for Aguiluchos in 2016. "They [SF City] have a good fan base which provides a fun atmosphere," said Simon Rawnsley about what he remembers from that match. Miguel Santiago would go on to score an epic free kick goal in the 88th minute to seal the match before Matheus Freire added a 3rd goal in the dying moments of the game. "It was a game of two halves. They put up a real fight at first and worried us, but in the second half our experience took over and we scored 3 quality goals," commented Rawnsley. "I remember mine. [It] was a nice finish, good service from wide and an improvised finish on the volley."
The Aguiluchos currently sit top of the NPSL Golden Gate Conference after beating Napa Valley this past weekend by a score of 4-1. As well, they are coming off a 2017 campaign that saw them win the conference before going on to win the West Region championship to reach the National Semifinals for the second time in three seasons. "We are a close knit group, we're multi cultural, good squad consistency, and no big egos in the dressing room," said Rawnsley, who took over the captain's armband this season. "[I'm] honor[ed] to get the captain's armband this season knowing the experienced players we have in the squad. Just hope to lead by example and keep winning."
The Aguiluchos currently hold a record of 1-2 in US Open Cup play. Their first venture in the Open Cup came in 2014 when the Club fell on the road to long time PDL power Ventura County Fusion in the first round by a score of 2-1. The other loss came in the second round in 2016. After beating SF City, they traveled to USL side Sacramento Republic and were beaten by a wide margin of 5-0 that night. "If we beat SF City, then yes I would definitely relish another shot at Sacramento. It would be nice to upset them," said Rawnsley. "I still have nightmares about an early 1v1 that the Sacramento goal keeper saved against me. Might have been a different game had that gone in."
The Aguiluchos feature a host of players to watch other than the captain and 2-time Golden Boot Winner. The list includes Ricardo Guerra, a first team All-NPSL selection at the right back position last season, as well as Ocatvio Guzman, former USL standout at Sacramento Republic and St. Louis. The final player to keep an eye on is the Afghanistan international midfielder, Ahmad Hatifie, who holds more than 30 national team caps to his name.
Their opponents, SF City, are in the PDL and are one of only a few supporter-owned teams in the country, as the members hold 51% equity in the Club. The Club has been around since 2001, but really began to take off when they reached the Open Cup proper in 2015. This was shortly after becoming a member-owned club, and they drew in nearly 1,500 to Kezar Stadium that night. They played in one of just two preliminary round play-in games against one of the top underdog stories from 2012, Cal FC. SF City would fall by a score of 2-1 from two Cal FC goals from the penalty spot that night. "The staff, players and supporters are super pumped. We had success in the past and last season has left us hungry to progress this season," remarked Coach Coyne. "I grew up a massive fan of the FA Cup in the UK, and the dream of competing against the big clubs. I see this in the same way: anyone's game on the day."
SF City began their PDL season this past weekend with a 2-0 loss on the road vs. Fresno FC's U23 team. City qualified for this year's Open Cup Tournament following finishing 3rd in the 9 team PDL Southwest Conference in 2017 with 25 points, just outside of a league playoff spot. "We had a decent pre season with scrimmages against some Bay Area schools. Training has been strong. Guys are looking forward to the Open Cup and League play too," said Coach Coyne.
SF City features many of the top local prospects from in and around the San Francisco Bay Area, as well as some savvy veterans who have been around the Club for awhile. When talking about SF City, the first player to watch is captain and defensive midfielder from Sheffield England, Danny Kirkland. Danny has arguably the best left foot for set pieces in the entire PDL, having even once scored direct from a corner kick in league play. Another one of the veterans is Barry McCabe, the SF City supporters group cult hero, who can often be found playing the right back position. Another player to watch is Kamron Crow, who has been with SF City since their move to the PDL. He is often deployed as a left back, but has made the move to play the #6 role over the past year. Also notable are Taylor Bailey, the SF Community College keeper and a top young shot stopper, and Gerardo Mendoza, St Mary's University attacker who is dangerous when taking players on 1v1.
Just like two years ago, the winner will earned a trip to face USL side, Sacramento Republic, in the 2nd round. "We played Sac this year and last year in pre season and tied them once and lost to them once. I would be excited to play them with a fully prepared squad and see what type of an upset we could pull off," said Coach Coyne about playing Sacramento Republic. While Aguiluchos Captain Simon Rawnsley also said, "Hopefully we can go on a fairy tale run and upset some of the big boys. It's always exciting to hear about a small team going on a run and becoming giant killers."
Match ups like this are really what the Open Cup is all about.