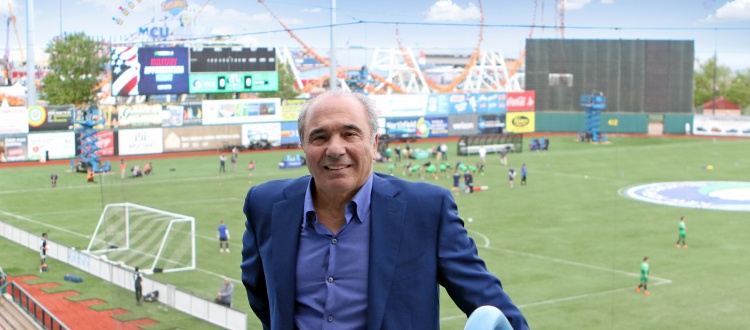 Rocco's Godfather Offer Could Galvanize Independent Pro Soccer In The USA
New York Cosmos owner Rocco Commisso will invest $500M into American pro soccer, on one condition – that the United States Soccer Federation needs to give his planned league a fair shot to succeed.  Commisso is seeking a 10 year runway for the league to gain traction, and is at the same time looking for the USSF to detach itself from conflicts of interest with MLS and regulate its constituents as a "truly independent, unbiased governing body."
Among the asks are that:
The USSF at a minimum implement a strong conflicts of interest policy governing management of its relationship with MLS and SUM

Each pro league have equal representation and voting power on the USSF board

Rules be put in place to address poaching of teams among pro leagues

Board Members with ties to pro leagues be precluded from participating in the selection of independent directors and Athlete's Council members

There be an open and competitive bidding process for the licensing of USMNT and USWNT rights currently held by SUM
The multi-billionaire would invest $250M of his own money into the project, which would start next season with a 10 team league per his comments to Sports Illustrated.  Another $250M would come from other investors, possibly including Miami FC's Riccardo Silva and Jacksonville Armada's Robert Palmer.  Sean Flynn, Miami FC's CEO, expressed support for the idea on Twitter, "Love this… make the necessary changes and then investment/media $$$ will follow, allowing our domestic leagues to raise to prominent levels both on and off the pitch."
I had the opportunity speak with New York Cosmos COO Erik Stover about the plans.  He told me that the 9 other teams that would play in the league are not determined as of yet, however there is an ongoing dialogue with Miami FC and the Jacksonville Armada about a solution for next year.  While Puerto Rico FC is also an outside possibility, it is one highly contingent on the bigger-than-soccer issue of the island's recovery. While it is early days, Stover mentioned that a starting point for speculation would be the list of clubs that were planned to join NASL if the injunction had come through.  That list included FC Arizona, Boca Raton FC, Boston City FC, Detroit City FC, Hartford City FC and Virginia Beach City FC. I connected with a few of these groups and while they had not yet been engaged directly on the subject, the ones I conversed with expressed interest and enthusiasm.
How might the $500M might be spent?  Again while it is early, Stover shared that the vision is not a one-size fits all approach.  "Every market is unique. We are better off looking at each market individually. It depends on the market and the partner.  Some locations, like ours, the biggest problem is stadium. Other places it will be that they need cash to back the owners because the owners don't have that.  In other places there may be a player investment that make sense. Not a Raul type, but perhaps a hometown hero kind of guy who might make sense for that market.  It could be TV and streaming infrastructure. There are so many things that are required for success in an initiative like this. There could be a mixed use development that some of that money goes to,  a training facility, a destination where kids can play the game in an area where there isn't enough green space, etc."
Could the Cosmos reopen their process to look for a stadium site for the team as part of this project? Commisso has shared on various podcasts that the Cosmos pursued plans for a stadium of their own last year before the sanctioning issues took hold.  Stover indicated that the Cosmos own stadium plans may not necessarily be included in the $500M. While there is nothing new to share on the Cosmos Stadium front, Stover said of last year's search, "We spent a fair amount of time in 2017 looking at sites and a modular solution.  We also did a lot of research on making MCU Park more soccer friendly."
The goal would be to expand beyond 10 teams and institute regional divisions to foster rivalries and reduce travel expenses. Beyond the broad strokes painted by Stover, several clubs make sense for this league. Chattanooga FC have been clear about their desire to go pro for 2019 and have an owner in Tim Kelly who meets the Pro League Standards requirements.  The New Orleans Jesters also have an owner that meets the PLS, and had a letter of intent to join the NASL in 2019.
While this plan is separate from Peter Wilt's National Independent Soccer Association (NISA) project, Stover expressed an openness by the Cosmos to look at NISA and its investor groups as potential partners in this project.  Among the groups that have been in talks with NISA include a potential Connecticut-based team, Miami United FC, Atlanta First Team SC, ASC San Diego, a St. Louis-based group led by former MLS bidders Foundry Sports and several unidentified West Coast groups.  
Wilt echoed the same spirit of cooperation and desire to collaborate when I reached out to him, saying, "It is important for all teams and groups interested in an open system and promotion and relegation – including NISA – to put aside self-interests and work together for a solution."
Rocco Commisso made clear his intent to see promotion and relegation one day as part of this plan in his letter to Cordeiro: "Although long overdue, the introduction of promotion/relegation would also finally carry out former USSF President Werner Fricker's recommendation for the U.S. in 1988, when we won the bid for the 1994 World Cup. Combined with a move towards the primacy of independent clubs over centralized closed leagues, promotion/relegation would unleash huge investments, develop a world class home-grown player pool and significantly enhance fan and media interest in American professional soccer. In my opinion, it is the critical path forward that would finally lead our country to a place among the premier soccer nations in the world—a place which, under the leadership of a MLS-dominated Federation, U.S. men soccer has not reached to date and may never reach in the future."
Following March's summit of independent soccer clubs in Chattanooga, the NPSL released a statement to its members saying that they were investigating a full season option to go along with their normal short season league for 2019.  The plans, which are still taking shape according to sources, could see as many as 28 teams playing in one of four regions for a season that runs from March or April to October. A regionalized full season NPSL with some pro teams is a step towards a league that could promote teams to a national pro league.  While we would be getting way ahead of ourselves to speculate specifically on how everything might connect together, you can see the general outline of how pieces may fit in place to create a system with low barriers to entry at the bottom, which allows teams to progress upwards based on sporting merit.  
If the USSF and Commisso can find common ground on sufficient protections from interference for the investors willing to make this $500M cash infusion into the grassroots of professional soccer in the United States, the governing body could find itself not only well on the way to settling the various legal actions open against it, but in a place where several years from now it has a viable open system model attracting significant investment into the game side by side with the current closed system led by MLS. If you look at the interests of the US soccer separately from those of MLS owners, there is nothing for US soccer to lose in Commisso's proposal. An $500M investment into bringing pro soccer to communities around the country, along with the possibility of ending the lawsuits, seems like an offer too good to refuse.