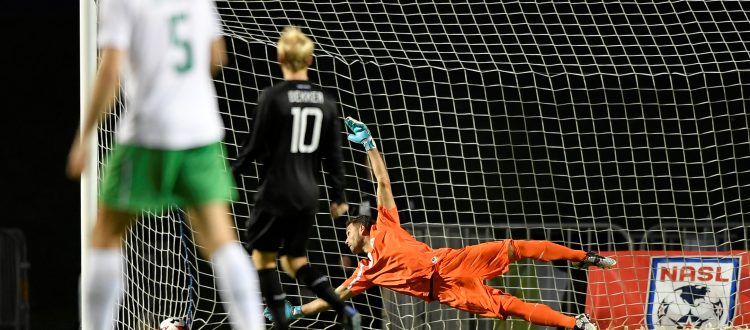 Where Does the San Francisco Deltas' Demise Leave the Future of Startup Soccer?
When San Francisco Deltas clinched the NASL Championship last November, it had all the makings of one of the great soccer stories of 2017. The Deltas had beaten the New York Cosmos 2-0 in the Playoff Final in their first season as a professional club – only to announce they would cease operations a few weeks later.
For those close to lower division soccer, this came as little surprise. Despite a very impressive showing on the pitch over the season, warning signs were there as early as July when Deltas' Chief Executive Brian Helmick published a Medium post, spelling it out clearly: the Deltas "can't survive if we don't increase attendance". The death knell was made public for the first time in October in court during the NASL v USSF hearing in Brooklyn, just 12 days before the NASL Final.
It seems fair to question what went wrong for the Deltas off the field – especially when the on-field product was so strong. Manager Marc dos Santos had put together an entertaining side, that would finish 2nd in the Spring Season, 2nd in the Fall, 2nd in the Combined – but most importantly win the Final. Yet San Francisco locals had not responded to Helmick's plea for bigger crowds. The Deltas finished the regular season with the lowest average attendance in the NASL, with figures of just over 2,500.
As has been well-publicized, Helmick's background is in the startup scene of Silicon Valley and the premise of the Deltas was to bring that acumen to the soccer world. In his own words, he's "a startup guy, a technology guy". He put together an investment group that included senior figures from Apple, Google and Twitter and attracted coverage in business publications to get the ball rolling in the Bay Area. He also secured the use of the historic Kezar Stadium, the former home of the 49ers, situated in Golden Gate Park – a popular SF spot and home to a botanical garden, a stretch of coastline and a herd of bison.
The stage was set for an exciting debut season for the Deltas in the NASL. However, it wasn't long before Helmick was talking up the technological innovations he would bring to the club – in essence, he was running before he could walk. A dynamic ticketing scheme would be implemented, where prices would change depending on demand. While certainly an intriguing idea, it wasn't necessarily something that would draw in new faces in the first place. Similarly, Helmick went big on an "Augmented Reality Jumbotron" – in theory a neat concept to counter Kezar's lack of TV replay screens but also something that detracts from soccer's best traits: its simplicity and social elements.
Ticket prices themselves also seem to have been misjudged by the club. While corner bleacher tickets could be purchased for $19, seats elsewhere in the ground ranged from $34 to $124 – prices which were not exactly welcoming to new soccer fans. As a point of comparison, the Cosmos also faced the challenge of moving to a different stadium and were competing with the busy NYC sports market but sold the majority of their tickets between $15 and $30, with regular half-price promotions. They finished the season with average gates of nearly 5,000 – almost double that of the Deltas.
The NASL Final (the final game the Deltas would play, as it proved) showed what lower prices could achieve, albeit for a big occasion. Charging a flat fee of $5, the Deltas packed a near-capacity crowd of 9,691 into Kezar to see them lift the Championship trophy. It was all too little, too late.
To Helmick's credit, he always stayed true to one of the key principles of the club and the startup scene in general: transparency. His mid-season blog post gave an honest picture of the club's future, that things couldn't carry on as they were, irrespective of NASL's wider problems. He also deserves credit for publishing those blogs in three languages (English, Spanish and Portuguese). Indeed, outreach to Latino communities is still something many MLS clubs struggle to get right. It's also worth noting that in keeping with their theme of transparency, the Deltas reported actual turnstile numbers as opposed to tickets distributed. Unfortunately this only fed into the narrative of low attendances.
Other acts of benevolence, such as buying a residential building to help house Deltas' players, offer food for thought for wealthy owners involved in the US's lower leagues where players may struggle to afford high-cost city living and it would be great to see USL owners take on some projects of this nature. On matchdays, VIP catering was provided by local, female-owned organization La Cocina with the idea that they might find an investor among the group and part of a drive to be active within the Bay Area community.  
Dennis Crowley, the Foursquare founder and pioneer of startup soccer, has also been a big believer in transparency. His thorough writings on the fortunes of Kingston Stockade, have documented the club's launch from scratch and also encourage others to learn from his methods. Crowley's 'manifesto' laid out a set of achievable goals for Stockade to work towards and ironically, it was another club in San Francisco that Crowley took inspiration from in growing his ideas – San Francisco City FC, who have been a presence in the city since 2001.
SF City offer a different blueprint for what startup soccer can accomplish. In 2014, they adopted a model of supporter-ownership, where members make up 51% and the 49% is backed up by an investment group who also help run the club's operations. Club President Jacques Pelham explained the logic of this model for a city like San Francisco stating, "This is the startup capital of the US, if not the world; let's approach this like a startup and look at those teams for inspiration, as a model, and go from there".
What works for a fourth division amateur setup, either in Kingston's NPSL or SF City's PDL, isn't necessarily the model that a new second division professional club in a city the size of San Francisco can emulate. Yet these examples do highlight the importance of throwing caution to the wind, forming clubs with realistic ambitions and growing a fanbase organically, especially where a startup model is concerned.
While Helmick is certainly a soccer fan and grew up watching Millonarios in his native Colombia, he probably showed some naivety in not surrounding himself with more experience soccer business people. A blend of entrepreneurs and soccer-types may have been a better for recognizing potential. For example, the Deltas never secured a jersey sponsor and this was surely a missed opportunity in a league where Honda, Fly Emirates and Turkish Airlines were more than happy to contribute.
Ultimately, it appears the Helmick group took on a much higher risk with the Deltas and overall seem to have opted for the Silicon Valley mantra of "Fail Fast" when things started to go awry. This concept instructs that to fail can be a good thing, an opportunity to learn from mistakes and avoid wasted investment.
In soccer business, there must be opportunities to learn – especially in the independent soccer market, where owners are afforded a much more hands-on approach. However, this cannot mean pulling the plug entirely on the club's operations. Looking at the numbers, it's clear that not enough San Franciscans knew about the Deltas' presence in the city and more worryingly, those who did were not being persuaded to return. Those are the difficult questions that needed answering.
Without taking anything away from Crowley's achievements these past two seasons, he went for low-hanging fruit and came out with more. There's something to be said here for setting realistic goals and building from the bottom up. The Deltas can be seen as startup soccer's Icarus moment; for future initiatives to succeed, they must not fly too close to the sun.