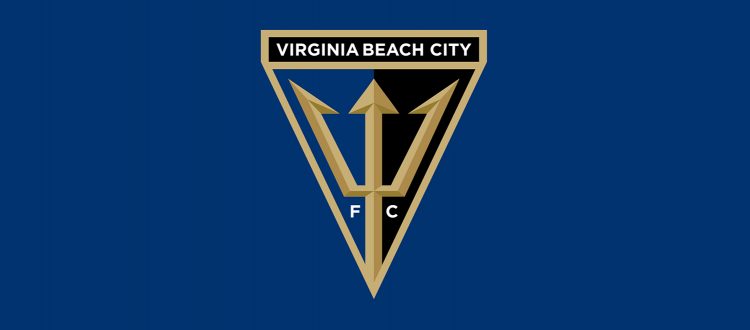 Virginia Beach City FC Growing Soccer From The Grassroots To Professional Soccer In Hampton Roads, VA
The Hampton Roads region of Southern Virginia has a soccer history going back two decades.  The Hampton Roads Hurricanes were founded in 1994 to compete in the USISL, a precursor league to the USL.  The Hurricanes changed their name to the Mariners after the first season.  In 1999, the Mariners started playing the newly built Virginia Beach Sportsplex, a 6000-seat soccer-specific venue.  In 2003, they changed their name to the Virginia Beach Mariners, and they competed in the USL First Division in 2005 and 2006, before folding after that last season. The Virginia Beach Submariners, a PDL team spun out of the Mariners, and continued on the tradition under several different names until folding in 2013.
Virginia Beach City FC filled the hole left in the market, joining NPSL in 2014, with the goal of organically growing a club that could be sustainable long-term.  As the Mariners did with their name, VB City FC's crest taps into the town's identity as the "Neptune City," most notably celebrated in a 34-foot cast bronze statue of the Roman God Neptune that can be found at the boardwalk, overlooking Neptune's Park.  The club chose navy blue and gold the fact that Virginia Beach is home to one of the United States' biggest naval bases.
"A few of our goals are to provide high level soccer entertainment for fans and families; develop a full player development pyramid from youth to professional ranks to help advance soccer in the United States; and become an iconic sports brand in Hampton Roads that the community is excited to get behind," says Steven Wagoner, owner of Virginia Beach City FC.
Youth development has been one of Virginia Beach City's core foundations.  "Providing the full player development pyramid in Hampton Roads from the youth to professional ranks is a project we put have put a lot of time and resources into. We believe it is part of our responsibility to help grow the game in the community. We have programs for kids ages 4 – 18 at the beginner, advanced and elite levels. All programs are coached by professional coaches with US Soccer Certified Licenses," says Wagoner.
"We launched our Full Year youth academy in June, 2016. Within just a year's time we had over 450 players attend tryouts and successfully put together 24 Full Year Academy teams. Our U15 Boys had a great run this year and made it to the 'Final Four' of the Virginia State Cup. We are very proud of our players and staff."
"We also have summer, winter and recreational programs that give kids the opportunity to play soccer on a year round basis. In addition, we recently signed a multiyear agreement with two lighted Turf Fields that were built in 2015. This is a costly move for our organization but we believe it is the right thing to for our players, staff and to help grow the game in Hampton Roads. All of our training and academy matches are played at the turf facility."
With a strong foundation at the youth level, Wagoner is looking to drive the Virginia Beach City FC first team to new heights after an undefeated regular season NPSL campaign in 2017. "We are exploring options to expand from a 4 month season to an 8 to 10 month season. Our current league platform allows clubs the opportunity to operate as an amateur or professional soccer team. We simply need more games over a longer period of time."
The Virginia Beach Sportsplex can support the club's next level of growth.  "There's not a bad seat in the house," says Wagoner.  "Our crowds consist of families looking for a fun and affordable sporting environment as well as soccer enthusiast who are members of Neptune's Armada, our official supporters club. Members of Neptune's Armada also support the American Outlaws of Virginia Beach as well as local soccer academies. They are true soccer fans and we are very appreciative of their support.  We are hoping to average 2,500 to 3,000 fans per match this year. That's our goal."
While the club examines its options to play in a full season league, it considers the NPSL an important part of its future. The NPSL has been growing fast, and Virginia Beach City's Mid-Atlantic Conference is adding three new clubs this year, FC Baltimore, Northern Virginia United and Charlottesville Alliance.  As a leader in the league organization Wagoner sees community involvement as one of the key ingredients driving the most successful operations in the league.  "It's important for entrepreneurs to develop a vision and get their community behind it. They need to involve the community and give them some ownership of the process. If you can do that, grow organically and make sure to balance your budget I think we will continue to see new clubs have successful launches."
"Imagine if your whole community can get as excited as you are to help build the project. That's where you start to find success stories like Kingston Stockade, Chattanooga FC, and Detroit City FC. I'm biased but I think Virginia Beach City FC fits in that category as well."
"I hope Virginia Beach City FC can help inspire other people to build clubs in their communities.  I'm happy to help answer questions. Feel free to contact me on twitter @StevenWagoner or Linkedin."
Virginia Beach City FC will return as reigning regular season champions to the NPSL's Mid-Atlantic Conference this season.
You can find Virginia Beach City FC on Twitter at @vbcityfc and on the Web at www.vbcityfc.com