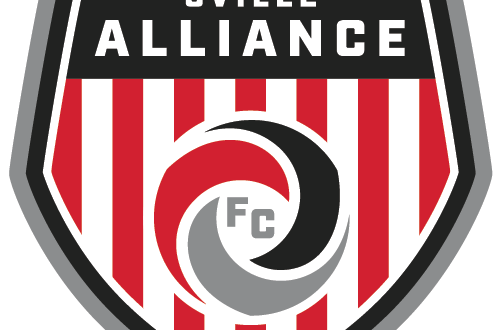 Welcome to NPSL: Charlottesville Alliance FC
There are pickup teams, there are local rec teams, and there are pub teams in soccer.  Now in Charlottesville, Virginia, there is a restaurant team turned 501c3, joining the NPSL as the Charlottesville Alliance FC.  After making an impressive 2016 US Open Cup run against the Richmond Kickers, Cville FC has rebranded from Aromas Cafe FC (named after their primary sponsors), and taken their game to the next level.   Our editor Jason Bruzzichesi was able to sit down with David Deaton of the newly christened team, and talk a little bit more about their club.
1.  Tell us a little bit about the ownership group that you have in Charlottesville.  What are their backgrounds?
The management group is one of the key strengths of our team, Charlottesville Alliance FC.  Each of us brings a diverse set of experiences as local professionals, business owners, or ex-collegiate and professional soccer playing backgrounds.  These experiences mean we have proven skills in key management areas of Strategy, IT, Legal, Operations and more.  Equally important, we are all soccer enthusiasts with varied levels of play or international exposure.  We know what the game can bring to a community and have the management experience to run a professional organization to ensure that this happens.  A well-run program is also important to deliver a quality experience for players.  We are a 501(3)c, so it should be underscored that the management group are all volunteers, fueled by the passion of what it means to create a community asset.  Following is a link to the team's bios as posted on our website:  https://cvillealliancefc.org/club

2.  There are several other soccer organizations in your area, including Monticello United, SOCA, WestCity and now Cville Alliance FC.  What involvement does your organization have planned for these other groups, such as scrimmages, friendlies, clinics or tryouts?
Yes, and many more!  Soccer in Charlottesville is massive, and reportedly the highest concentration of youth soccer players in the state (per capita) with nearly 20% of kids under 18 involved in the sport.  Many of us are involved in the organizations listed and others.  With such strong involvement, we hope to bring that all together to fulfill our mission to build a community asset.  We often use the hashtag motto of #unitedbysoccer and that applies for both the camaraderie developed on the pitch, but also in our relationships we build with organizations, businesses, and community leaders.
There are lots of opportunities to do this. Ideas for friendlies with various adult teams, creating a community shield tournament, and hosting clinics have all been discussed.   Our immediate focus for year one will be to ensure we create a strong foundation so that these future programs will be successful.  We do plan to host tryouts in the Spring closer to the season start.

3. Where are you planning on playing your matches this season?
Charlottesville High School will be our home venue.  The pitch is the nicest venue in the area both in the size of the pitch and the venue amenities.  Importantly it boasts a seating capacity well over 2000.
4.  Do you have a coach in mind already, or is the search for one still in the works?  If you do, what is their philosophy?
We have a short list of names but are also still seeking input.  Our team values are community, diversity, and fun.  Therefore it would be important that the coach's philosophy embraces those values too.  We want a coach that cultivates a style of play that allows players to express themselves creatively and be extremely professional in the approach to training.  And have fun.

5.  What are the long term ambitions of the club?  How do you feel your team fits in the overall soccer landscape both locally and nationally?
We are not shy to say that one of our aims is establish Charlottesville as a "soccer city", nationally.  In fact, that is a conversation we hope to start on social media with our fans.  We want to know what that takes (infrastructure, community, business support, fans, etc)?  And we want to play a role in making that happen for Charlottesville.  We know that having a strong team captures fan support and we are blessed to have many strong universities in the 1-2 hour radius to pull from to add to our strong base of local players.  With a solid team and community outreach, we can engage fans and start the process of building a soccer city.  And along the way pick up some trophies. 

6.  One of the greatest challenges smaller clubs face is the relationship with their local parks and recreation department.  How would you describe your relationship with yours?
Working with local parks and recreation is very important to us.  And we have already met with them and members of the county Board of Supervisors to discuss how we can support infrastructure development for multi-sport fields.  We hope to continue our strong start working them.  Surprised to hear it is struggle for other clubs.  We have been enthusiastically welcomed and we hope to provide as much support as we can in return.
7.What inspired your group to join NPSL and how did it fit your vision for local soccer?
Our story really begins in 2015.  While we are a new team, we already have a long history.  We entered the Neptunes Soccer Classic tournament, the largest 11-aside tournament in the Virginia, MD, and Washington DC area.  We won and realized that we could do more.  We also realized that the strength of our team was based on the diversity of the team.  Our players hail from many different part of world including Croatia, Iran, Kenya, Mexico, Germany and more.  From this experience, we immediately entered into the Lamar Hunt US Open Cup.  Our team had very successful run beating multiple amateur teams and then ultimately losing to the USL Division 2 Richmond Kickers.  However, being part of an excellent team wasn't the full story for us.  We are a soccer team with a social conscience.  We purchased soccer goals for in-need communities, mentored youth, played charity games, conducted free clinics, and even played soccer with incarcerated youths inside the local detention center.  The NPSL team provides a larger platform for more community outreach.  And that truly is the inspiration.

8. Where can people find your organization on social media?
Instagram:  @cvillealliancefc
Facebook:  @cvillealliancefc
Twitter:  @cville_alliance
Website:  www.cvillealliancefc.org
9.  Are there any other things you think our readers would want to know about your team?
We would really like to hear from your readers through social media.  A strong engagement with the soccer community will help us steer correctly.  Send us questions, give us input.  Charlottesville is an incredible community and we want create something that brings people together.  #unitedbysoccer