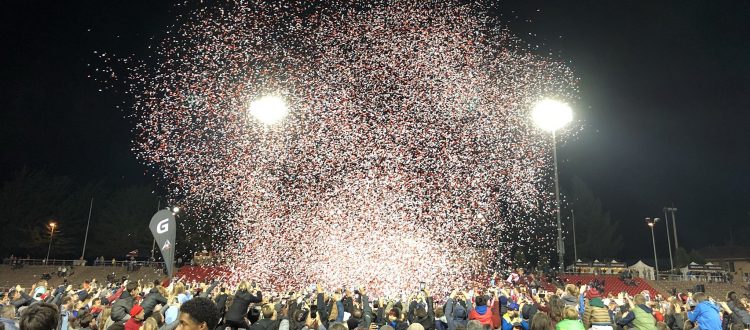 As The Season Ends, NASL Clubs Must Decide Next Steps
The 2017 North American Soccer League season had a storybook ending in San Francisco, where the Deltas, who struggled to catch on with the city's fans throughout the season, defeated the New York Cosmos 2-0 before a Kezar Stadium packed with 9691 people.  As the whistle blew, San Francisco fans stormed the field, as if to literally embrace the team at last. A few days later, the question is, did we see the last game of the SF Deltas, and the North American Soccer League itself, at least in its current form?
The NASL is embroiled in a federal antitrust lawsuit against the United States Soccer Federation, which the league sees as a fight for its life. The NASL appealed a decision by Judge Margo Brodie to deny it a preliminary injunction that would have allowed NASL to proceed with the 2018 season as a Division II league while the lawsuit is resolved.  "If the injunction is not granted, the NASL will likely cease to exist within weeks," the league's lawyers explain in their appeal filing.
The issue at stake is whether USSF should have the ability to sanction pro leagues against a set of Professional League Standards (PLS), given their financial ties to one of the organizations they are regulating. NASL feels the PLS are arbitrary and have been engineered to strengthen the position of Major League Soccer (MLS), the first division league that is a business partner with USSF in Soccer United Marketing (SUM). SUM is a significant revenue driver for both organizations. USSF does not see SUM as conflict of interest, while NASL feels the SUM partnership corrupts the federation's ability to be impartial when judging leagues.  
The tipping point for the NASL's frustration has been the elevation of the United Soccer League (USL), who are also partnered with MLS, from third division to second division, and the subsequent de-sanctioning of the NASL as a second division league.  NASL sees a conspiracy to strengthen the position of MLS, which financially benefits USSF, while USSF insists it is simply enforcing reasonable PLS.  NASL's request to the court suggested that the league would face irreparable harm in the form of ceasing to continue as a league if it did not get the injunction.  When the injunction was denied, NASL wasted no time in filing an appeal. It had a 30 day deadline but did so in just a single day.
Time is running short for clubs in NASL to prepare for a 2018 season.  There are several options before each of the current and prospective NASL clubs should the league not get the injunction on appeal, or otherwise fail to come to a settlement with USSF that would allow it to play 2018 as a Division II league.  Nipun Chopra of SocTakes reported last night that NASL and USSF are discussing potential settlement scenarios.
North Carolina FC appears to be moving to USL regardless, and it is possible others could follow if the injunction appeal is rejected.  "There will be some more expansion clubs joining the second division as well, building some great new stadiums.  We'll be making some of those announcements in the next few days," said USL president Jake Edwards at that league's championship final Monday night.  USL announced Atlanta United 2 (2018) and Memphis (2019) yesterday, and an announcement of North Carolina FC to USL could be coming very soon.   
If NASL decides to continue even in the event of a failed appeal, it could accept the D3 designation USSF suggested it apply for and use it as a platform to rebuild, as USL did previously.  NASL clubs could join the new NISA league, and influence that league to apply for first year D2 sanctioning, which carries a lower bar than the one NASL presently has to meet.  NASL could also choose to go rogue and play as an unsanctioned league in 2018, using that as a platform to rebuild outside of the restrictions of the Professional League Standards.
All of these options carry pros and cons for both the clubs individually and as a collective group.
Why Not Just Join USL?
The simplest answer to many people, especially fans of MLS and USL teams, would be for the NASL clubs to join USL. USSF may also strongly prefer this option, as they attempted to broker a migration of NASL clubs into USL a year ago.
There are three main reasons why some NASL clubs have been reluctant to join USL.  One is simply monetary.  USL charges a $5M expansion fee, as reported by the LA Times in May, and some NASL clubs owners are reluctant to pay another large expansion fee to a Division II league.  Midfield Press understands that if USL had been willing to waive the franchise fee for NASL clubs last off season during negotiations, a migration of most NASL clubs into USL would have likely taken place.  
Should NASL lose its appeal for Division II sanctioning, exit fees due from clubs to the league could drastically reduce which could offset some costs of moving to USL.  Based on the timing of its apparent USL move, and the fact that NASL leaders thought they were solidly in the NASL camp as recently as mid-July, North Carolina FC may have been counting on a NASL collapse as a way to offset the USL expansion fee. Other clubs could choose to take advantage of it as well.
The second major area that gives some NASL clubs pause about USL is its very restrictive contract.  Midfield Press understands that USL's contract strictly governs areas like broadcast, which are, for example, important to the plans of Robert Palmer, the owner of Jacksonville Armada.  USL's contract grants the league rights to sell merchandise with the team's branding.  It also gives the league the ability to terminate the contract for almost any reason, which was exercised in the case of the Rochester Rhinos franchise several years ago.   Meanwhile, the franchisee is locked in for a long period of time, as long as a decade in the standard form.  One reason why you rarely hear USL owners complain about the league is that their contract contains a non-disparagement clause, which makes a Bill Edwards of Tampa Bay less likely to put out colorful highlight videos of bad referee calls.
A third reason some NASL teams are reluctant to join USL is the competitive format that features MLS2 teams.  An extreme example was a game from July of this year in which Reno 1868 trashed LA Galaxy II 9-0, in a match where LA featured three academy players and a squad with an average age of 19.45.  On the other hand, MLS teams have been known to loan multiple players from their first team to their USL squad for single games, tipping the competitive balance in the other direction.
Sources tell Midfield Press there are numerous players in USL on $500 to $1000 per month wages, which are below poverty level and should probably be considered semi-professional rather than professional wages.  While several of the top teams in USL, mostly those with MLS ambitions, have salaries comparable to NASL teams, by and large the payrolls in USL are lower than NASL. The lower cost structure of USL is often cited when compared with NASL, but one has to question whether not paying many players a living wage should be celebrated as a positive.
While some NASL teams could find USL a good fit, other clubs may find it a non-starter.  It is worth noting that last offseason when there looked like there would be no NASL, North Carolina, Jacksonville, Indy, Miami, Puerto Rico and San Francisco were part of a failed negotiation to join USL.  USL's response to a term sheet representing those teams, that was released in the antitrust case filings, indicates that the USL planned to put each club through its due diligence process, which means the league may not have accepted all of them should the process have proceeded.
Here's a look at the pros and cons of USL for each NASL club:
USL Bound – North Carolina FC
North Carolina FC appears to be on the way to USL per statements by USSF lawyers at the antitrust court hearing on October 31, 2017.  North Carolina FC is positioning itself to land one of the four MLS berths, and joining the MLS-aligned Second Division could be seen as a plus in its efforts.  Further, NCFC could be concerned about taking a step backwards if NASL were to end up in D3 or go unsanctioned.  North Carolina FC already created a relationship with USL by moving its NPSL team to USL's PDL for last season.  They will enjoy Carolina derbies with Charlotte Independence and Charleston Battery.  
One can only hope that Steve Malik negotiated away USL's "upward movement fee" contract clause, a tax on clubs that move up to MLS equal to 7% of the MLS expansion fee.  That's $10.5M at the $150M going rate.  If Malik did not get this waived in light of his pre-existing MLS bid, the move to USL could prove costly, in the event that North Carolina FC wins an MLS berth.  
The chances of that being a real issue may be slim, however. Currently Nashville, Sacramento and Cincinnati are the favorites for three out of four expansion spots in MLS, with North Carolina among the contenders for the fourth spot along with Phoenix, San Diego, Detroit and Tampa Bay.  
USL An Option – Indy Eleven and San Diego 1904 FC
Two NASL clubs that might be good fits for USL are Indy Eleven and San Diego 1904 FC.  Both clubs would benefit from local rivalries.  A vocal element of the Indy Eleven fan base has been clamoring for USL for at least a year partially due to the appetizing away days at Louisville, Cincinnati and Nashville (though the latter two are probably short timers bound for MLS).  
If they moved to USL, San Diego would still have an Orange County-based rival in Orange County SC, and could add Phoenix Rising and Las Vegas Lights to its derby list (LA Galaxy II as well, if you're so inclined).
In both cases, the USL system may run against the owner's preferences.  Indy Eleven owner Ersal Ozdemir is believed to be wary of the USL contract terms, and the $5M expansion fee.  San Diego 1904 FC spoke with USL prior to signing with the NASL.  At the time, USL was not interested due to the San Diego MLS bid, according to statements from Bob Watkins.  Primary owner Demba Ba has also spoken of his preference for the NASL model, which is closer to the global system he knows.
USL Not A Great Fit – Jacksonville Armada
Robert Palmer took over as the owner of the Jacksonville Armada in July and made an immediate impact on the club.  The Armada saw attendance steadily rise as Palmer applied his marketing expertise.  
Part of Palmer's formula that makes the Armada work for his company, RP Funding, from a business perspective is the unique ways in which he leverages broadcast, sponsorship and advertising.  RP Funding buys TV time in a number of markets, and Armada games have started airing in markets such as Tampa Bay and Orlando.  
The USL contract is more stringent than the NASL contract when it comes to broadcast and advertising, but perhaps more significantly Tampa Bay and Orlando are part of the protected territories of other USL franchises.  It would difficult for Palmer to apply the formula that is working well for RP Funding within the USL system.  Using soccer as a guerrilla marketing way to promote RP Funding seems to be at the heart of his motivation as a club owner, based on his comments in interviews.  
Palmer made it clear on Twitter that he intends for the Armada to play in a league next year, "In 7 days we'll be a team w/o a league… time to find someone to play with."
USL Unlikely – Miami FC, New York Cosmos, Puerto Rico FC, California United & FC Edmonton
Each of these clubs has their own reasons why USL is an unlikely fit.  In the case of Miami FC and the New York Cosmos, USL may see those clubs, whose owners are each leading different legal actions against USSF, as persona non grata.  Likewise, those clubs may not see USL, home to MLS reserve teams, as a fit for their ambitions.
For instance, USL may have an informal agreement with MLS not to place independent teams in MLS cities, according to what Harpos FC's Johnny Freeston told The Last Word on Soccer on their experience inquiring about a USL D3 team in Denver.  "What we want and what we can't have, straight from the horse's mouth [referring to Steven Short, VP of Business Development for USL Division III], is the USL will not allow any club of any ilk to come in at the DII or DIII level and be based in Denver," Freeston said. "The only way that we would be able to have a USL club at any level is if we were outside a certain radius of city of Denver and its suburbs. Boulder would potentially quality for that."
"It's from a competitive standpoint and a handshake, and I'd say even a backdoor legal agreement between MLS, SUM, U.S. Soccer, and USL that no one else can infringe upon the Colorado Rapids territory."
For Miami FC, USL's partnership with MLS, and MLS's hold on the Miami market for David Beckham's project could be a complicating factor.  Beyond this, it is not clear that USL would appreciate some of Silva's more wild card initiatives such as his proposal of a media rights package to MLS that would require promotion and relegation, or his filing in the Court of Arbitration for Sport against USSF to open up the system to pro/rel.  It has been speculated that USSF's current hardline stance against the NASL on Division II status may in part be a reaction to the CAS filing hitting too close to home for the federation.
One issue that would have seemed like a deal breaker last year but may no longer be as great a concern is Miami FC's payroll.  A year ago, the idea of the free spending Miami FC in USL would have seemed ridiculous.  While it is unlikely any USL clubs are spending as much as Miami, they might seem like slightly less of an anomaly in USL now that some teams with MLS ambitions are spending significant money on their rosters.
Like Jacksonville, Miami FC seems intent on playing next year.  FourFourTwo reports that Miami FC players were told, the team "will be playing next season in some version of its league."
The New York Cosmos are very protective of their historic brand. USL's contract impacts the ownership rights in the team's branding, while giving the league the right to sell branded merchandise.  There is also the issue that the Cosmos play within the MLS market of New York, which could trigger the informal territory rights agreement between USL and MLS described by Freeston. Don Garber's famous words that there will be no third New York team in MLS could apply to an independent team in USL, as well.
There are two sides to that coin, however.  If USL indeed harbors ambitions of one day competing with MLS, it will need a strong, independent New York club to help anchor a TV contract worthy of first division status. There is no better brand for than the Cosmos for that.  While unlikely in the near future, this is an event some fans of USL's independent clubs hope for and that their franchise agreement is prepared for, in that it calls MLS a rival league, in the case that their partnership ends.  There is a reason why SUM tried to buy the New York Cosmos brand for $5M, it offers a legitimacy to any MLS challenger that no name outside of MLS does, and few within it could.  
The reason why California United FC is unlikely to be a good fit in USL is simple. They likely fall within the protected territory of either Orange County SC or the LA Galaxy II.  This would make admitting them to the league a violation of an existing club's USL exclusive market, and working around that could set an uncomfortable precedent.
It is unclear that USL would take Puerto Rico FC, since one of the points of pride for the league is that it offers greatly reduced travel to its teams.  However, given USL's intent to go to a Eastern-Central-Western Conference format in D2 by 2019, it may not be too burdensome for only the Eastern teams to travel to Puerto Rico, leaving a small but improbable chance.  
FC Edmonton appears bound for the Canadian Premier League if it will be ready for a 2018 season, but that is something that looks increasingly like it may not happen as time goes by without an announcement out of Toronto.  Edmonton owner Tom Fath has stated that his team will not play in USL.
Likely to Fold / USL Unlikely – San Francisco Deltas
The San Francisco Deltas are likely to fold after this season unless a white knight investor comes in to save the team, as Rocco Commisso did last year for the New York Cosmos. USL is open to having a San Francisco team, as the since abandoned San Francisco FC expansion bid showed, it is just unlikely to be the current Deltas' ownership moving to USL.  If the Deltas are saved, it will be part of a strategy to continue the NASL, not as a USL move.
By winning the Soccer Bowl in front of a full house, the San Francisco Deltas players and fans made a compelling case for the NASL to step in and support the club until new investors can be found, as the league did last year Jacksonville and with other teams in years before. A packed stadium of 9691 fans storming the field to celebrate their championship winning team spoke volumes that there may be great potential in San Francisco pro soccer after all.
Addressing the raucous crowd during the Deltas' celebration, NASL Interim Commissioner Rishi Sehgal said, "Fans of San Francisco, you clearly are worthy of champions. Let me assure you we are doing everything we can to make sure this tradition continues."
Perhaps the most logical survival scenario would be to try to pair prospective SFFC investor Nick Swinmurn, or a similar high net worth Bay Area investor with a passion for soccer, with the San Francisco NASL franchise after a period of league ownership.  
The argument against this approach would be that San Francisco is a far more expensive city for the league to support a team in than past markets where that approach has been successful.
What Becomes of the NPSL Clubs and Other NASL Expansion Hopefuls?
Six NPSL clubs emerged in court documents as having Letters of Intent to join NASL for the 2018 season, if it retained Division II status: FC Arizona, Boston City FC, Boca Raton FC, Detroit City FC, Hartford City FC and Virginia Beach City FC.
NASL was in advanced stages with two other groups, Atlanta and New Orleans.  The Atlanta project is part of a huge sports complex, Atlanta Sports City, being developed in the eastern Atlanta suburb of Stonecrest.  Recently a land acquisition was made clearing the path for construction to begin on Sports City.  Based on previous reports, the Atlanta team intends on using a smaller stadium in the complex for 2018, while a larger 15,000 seat venue is built for 2019.  
New Orleans was identified in the antitrust case documents as having signed a Letter of Intent with the NASL prior to its original D2 application for 2018, with the aim of joining the league in 2019. Court documents confirmed the group's identity as the New Orleans Jesters of NPSL, who unlike the NPSL teams listed above, have an ownership group that already exceeds D2 standards. New Orleans is a crucial addition for NASL as it is a Central Time Zone city, putting to bed the elusive three time zones issue if they join.  It is unclear whether New Orleans could be ready for 2018 if called on to do so by NASL.  
New Orleans is understood to have a strong preference for the NASL model over USL, part of why they signed a Letter of Intent to bolster the league's D2 credentials ahead of the league's 2018 application for that status.  Atlanta would be in a similar boat to California United FC, Miami FC or the Cosmos, where formal or informal territory rights would complicate their joining USL, especially with news that Atlanta United FC is launching an MLS2 team (which is not this Atlanta effort, sources close to the group confirm).
The fate of the six NPSL clubs varies with the choices of the NASL clubs.  In a worst case scenario where NASL simply disbands, they all just stay in NPSL and keep doing what they have been doing.  If a large number of NASL clubs joined USL, staying put in NPSL is what would likely happen for those teams.  
If NASL accepted D3 status, the NPSL teams could still be part of the picture.  Including the NPSL clubs would likely require USSF issue a number of team waivers, which USSF counsel went in depth to explain to Judge Brodie in the antitrust lawsuit hearing that they has less of a problem with than league waivers. This is why two league waivers for NASL is a deal breaker, but around 20 team waivers for USL is okay in USSF's eyes.
Joining the new National Independent Soccer Association (NISA) could be an option to stay in a Division II league. If six or more current and expansion NASL clubs were to join NISA, and two or more NISA clubs could meet D2 standards, NISA could apply as a first year Division II.  This only requires 8 teams, in two time zones.  In this scenario, there would not be a need to help fund the NPSL teams for a jump pro.  If pursuing this scenario, it would seem cleaner to apply with a set of teams that could meet the exact letter of the first year Division II standards with no waivers.  In this case, you could have the six NPSL clubs and NISA clubs that can't meet D2 standards take a year to find investors and join NISA D3 when it launches in 2019. Or even NISA D2 if the investors they find can support that.  NISA's plan is to implement promotion and relegation when the D2 league reaches 20 teams, so after that point who is in D2 and D3 will be merit-based.
If NASL choses to play 2018 as an unsanctioned league, then having the NPSL teams participate would make a lot of sense. The Professional League Standards become irrelevant in this scenario, so NASL would have the freedom to build the league the way it wanted and reapply to USSF when it meets D2 standards.
Given the seriousness of the accusations by NASL of USSF, and the resulting mistrust the league seems to have toward the federation's impartiality, it seems a settlement that would satisfy all parties in time for a 2018 season could be difficult to reach, but you never know.  
In lieu of a settlement, here are several NASL continuity scenarios that could be options other than settling, disbanding or teams merging into USL:
NASL Continuity Scenario 1:  Injunction Granted
The ideal scenario for NASL leadership is that Judge Brodie's decision to deny the NASL an injunction to preserve Division II status is overturned.  Legal experts following the case consider this to be a low probability, as the bar for an injunction is much higher than the bar for winning the case itself.  
However, it would probably give the NASL the most continuity in terms of existing teams into the 2018 season.  It is very possible no team other than North Carolina FC would jump to USL in this scenario, and North Carolina itself might find leaving financially painful.  Given the bridge burned between NASL Board of Governors Chairman Rocco Commisso and NCFC owner Steve Malik, there is likely no alternative for NCFC but to leave at this point.
Potential 2018 NASL D2 Lineup:
New Orleans joins in 2019
NASL Continuity Scenario 2: Accept D3 and Rebuild
The simplest solution, at least in the short run, for NASL continuing would accepting Division III status, which USSF would likely grant.  As USSF's lawyers have pointed out, USL was able to grow within Division III and use that to move up to Division II.  As NASL's lawyers have pointed out, USL's partnership with MLS was a big part of that.  Judge Brodie even acknowledged that going from Division III to Division II, and going from Division II to Division III are quite different things.
On the plus side, going to Division III would create a lower bar for expansion, and would allow teams to play in smaller venues if that made more sense for them from a financial point of view.  However, NASL would be likely to lose more of its existing teams if it accepted Division III status.  Clubs like Indy Eleven and San Diego 1904 FC, where USL may be a decent fit, could be tempted to join North Carolina FC in making the jump.  Rocco Commisso has made it clear that the New York Cosmos may not be interested in a Division III league.
The idea of retreating to Division III and rebuilding also requires putting faith in USSF, who are, as a result of the various lawsuits, in a very adversarial position to the league.  If USSF decided to make a policy change so that there could be only one league per division, NASL would find itself on the outside looking in concerning D2.
Furthermore, NASL continuing as a D3 league undermines its claims in the antitrust lawsuit that not receiving D2 sanctioning would be destructive to the league.  Going back on this could damage the league's credibility in the case.
Potential 2018 NASL D3 Lineup:
Indy Eleven and San Diego 1904 FC could leave for USL

New York Cosmos could take a year off and rejoin when the league is ready to apply for D2

New Orleans may join  in 2019
NASL Continuity Scenario 3: Teams Join NISA (Or Similar New League), Use It Is a Vehicle to Create an Alternative System to MLS-USL
Peter Wilt announced the National Independent Soccer Association in June, as a multi-tier structure of divisions with promotion and relegation.  NISA is positioned to offer a compelling alternative to MLS and USL through its adoption of the global model of an open pyramid.  NASL clubs could join NISA, which will allow them similar control over and ownership in the league to what they experience in NASL today.  Midfield Press understands that NASL and NISA had merger talks prior to NASL's application for Division II status in 2018, but the talks did not result in a deal before the deadline.
As stated above, if six or more existing or expansion NASL clubs and two or more NISA applicants who can meet the Division II ownership requirements join together, they could apply for Division II status.  NISA intended to apply for Division III sanctioning for either 2018 or 2019, but could take advantage of the opportunity to work with the NASL clubs to launch its eventually intended D2 tier first.  Then the third division could be added in 2019, with the champion of that league promoted each year until NISA D2 fills up at 20 teams.  Then, relegation can begin.
One concern with this approach would be whether USSF would just look at it as NASL re-applying.  While the league would feature many former NASL clubs, it would be able to tell a compelling "under new management" story with respected, successful soccer executive Peter Wilt at the helm.  
Should NISA meet all year one D2 standards without needing waivers, and USSF rejects it, the federation will be directly contradicting their claim to the court that they would sanction any league that met the full criteria for the level applied for.  This would put USSF in the position of either approving NISA D2, or giving Jeffrey Kessler some heavy ammunition in the antitrust lawsuit.  It is almost worth doing for that reason alone.
One reason NASL owners may be reluctant to follow this path is concern about their ownership stakes in the league being diluted in NISA, which plans to issue Class A shares to team owners, Class B shares to Rebel Nest (Wilt and Jack Cummins) and Class C shares to outside investors.  NISA will also have more centralized league management and a more robust league office than NASL.  While these have proven to be big advantages for USL over NASL, some owners could see it as a loss of power. Over the years, NASL owners have talked up promotion and relegation, and the NISA model would give them the opportunity to show they are not only asking for promotion to MLS, but are willing to live with the potential of relegation, too.
It should be noted that NASL could in theory attempt to follow this type of model of applying for sanctioning under a different league with a newly created entity or as part of another league such as an "NPSL Pro" division, but it could be less credible since NISA was in discussions with USSF prior to the NASL sanctioning battle and those divisions would not have been.  The "under new management" story would also be less compelling.
Whether NISA plays in 2018 is likely dependent on some NASL clubs joining their ranks.  After a day of NISA league meetings yesterday, Peter Wilt tweeted, "It was a good day in @nisaleague world."
Potential 2018 NISA D2 Lineup:
New Orleans joins D2 in 2019

Chattanooga FC, Milwaukee NISA, Omaha NISA, Charlotte NISA, Miami United FC, FC Arizona, Detroit City FC, Hartford City FC, Boston City FC, Boca Raton FC, Virginia Beach City FC could join a newly formed NISA D3 in 2019
NASL Continuity Scenario 4: NASL Plays Without USSF Sanction in 2018
The relationship between the NASL and USSF has deteriorated to the point where a very real option may be for the league to continue in 2018 without a sanction from the federation.  Taking this approach could provide some logistical challenges in areas like getting referees for matches, and in sponsorship.  It would also make the league unattractive to players hoping to play for their national teams.  Players might also have concerns around being blackballed by FIFA-sanctioned leagues after playing in a rogue league.
However, it would give the league the ability to grow in a way they see fit, unencumbered by the Professional League Standards.  NASL could play a year or two unsanctioned, and then reapply when it surpasses the criteria for whatever sanctioning level it wishes to apply for.  It would provide distance between the league and the federation while the antitrust lawsuit is resolved, without weakening the NASL's argument as much as playing as a D3 league would.  With a USSF presidential election ahead, should a NASL-friendly candidate like Eric Wynalda prevail, the league could come back into the fold sooner rather than later.
While this may seem like an inferior option to fans than joining NISA, a reason why it could seem compelling to NASL insiders is that it continues the league under its current structure.  It unclear which clubs would be comfortable playing in a pirate league, but the Cosmos, Miami FC, California United, Puerto Rico FC, FC Edmonton and the six NPSL teams would seem to have less to lose through this approach than clubs like Indy and San Diego where USL might be a good fit.
Potential 2018 Unsanctioned NASL Lineup:
Indy Eleven and San Diego 1904 FC could leave for USL

New Orleans joins in 2019
How Will It Turn Out?
Time will tell.  The hearing for the appeal of the injunction ruling will take place sometime on or shortly after December 11, 2017.  As the league's lawyers said, without the injunction, the NASL may cease to exist. We may not see many dominos fall into place until the appeal is ruled upon.  
A year ago most NASL clubs were at least willing to negotiate terms under which they would join USL.  A year ago NISA did not exist as a possible alternative that aligns better with the NASL ideology, and you didn't have a man worth $4.5 billion willing to invest money into keeping the league viable from a commercial point of view.
It seems clear that Rocco Commisso and Riccardo Silva are each personally motivated to effect change in the greater US soccer landscape.  The two of them seem likely to continue that fight until the end of the legal actions they are respectively leading, or until US soccer offers a compromise that satisfies their objectives well enough for them to settle.  
One way for NASL clubs and USSF to work out a compromise where everyone saves face could be for USSF to give their blessing on NASL clubs joining NISA and legally binding assurance of sanctioning NISA as D2.  That way the NASL clubs get D2 status, while USSF can say it did not sanction NASL and therefore did not capitulate to legal pressure.  NASL owners would have to be willing to give up some control, and USSF would need to be willing to allow NASL clubs to reset their ramp up period to full D2 requirements in terms of the PLS.
In any case, a compromise may be tough because this seems to be a bigger battle than simply Division II sanctioning for the NASL.  So if Commisso and Silva are committed to the drawn out fight with US soccer, it really is a question of whether there are enough teams to go along with the Cosmos and Miami.  Other than North Carolina and perhaps San Diego and Indy Eleven, the remaining NASL teams seem to have more reasons to stick with the Cosmos and Miami than not.