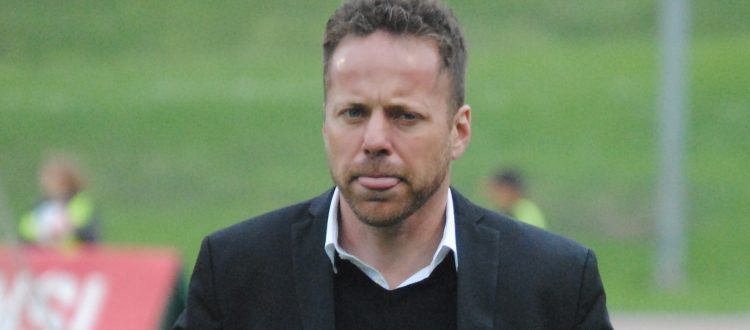 Why Marc Dos Santos is the Most Undervalued Coach in North America
Photo Credit: @theprojectfc
The Canadian born coach lifted his first NASL Soccer Bowl trophy this past weekend with his most recent club, the San Francisco Deltas. This is just another in the long list of accomplishments for Dos Santos that should have any person involved in the game in North America questioning how it is possible, that a Coach at this level continuously gets overlooked for other bigger head coaching jobs, in particular, in the MLS. With all of his accomplishments, his resume reads like someone who should be getting his first chance at a bigger job than in the MLS, yet somehow every MLS coaching vacancy comes and goes without Marc's name ever really even coming up. At this point, he has to be the most undervalued coach in the game in North America or possibly the World. Yeah, I said it.
His experience in the game is beyond that of just about any soccer coach in the region, and definitely beyond any coach who is just 40 years of age. Dos Santos has coached in the CONCACAF Champions League, the Canadian Cup, the US Open Cup, the old USL First Division, the current USL, the NASL, the USSF D2 league, and in the Brazilian youth leagues. This means he has worked in Canada, Brazil and the USA, three countries that make up a huge portion of the MLS player pool, and, in addition, his experience with CONCACAF champions league in a full confederation tournament is something most others don't have. On top of this he does have experience as a MLS assistant under one of the leagues top coaches, Peter Vermes, and he watches the league all the time.
Dos Santos has had to navigate a much more difficult path to the coaching elite levels than many other coaches have had to go through. In addition to coaching, he has experience as a technical director in Brazil, one of the most soccer mad countries in the world. When he was in Brazil he had to endure more pressure from being a Canadian coaching Brazilian youth teams than any pressure he would ever face from a MLS fan base. Marc has navigated his way from USL through the USSF D2 season and into the NASL. If there is someone who gets the mess that is the USSF professional pyramid, its him. Then this year, he coached a team that was told they basically wouldn't be back for a 2nd year halfway through the season, and he still inspired the team to win.
In just the last three seasons, Dos Santos has taken an expansion side from scratch, and took them to a USSF professional league championship game. In 2015 in Ottawa, he led the Fury to the NASL Fall Season title, losing just one game in the entire Fall campaign and conceding just 15 goals in those 20 games. He then reached the 2015 NASL Final that season. The following season he took USL Expansion side Swope Park Rangers to the Western Conference title and into another championship final. Then this season, he won the NASL Championship with the Deltas during a year that saw the Club, off the field, crumbling around him.
Three finals in three years in the lower divisions would almost certainly have any other coach anywhere in the World being offered a job in that country's top division, but not in North America. These last 3 years are not the only times that Marc has proved he is a winner either. He doesn't just build expansion teams and take them to finals. He can also come in midseason and turn a club around and make them champions like he did with Montreal in 2009. He was hired midway through the season to take over from the fired head coach and went on to win the 2009 USL Championship with the Impact. Not only that, in his short time coaching in Brazil, he was able to win the U-15 championship with one of the biggest clubs in the country, Palmeiras. Simply put, he is a proven winner time and time again.
His résumé also includes a UEFA A License, a coaching credential about as high as you can have. He has won the NASL Coach of the year in 2 of the last 3 seasons and was nominated for USL Coach of the Year in 2009 and the CSL Coach of the Year in 2008. He speaks four languages and I've seen him respond to questions from the media in English, French, Portuguese, and Spanish. This mastery of 4 languages says a lot. He is able to connect on a personal level to every player on his team in their language. For example, this season with the Deltas, he would speak Portuguese to Ferreira who is from Brazil and can't speak English, and then seconds later he would be talking to Ouimette from Quebec Canada in French. Many people say those who can speak three or more languages are the smartest people in the World and that certainly applies to Marc.
He has a way with players so that everyone respects him. He always has time to answer questions from the media and never puts himself above anyone. He is humble and hard working and his teams embody that. When asking players about him, this is the first thing you hear. "I think Marc is a great coach, but he is a better man," Deltas' top scorer, Heinemann, says. "He's a top notch coach who has worked his tail off to get to where he is today." While Dos Santos' Captain this season, Nana Attakora, had to say, "Any coach that has worked with him or heard about him or met him would say the same thing. First of all, he is a players' coach, but at the same time he separates personal relationships with what's happening on the field. He's tough when he needs to be, and he's a friendly father figure when he needs to be."
He is someone who is willing to admit when he got it wrong and tactically knows how to fix a mistake. For example this season he began the year playing in a 4-3-3 before losing a match 7-0 to Miami FC. The Deltas at the time were an expansion team over-achieving in 2nd place. Yet Marc was willing to switch his entire formation midway through the season to a 3-5-2 to better adapt to the players he had. He knows multiple formations and styles of play and he can adapt his defensively organized team shape to fit just about any set of players that could possibly be thrown at him. He can shape and mold any group into champions. "You look at the team he built here. There's not just one player that sticks out as that guy. He just builds with a bunch of humble hard-working players that get the job done for him," said Nana Attakora.
After all of this, somehow MLS vacancies get filled by a coach with much less coaching experience, like Kasey Keller in New England and Chris Leitch in San Jose or by a semi-big-name coach like Remi Garde, who has no experience in North America and most recently got fired because his Première League club was about to get relegated. Yet Marc keeps his head down and just keeps winning. Other than the MLS being a closed system to outsiders in more ways than one, there are zero good explanation as to why he hasn't been hired for a job in the League. His resume says he deserves even better than just a MLS coaching job.
"I think he's overlooked in MLS," Heinemann said about his coach. "I think MLS is a system and if you are not in the system it is very tough to get in the system. For that reason, I think he hasn't been given a proper look. That's my take. He's definitely been overlooked [be]cause he is a quick learner and he doesn't miss much." While too many of us know this to be true, it is a dangerous flaw in the league structure to be able to ignore coaches proving themselves every year and who have the resume of Dos Santos. The Deltas' Captain Nana Attakora under Dos Santos this year felt the same way saying, "It makes no sense to me [why MLS overlooks him]. I've been around the MLS for 7 years and I know a coach like Marc would go deep with any team he'll coach. I don't know why, but he just needs that one chance."
The first club to give him his chance will not be taking a chance on him. They will be getting a proven winner in North America and Brazil. They will be getting a humble hard working man. They will be getting a man who rarely if ever has had a negative word spoken about him by any player who has played for him. They will be getting a UEFA A license coach who can speak 4 languages. They will be getting a man who knows every single facet of the USSF structure and beyond. They will be getting a young hungry coach, ready to take his opportunity, and not just some name that will get some media attention. They will ultimately be getting a coach who any organization would be lucky to have represent them.
I have no doubt that if he was given an opportunity in MLS he'd do quite well," concluded Tommy Heinemann. Not if, but when he wins a MLS Cup, every club will be regretting that they didn't even talk to him. It really makes no sense how his name isn't brought up with every single MLS coaching vacancy.