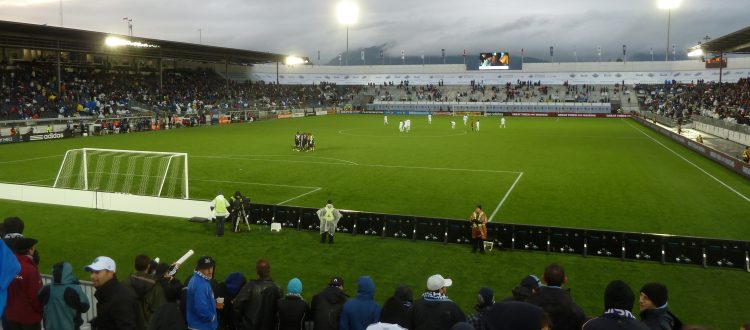 An Interview on Empire Field with Vancouver Whitecaps Supporter John Knox
John Knox Interview
By Scotty Smith
(Note: This is an email interview I conducted with John Knox. John is the Vice President of Vancouver Southsiders, a supporters group for the Vancouver Whitecaps. The interview was part of my research for an article I was writing on modular stadiums. John's responses were so good, I thought it would be proper to publish the entire interview.)
What was the atmosphere like for the very first game at Empire Field?
It was tremendous. The whole city was buzzing with excitement, energy and nostalgia. Empire Field is where the NASL Whitecaps played prior to moving into BC Place Stadium in the early 1980s, so returning there was a homecoming of sorts for several generations of Whitecaps supporters, new and old alike. That first match against Toronto was magical – everyone in Canada loves to hate Toronto, and the fact they entered MLS before us left our city feeling like we had something to prove. We may have caused a small earthquake after Hassli's first goal. The metal stands beneath our feet became a magnficent thunder machine powered by the feet of 20,000 proud supporters. It was beautiful. It was supposed to rain that day, so the club had distributed these little packages containing rain ponchos at the entry gates. When Hassli scored our first MLS goal at the 15th minute, 20,000 poncho packs rained down upon the sun-soaked pitch for several minutes. Glorious!
What were some of the perks of playing at Empire Field?
From a Vancouver supporter's point of view, it was the first time in decades we had top flight football in walking distance of a pub. Empire's proximity to options for pre and post match beers and dining played a huge role in helping the Southsiders begin the work of expanding our little community into its enormous proportions today. Empire was also next door to the Pacific National Exhibition grounds, where a massively popular fair is held over three weeks every summer. The fair grounds include an amusement park called Playland, and you could see our world renowned 50-year-old wooden rollercoaster racing up and down the tracks just beyond the west grandstand. We also had a gorgeous view of the mountains over the north grandstand. Being inside Empire Field Stadium during a Whitecaps match was the quintessential Vancouver experience – no matter where you sat, it felt like the DNA of the city was all around you. The sights and sounds of that neighbourhood are ingrained in the memories of virtually every kid that has ever grown up here. If the stadium had been constructed anywhere else, there's no chance it would have felt the same.
What were some of the disappointments?
When you build  temporary stadium at a location where there are no hopes or aspirations to stay there long term (BC Place was already slated to be our permanent home), the amenities tend to suffer. The lavatories, concessions and retail spaces were boxy portable units that belonged on a construction site. The locker rooms were actually in portable units outside the stadium, connected by a bridge. It really created two experiences at Empire Field – the amazing interior, with its beautiful grass pitch, noisy stands and beautiful sight lines; and the not-so-pleasant exterior and concourse, which had all the charm of a haunted parking lot.
From a supporter point-of-view, could you recommend a modular stadium like Empire Field to markets who cannot afford a BC Place?
Absolutely. Do it! One thing we lost in the transition from Empire to BC Place was the magic that can only be found in an outdoor stadium: fresh air, stars in the sky, the smell of real grass… the sounds of the city all around us. There's simply nothing like it. There was nothing about the interior of Empire that felt temporary or substandard. It looked and felt like a proper football stadium once you were inside. We had a blast there and miss it terribly.
What was the local reaction to Empire Field, both before and after?If by "local" you mean "Whitecaps supporters," we were thoroughly excited for the possibilities and potential that the Empire site had to offer. The inside turned out to be great, and we were willing to look past the shortcomings of the exterior concourse because we knew something better was just over the horizon.  Now we look back fondly on those inaugural MLS season matches, and we really hope to recapture some of that magic again some day. As for people who live near the Empire site, there have always been a range of opinions about the PNE fair grounds, and the noise and traffic it has drawn to the area for more than 100 years. Some love it, some are irritated by it, and I'm sure having an extra 20,000 people turning up every other week for Whitecaps games prompted some strong feelings for and against.  We've since moved on to the heart of downtown Vancouver, and the best we can hope for was that we have left more good impressions in the old neighbourhood than bad ones.
Is there anything else you would like to add?
One friendly suggestion would be that teams should be mindful to build the right size stadium for their fan base. Empty seats harm your credibility and water down your atmosphere. Start small, and expand with demand. Don't look to the size of other sports stadia as a measuring stick of success. Take what numbers you've got, make the match day experience amazing, and build up over time. It's much better to have 10,000 fans packed into a 12,000 seater than scattered throughout a 20,000 seater.
Also: I heard that when the stadium was dismantled, seating components were shipped off to Russia for the 2014 Sochi Winter Olympics. I'm not sure if that can be verified, but stakeholders contemplating an investment in a temporary soccer stadium should look into whether there may be a viable aftermarket for the stands and seating somewhere else. If it doesn't work out in one community, another one might be willing to take it off your hands.
Cheers!
John Knox, Vice President
Vancouver Southsiders
You can find / contact the Vancouver Southsiders on the internet at http://vancouversouthsiders.ca/, on Twitter @Southsiders or https://twitter.com/Southsiders, or on Instagram at https://www.instagram.com/vancouversouthsiders/