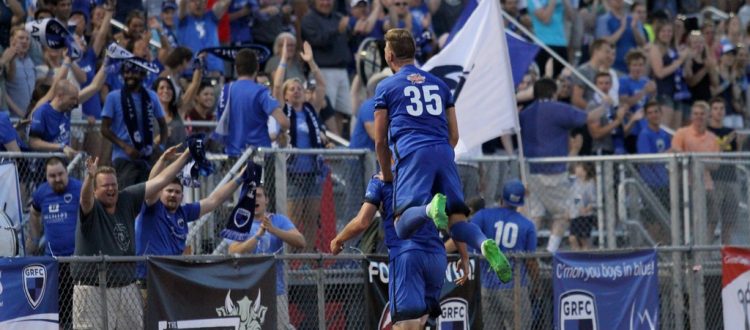 Grand Rapids FC Working To Bring Pro Soccer To West Michigan
Photo By Bryan Bolea courtesy of NPSL.com
Grand Rapids FC started playing in 2015, in what was known at the time as the Great Lakes Premier League.  The idea for the club started as a conversation in a bar, and the feeling was that people in Grand Rapids would come out to support a local amateur soccer club.  After a lot of hard work to get it up and running, Grand Rapids FC become almost an immediate success.
GRFC drew 2,588 fans per match in 2017, which was good for third nationally, among those that made their attendance figures public, in the 96 team strong National Premier Soccer League.  The club's attendance in 2016 was around 4000, driven by two games that nearly reached 7000 in July of that year.  Grand Rapids FC also launched a women's team in 2017.  
Grand Rapids is one of those cities that nobody associates with the big leagues, but is a lot larger than people outside the area might assume.  With a metropolitan statistical area population of over one million, Grand Rapids is similar in size to major league sports cities Buffalo, Salt Lake City and New Orleans.  The area has four Fortune 1000 companies, and is the 39th ranked television market in the country.  Yet the highest level sports club in town is the Grand Rapids Griffins of the American Hockey League.  The area also has the Western Michigan Whitecaps in single A baseball.
The Grand Rapids market offers a great opportunity for professional soccer, given its size, relative lack of pro sports competition and the city's embrace of Grand Rapids FC.  So it comes as no surprise that co-founder Matt Roberts and the club are in talks with investors about moving GRFC up to the pros.  Midfield Press was able to catch up with Matt, and learn a bit more about how their plans are progressing, and what it will take for Grands Rapids FC to get to the next level.
1. There are have been several reports that Grand Rapids FC is looking to make a move up to a professional league.  Are you looking to field a pro team next year, or is 2019 a more realistic goal?
We have had discussions internally about the short term and long term goals of the club and at this point we are looking at 2019 or 2020 to make a move to the professional ranks.  The soccer rumor mill certainly is running this time of the year, and we understand that we are an attractive market for professional leagues, but at this point we aren't going to rush into anything we aren't comfortable with.  The 2018 professional season is 6 months away, so to hire a staff, sign players, and put the infrastructure in place by then is probably not realistic.


2. Which leagues are you considering, and is there a front runner?  What do you see as the strengths of the different options before you?
We have been contacted by all four current and future professional leagues in division two and three.  At this point I don't think we have a front runner but are very intrigued by some of the discussions we have had with a few.  There are strengths and weaknesses with each of them, and we will continue to have conversations with both sides before making a choice as to where we want to end up.
3. Your cross state rival Detroit City FC is also looking to go pro.  How much of an influence will the choice of DCFC have on your choice of pro leagues?
We speak with the owners of DCFC regularly and are very excited that they are looking to make a move.  They have a fantastic market and unreal support so you would assume they can take that momentum to the next level as well.  As far as it affecting our decision, while we will certainly take into consideration where they are, it won't affect us as much as people think.  We have to do what is best for our club and supporters, and while we would love to continue the young rivalry our clubs have now they have to make the best decision for them and we have to do what is best for West Michigan.
4. You've mentioned in the past that Houseman Field is not ideal for a pro soccer team. Can it be renovated to suit that, are there other venue options in the area that would be better suited, or are you looking more at building a modular or permanent stadium. What types of stadium options are you looking at?
At this point GRPS has been unwilling to make the changes we would need to stay there if and when we make a move to a professional league.  We understand this as they have to use that facility for the next 50 years for all of their sports so to make changes for us wouldn't make sense for them in the long run.  We have been working on a project for the past 7 or 8 months that will be made public soon, and we are very excited about that.  I can't say much about it yet, but as details come available and are ready for the public we will certainly get that information distributed.
5. All this talk of going professional and possibly building a stadium is going to cost money.  How is your search for investors going?
We have a few investors who are very interested in helping us take the next step.  They have already invested on a small level and we have had several conversations about the long term goals of the club which they are excited about.  We have been doing our due diligence as far as budgets and viability of a professional franchise here in GR, and every time we meet the conversation comes back around to the stadium.  If we are successful in attaining a facility that works on every level, we would have the financial backing to make the next step.
6. What would going to a D3 league vs a D2 league mean in terms of the level of investor you would need to add?
The big difference is at the D3 level you need a lead investor that has a net worth $10 million, and that number climbs as you go up the ladder.  Like I said before, we have a few investors who are excited about this project and have the means to make the move happen.
7. Would you plan on keeping a reserve team in NPSL if you went pro?
This is a conversation we haven't spent much time on as the focus is on our short term goal of winning the NPSL before we eventually move on and our long term goals of getting a facility in place that makes sense for GRFC and the city.  My initial thought would be yes, as it is a great way to keep college players involved in your system and they would get exposure to the first team as well.  But at this point it is a question for if and when we do make a move.
8. Is there anything else you'd like to share about your efforts to bring professional soccer to Grand Rapids?
It's been great to see the interest from all over the country in our project here.  When we started in 2014 one of the goals was to prove that West Michigan could support professional soccer and I think we have done that.  Whether that happens sooner or in a few years, we are proud to represent all of the youth and adult players in this part of Michigan.
For more on Grand Rapids FC, visit their website or check out the interview we did with Matt Roberts last year that focused on the origins of the club.