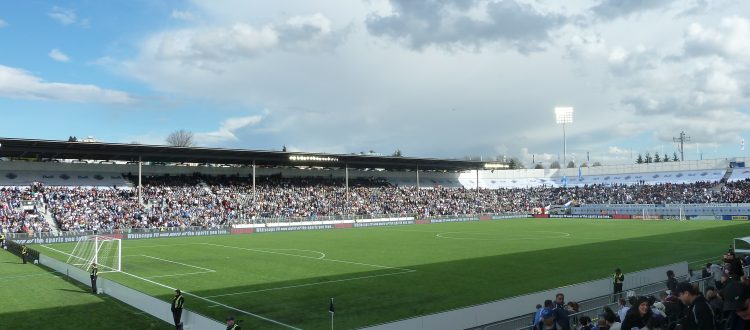 Understanding Modular Stadiums: The Future of North American Soccer
When the Vancouver Whitecaps took the field for the first time as a Major League Soccer franchise, they did so to the thunderous roar of 22,500 fans. All the key elements of a big-time sporting event were present in that pregame: music blared, smoke billowed, flags waved. Giant plastic bubbles symbolizing actual whitecaps floated about on the field.
Youth teams and community so-and-sos waved to good people of Vancouver. The public address announcer thanked anybody and everybody who made this whole thing possible. It was a huge moment for the sport of soccer in North America. When Eric Hassli scored for the home side in the 15th minute, Empire Field erupted.  
Now, if you have never heard of Empire Field, do not fret; it does not exist.
It existed at one time — from March 2010 to August 2011— but it does not exist anymore. That's because Empire Field was a modular stadium, and it was never intended to be permanent. The playing surface still exists, and the people of Vancouver enjoy it today. The stadium that surrounded the field, like the old Empire Stadium of bygone days, is no longer there. It was packed up in its shipping containers and shipped out to a place where it was needed.
Chandler Suprina, vice president of business development at Seating Solutions, defines a modular stadium as, "a semi-permanent stadium designed to be installed at a fraction of the price of a traditional stadium while maintaining safety, comfort, and aesthetics."
He points out that, "A truly modular stadium can be installed and removed quickly and expanded on or modified on the fly.  A modular stadium should be designed to grow with a team and its fan base as needs grow."
Think of a modular stadium as a large-scale, 21st century version of your favorite Legos set; they are parts that fit together to create a whole. The beauty of this concept is that stadiums can be assembled and disassembled in multiple places for multiple reasons.
When they have worn out their welcome, they move on to another city where they are reassembled for similar purposes. The same metal pieces can be used over and over in projects all around the world — simply put them together in the desired shape, use the stadium for as long as you need it, then take it all down and ship it somewhere else.
Empire Field was the first of its kind in North America. It was constructed so the Whitecaps and BC Lions (CFL) would have a home while BC Place was undergoing renovations. Nussli, a European company with great experience in such things, started construction of Empire Field in March 2010.
Some of the stands used in the project had been brought down out of the mountains after being used in the 2010 Winter Olympics. The rest of the stadium was shipped across the Atlantic and up the Pacific in enormous packing crates.
A team of experienced craftsmen screwed it all together based on a small model they had created. It was old hat for them; projects like these happen in Europe all the time. They finished the project for the first Lions game in June 2010. The entire project took six weeks.
Empire Field was a great looking stadium on television.
Though it was built with football in mind, it looked much more like a soccer-specific stadium (SSS). The fans were right on top of the action, and, according to John Knox of the Vancouver Southsiders, the sightlines were fantastic. I understand this may sound weird, but even the shading patterns looked good. (Side note: TV games at BC Place look like they are filmed inside a volcano.)
So how many billions of dollars would a North American city have to pay for a great-looking stadium that could seat up to 27,528 fans? Vancouver paid $14.4 million. In the world of big-time sports, $14.4 million is pocket change.
When we really think about the future of lower-division soccer in the U.S. and Canada, how can we fail to consider the role of the modular stadium in the future of the game?
(Second side note: for more information on Vancouver's season in a modular stadium, read my interview with Southsiders VP John Knox. Seriously, he's a great interview.)
Here are three reasons why lower-division clubs must look at modular stadiums:
     

Modular stadiums are affordable.
Indy Eleven put together a beautiful stadium plan and slapped it with a price tag of $82 million. It passed the state house, but the bill died in the senate. That was a sad day for Indy Eleven and NASL, because that stadium would have been the most beautiful soccer-specific stadium in North America.
I know that I am comparing apples to orangutans here, but $14.4 million is significantly less than $82 million. $14.4 million would have passed in the Indiana senate, and Indy Eleven would be playing in their own stadium this year instead of at IUPUI.
Now, some members of the Brickyard Battalion may let me know that they'd rather play at IUPUI than some glorified high school football stadium constructed in a parking lot. I respect that opinion. Here's my counterpoint: at this stage in American soccer history, there's nothing wrong with glorified high school football stadiums constructed in parking lots.
It takes a lot of money to build a stadium. Soccer-loving citizens in all parts of the U.S. and Canada have experienced the sadness of the down vote. Local governments, which are often made up of baseball, basketball, and American tackle football fans, are not burning the midnight oil to build support for a soccer-specific stadium in town unless they have a shot at MLS, and maybe not even then.
The powers behind the SSS plan better have a major chunk of change promised from the club itself. The modular stadium gives owners a real chance to raise the money from investors and not even bother the local government. At any rate, the club would be asking the taxpayers for much, much less money than the current norm. People tend to be less opposed to things when their money remains unaffected.
Suprina adds, "Lower division soccer clubs benefit from the lower cost of a modular stadium first and foremost, but also the ability to expand and adjust the stadium over the growth of the club.  Putting together lease deals helps minimize risk for a fledgling club, and buyout options can allow clubs to purchase the stadium once they are financially able."
     

Modular stadiums can be adapted over time.
Let's say a city builds a 7,000 seat modular stadium. The club does the right things in terms of marketing and puts a quality product on the field. The supporter culture begins to grow, and word begins to spread. At that point, the fact that the club plays in a modular stadium will not deter people from showing up. In the words of the great Sebastian Bach, nothing attracts a crowd like a crowd.
Success generally leads to an influx of money and sponsorship. At some point, the club owners may decide that the East Stand is not living up to its full potential. During the offseason, they can replace the East Stand with a fancier one. The modular stadium companies offer options for press boxes, locker rooms, restrooms, concession stands, and all types of pre-fab structures.
They can even replace the existing East Stand with a permanent structure (assuming they own the land on which it sits). When the time and money line up, they can do the same thing for the North, South, and West Stands.
In this scenario, the modular stadium acted as a temporary solution until a permanent solution could be built. But instead of waiting years for the money to line up, the people of that city enjoyed soccer the entire time.
Sometimes, the desire is less about making a structure permanent and more about the ability to add seating to the modular structure when the club grows.  The new San Diego NASL project has hired Kansas City, Mo.-based Populous, the company that designed the beautiful new SSS in Orlando and the new Wembley Stadium in London, to design a modular stadium in North County.
Though it was initially assumed the club would play at the University of San Diego for one year, the nature of the modular stadium business may render that unnecessary.  The 10,000-seat stadium, which can be later expanded to 15,000, could be ready by April 2018, according to an interview with Bob Watkins, one of the principal decision makers in that process.
Thom Chuparkoff, an architect with Populous, explains that, "most seating bowls are built like scaffolding. The structure and platform exist, and then the actual seats are the variable.  So taking down—or adding in—a portion of the seating structure is certainly viable."
In addition to the seating, the structures surrounding the building can grow and evolve over the course of time. In fact, companies in the portable event business have come up with creative ways to accommodate ticket holders.
Chuparkoff says, "trends have lead us down interesting paths. The use of shipping containers can be 100 percent customized and used. Hospitality tents similar to what we see at the Super Bowl can be utilized. And press box and service rooms can be modular components provided by a specialty contractor.
The inclusion of suites can exist at field level as Field Suites or Bunker suites.
"They can also be accommodated at the press level to leverage the structure and vertical circulation of the modular system. In recent experience, we are seeing the need for about 10 suites per each 10k seats.  There are also many different opportunities where these 'Custom Pods' of suites can be tailored to the client and swapped out from year to year or contract to contract, thus further expanding the diversity of a modular stadium."
So the beauty is in the flexibility. As the club grows, the stadium can grow with it. This will give fans a visual representation of the growth of the club. It will also provide the eventual old-timers with stories of "when this beautiful pub was just a tent with a Yeti cooler in it."
     

Modular stadiums aren't about luxury, but we don't

need

luxury.
We are talking here about lower-division soccer in the United States and Canada; there is no need whatsoever to try to recreate the Emirates. The action is on the field, right where we like it. Why do we need stuff all around the stadium to keep us entertained? The match is the entertainment!
I stand in the supporters' section at Memphis City FC. I do not sit for the entire match. A 45-minute half seems like ten minutes. My entire focus is on the field. I don't need a barber shop, a pro shop, a pet shop, or gourmet sandwich shop. I watch the match.
Look, the point is this: we don't need nice things. In lower-division soccer, we are not used to them anyway. We want to watch the match. The modular stadium is more than sufficient for our purposes.
Sacramento Republic plays in a modular stadium called Papa Murphy's Park. The average attendance is 11,569. The highest attendance is 11,569. The lowest attendance is 11,569. The capacity of the field is 11,569. The fact that Papa Murphy's is a modular stadium has not stopped sellout after sellout from happening.
Phoenix Rising has seen an upswing in attendance and overall excitement after new owners moved the team to a quickly constructed modular stadium in the offseason (sure, Drogba helps, but still).
In the modular stadium design, tents can accommodate the fans for pre-match hangouts. The team can bring in food trucks. Merch tents are plenty sufficient for their purpose. Since the invention of Square technology, big bulky computers are no longer needed.
Clubs can now offer an affordable experience that feels like a hybrid between MLS and NPSL, a happy medium that would appeal to huge portions of US soccer fandom. The quality experience could be there, but without sacrificing the grassroots feel.
At the end of the day, this is about a game we love. We are there to watch a match, and we'd rather watch that match on grass, without painted end zones and 40-yard lines (or 30-yard lines, or 20-yard lines, and…). All the bells and whistles that come with major stadiums are bonuses, of course, but bells and whistles can be added later once the love of the club has taken hold of the people.
So what's next?
The USL has recently partnered with a modular stadium builder, so expect the new D3 league (and maybe a few D2 clubs) to construct modular stadiums in smaller markets. If the NASL hits a home run with its new San Diego stadium and rumored modular stadium in Chicago, NISA could follow suit.
If the "pop-up" stadium being proposed in Halifax is a success, expect to see more modular stadiums in the Canadian Premier League.
And if this trend is seen as a mistake a decade from now, and the club in question gets public funding for a permanent SSS, they can call the company to come get their stuff. That's fine. In the meantime, the people of that community will have local soccer to watch and enjoy.
More options means more stadiums, and more stadiums means more soccer. When there is more soccer, everybody wins.
---

Works Cited
Alesia, Mark. "Indy Eleven stadium bill is dead." Indianapolis Star, 29 Apr. 2015, www.indystar.com/story/sports/soccer/2015/04/29/ersal-ozdemir-indy-eleven-nasl-peter-wilt-indiana-legislature-carroll-stadium/26581499/. Accessed 25 July 2017.
Kivlehan, Chris . "NASL, NISA & USL Expansion News & Rumors Tracker – July 2017 Edition." Midfield Press, 22 July 2017, midfieldpress.com/2017/07/21/nasl-nisa-usl-expansion-news-rumors-tracker-july-2017-edition/. Accessed 25 July 2017.
Mackie, John. "The rebirth of Empire Fields." Www.vancouversun.com, www.vancouversun.com/sports/rebirth Empire Fields/11220266/story.html. Accessed 25 July 2017.
Morris, Neil. "The Inverted Triangle Podcast." WRALSportsFan.com, 10 Mar. 2016, www.wralsportsfan.com/soccer/asset_gallery/15514282/. Accessed 25 July 2017.
"New for 2017: Papa Murphy's Park." Soccer Stadium Digest, Populous, 10 Mar. 2017, soccerstadiumdigest.com/2017/03/new-for-2017-papa-murphys-park/. Accessed 25 July 2017.
"Phoenix Rising FC Rises in the Desert." Tempe Tourism, 24 July 2017, www.tempetourism.com/2017/07/phoenix-rising-fc-rises-in-the-desert/. Accessed 25 July 2017.
"Pro soccer pitch pitched for Halifax Wanderers Grounds." The Chronicle Herald, 22 Jan. 2017, thechronicleherald.ca/novascotia/1434786-pro-soccer-pitch-pitched-for-halifax-wanderers-grounds. Accessed 25 July 2017.
Smith, Scotty. "Thom Chuparkoff Interview." 19 July 2017.
Smith, Scotty. "Chandler Suprina Interview." 20 July 2017.
Smith, Scotty. "John Knox Interview." 19 July 2017.
Snavely, Shane Dale Jason. "New Scottsdale soccer stadium intended to lure Major League Soccer team to Valley." KNXV, 21 Mar. 2017, www.abc15.com/sports/sports-blogs-local/new-6000-seat-soccer-stadium-in-scottsdale-created-to-help-bring-major-league-soccer-team-to-valley. Accessed 25 July 2017.
Staff, USLSoccer.com. "USL Partners with T&B Equipment Co." United Soccer League, 18 July 2017, www.uslsoccer.com/news_article/show/814565?referrer_id=2364194. Accessed 25 July 2017.
"Temporary BC Lions stadium the first of its kind in North America." Daily Commercial News, dailycommercialnews.com/en-US/Home/News/2010/5/Temporary-BC-Lions-stadium-the-first-of-its-kind-in-North-America-DCN038724W/. Accessed 25 July 2017.