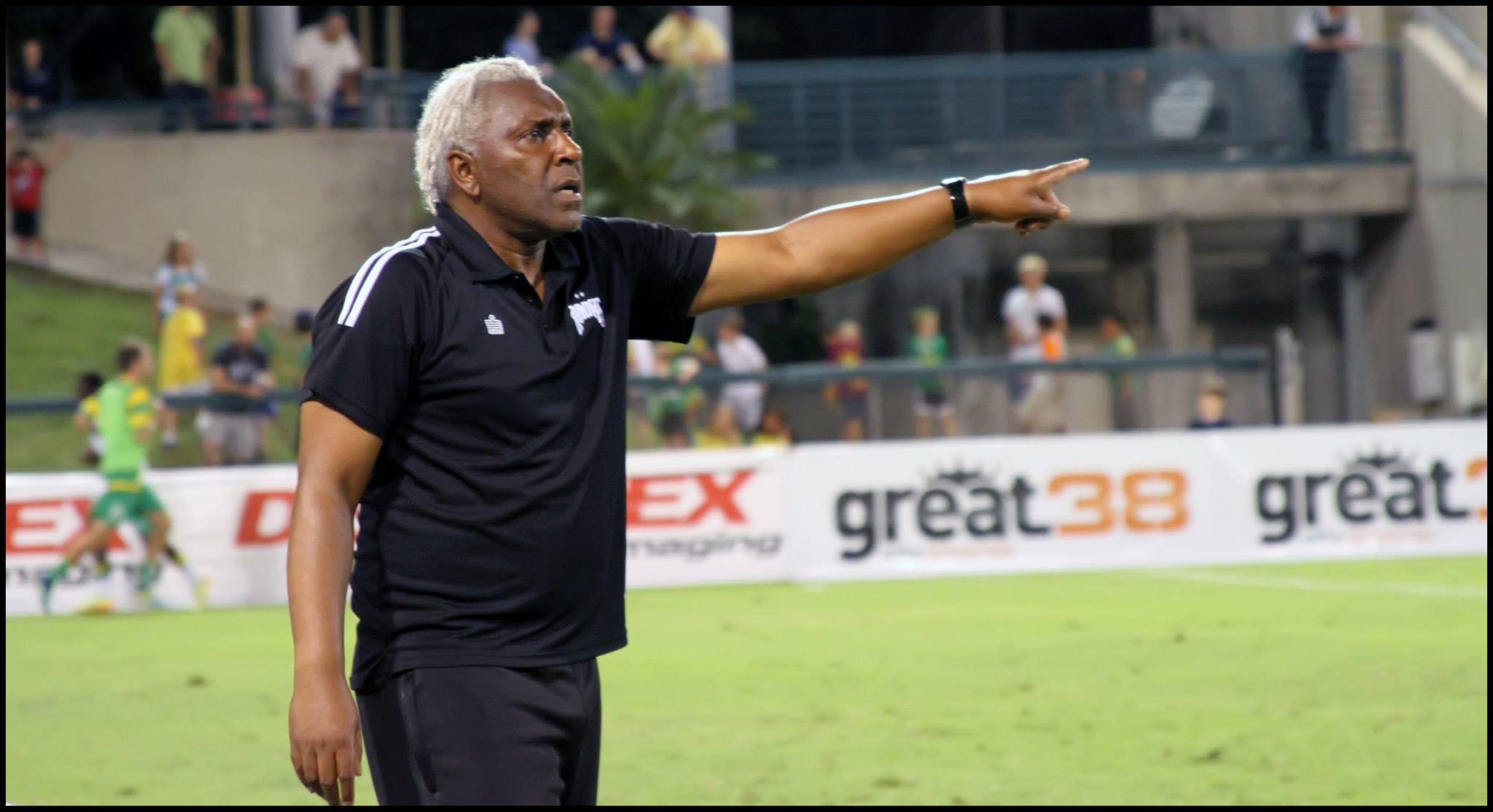 The Liberation of Ricky Hill
Ricky Hill is finally free.
What many people didn't realize is why he wasn't. We'll get to that in a moment.
But first, some background.
After signing a three-year contract extension on April 22nd of 2014, the former Rowdies coach had a difficult year, and despite all the praise and confidence that was presented by team owner Bill Edwards earlier in the year, he was summarily dismissed by telephone the evening of November 17th of the same year. The next morning, a hastily thrown together press conference took place on the then-still baseball field of Al Lang stadium, where new General Manager Farrukh Quraishi was introduced. At the very bottom of the single page press release given to all those who attended was the single isolated sentence,:
"Head coach Ricky Hill will not return for the 2015 season."
After more than three years at the helm, a SoccerBowl Championship, a Coach of the Year Award, 3 Fair Play Awards, and an overall coaching record of 46-37-37 – at the time the 2nd best record in modern NASL history behind MNUFC's Manny Lagos, and still only surpassed by NY Cosmos coach Gio Savarese – Ricky Hill was fired, and has not coached since.
It has been nearly 3 years since Ricky has managed a team: not in youth academies, not in amateur ranks, not in college ranks, and not even a pickup friendly. In that same period of time, the NASL has seen two teams switch leagues to USL (Tampa Bay and Ottawa), one team buy their way into MLS (Minnesota), one team expand then contract in the course of a single season (Oklahoma City), a legacy team change ownership then collapse (Ft. Lauderdale), the league buy two teams, manage them expertly, then shutter one (Atlanta) and sell the other (Jacksonville), the return of the Puerto Rico Islanders (under the name of PRFC), the expansion into San Francisco, two new expansion teams announced with more on the way, and a massive turnover in coaches. Before the 2018 NASL season starts, one expansion team, Orange County, has already named their head coach in Eric Wynalda.
During all this time, Ricky Hill was never hired.
The list of coaches that have come and gone since the dismissal of Ricky Hill is lengthy. His successor in Thomas Rongen lasted less than the spring season of the following year. Marc Dos Santos left Ottawaand returned with expansion side San Francisco. Marcelo Neveloff replaced Gunter Kronsteiner, then was fired, and replaced by Gunter Kronsteiner again. Paul Dalglish is still running the show up in Ottawa, after replacing Marc Dos Santos. Jacksonville hired then fired four coaches in Jose Villarreal, Guillermo Hoyos, Eric Dade, Tony Meola, and have finally settled on Mark Lowry thanks to a change in ownership. Juergen Sommer and Tim Reagan were fired by Indy 11 and have been replaced by Tim Hankinson. Alessandro Nesta has worked out well for Miami, and Adrian Whitbread was hired for the expansion club in Puerto Rico, then fired earlier this spring, and the team is currently operating under the guidance of Marco Velez. The mayfly-like lifespan of expansion side Rayo OKC employed head coach Alen Marcina, then replaced him with Gerard Nus, before shuttering.  While New York Cosmos head coach Giovanni Savarese is in his final year of his current contract, his anticipated successor in Alecko Eskandarian has since moved on to a front office position in MLS, leaving both the role and the rumors of his impending departure, in question.
This brings the total coaching turnover for the NASL from November 2014 to present, to a staggering 14 firings, 7 new hires, and two pending positions – yet so far none of them have included Ricky Hill. Not a single one.
This is not to say that there wasn't interest. Unofficially, many teams made inquiries. Several offers were submitted from within the league, and one assistant's position came from within the coaching ranks of MLS.
As it was initially speculated, Ricky Hill was still under contract with the Tampa Bay Rowdies.
Normally, when a player is released, the contract is terminated and it's a parting of ways: a "thank you but your services are no longer required at this organization," a handshake, a cleaned out locker, and a buried press release. However, in Ricky Hill's case when he was relieved of his coaching duties, it triggered a clause that guaranteed the remainder of his contract until January of 2017 if "relieved of duties for what the ownership considered poor team performance."  In order to avoid paying out a large chunk of money to Coach Hill, Rowdies owner Bill Edwards instead opted to keep Ricky under contract and pay him as agreed, but prevent him from moving on to another organization without including the terms of the existing contract in the buyout. FIFA and USSF regulations prohibit a coach or a player from operating under more than one contract at once and in this case it meant that Ricky Hill would have to either surrender the remainder of his sizable extension in order to explore free agency, or simply remain silent to avoid complications, and wait out the remainder of the agreement. Coach Hill had extensive discussions with the team, but their position remained the same – either walk away without any compensation after being relieved of duties, have another organization pay the existing contract off, or wait – a buyout was not an option.  After lengthy discussions with his wife Sharon, Ricky chose the latter.
On the surface, getting paid handsomely to stay home in both Tampa Bay and England while remaining quiet, sounds like a dream for most people. For a competitive player and coach like Ricky Hill, it was tortuous. Offers and interest would come in directly, and he would have to redirect the inquiries back to the Rowdies front office. No one was willing to meet the team's demands for release. Teams came, and positions filled. Eventually, the calls stopped coming. While staying abreast of the vacancies in the league, Ricky would reach out to old friends, former coworkers, and associates he had made during his career. Everyone was interested at first, but when the handoff to his current / former employer took place, the conversations would end, and eventually a new coach would emerge to fill the position. As long as the contract existed, Ricky was to remain silent, lest he invite action from a historically litigious employer.
Despite all of this, Ricky Hill is eager to get back to doing what he loves. He's watched the league from afar, lamented the more conservative approaches that the modern NASL coaches have embraced, and longs to return to the sidelines with an aggressive, comprehensive approach to tactics, player acquisition, and talent management. He looks back on his time with the Rowdies, nearly three years past, and still speaks of regrets about formations and personnel management, which he can rattle off the top of his head like the game was only yesterday. He can name players, their tendencies, their strengths, their weaknesses, and how best to utilize them in a system he would create, just for them. He talks about not being able to say goodbye and thank you to the fans in Tampa Bay, how years of devotion to a club and brand still feels bittersweet, but how professionalism has urged him to move on and accept the next challenge. Ricky holds no ill will towards his former employers, though, as he has accepted that this was all part of a business transaction, and all parties honored their commitments as agreed. Still, being out of the spotlight, being away from the game, being unable to tinker and plot, and plan and scheme against talented opposition has left Ricky Hill both as a person, and as a coach, yearning for a return to the touchline. He sees this moment in his life as a defining one – he's earned accolades and honors in the past, but now he's eager to prove his worth as a coach once again.
And he's waiting for an opportunity.