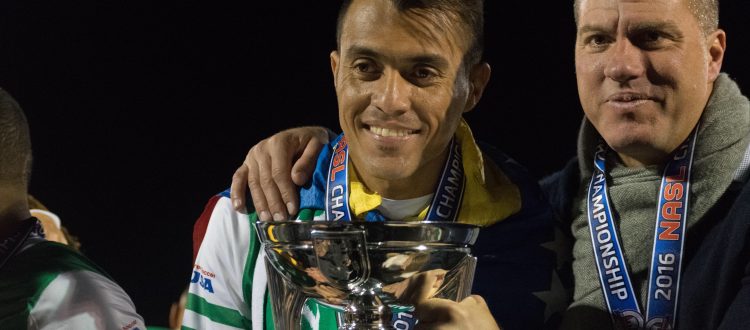 Giovanni Savarese Gives Updates on Arango, Marquez, and Guenzatti Situations
The New York Cosmos have been one of the busier NASL clubs during the American transfer window this summer. With a flurry of players coming in and out, Head Coach Giovanni Savarese took some time at the end of Saturday's post-game press conference to give updates on some of the clubs transfer dealings, as well as an important injury update.
Juan Arango: Last Monday, the Cosmos announced the return of 2016 Golden Ball winner Juan Arango, who had recently been released by Venezuelan side Zulia FC. However, the attacking midfielder was noticeably absent from Saturday's affairs. When asked about Arango's timetable for selection, Savarese alluded to Venezuela's vote on Thursday on a new assembly with power to rewrite the nation's constitution.
"We'll see, but the situation in Venezuela is not ideal. Tomorrow is an important day for Venezuela so we'll see what happens after tomorrow. But, we hope by the middle or end of next week Arango should be able to be back here."
Sebastian Guenzatti: The Unused Substitutes first reported on Friday afternoon that the former Cosmos winger was set to sign with the Tampa Bay Rowdies. This came as a surprise to many who may have assumed that Guenzatti would have a spot on the Cosmos roster waiting for him once he got back to full strength. When asked to comment on the situation, Giovanni Saverese couldn't help but smile over one of his own.
"Seba is a player that I have coached since he was 15 years old. He's been with me from Met Oval to Cosmos Academy, all the way through the beginning of this project. This December, we had some conversations and I felt it would be better for his growth and development to move to a different team. I made sure that from December until now we kept him on our payroll, in our insurance, and made sure he was taken care to be healthy again. Once he was healthy again, I called Tampa so that they could give him a look. It seems he's done well and may sign there if he hasn't already. For me, it's a moment for him to develop at a different team. He's been with me since 15 years old and I think he needed to find a different environment."
Javi Marquez: The Catalonian midfielder has impressed in his stint with the Cosmos thus far, re-signing with the club for the NASL Fall Season. Marquez, however, was absent altogether for the club's victory over Miami on Saturday. Savarese revealed that Marquez has had surgery on his eye, and he has having visa issues that should be resolved by Monday.
Carlos Mendes: The Cosmos captain and back-line mainstay impressed many during the season opener but has rarely featured for the club since. Despite many promises of being close to returning, a true return to the Cosmos back-line has not been in the cards for Mendes quite yet. Midfield Press saw both Mendes and winger David Diosa participating in training drills pre-game on Saturday. Savarese said of his captain: "He had his hamstring and also had pain on top of his foot. When we thought his hamstring was ready, his foot began to hurt as well. We had to give him time, but we think he's one week from playing again.