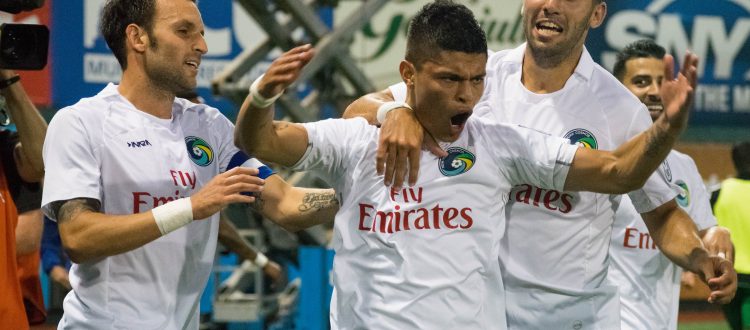 Calvillo Brace Leads Cosmos to Wild 3-1 Win Over Miami FC
The New York Cosmos earned a huge "statement win" against Miami FC Saturday, beating the Spring Season champions 3-1 in front of an announced crowd of 5,416 at MCU Park.
"For us, it was important just to win this game," said Cosmos Head Coach Giovanni Savarese. "I think the most important part was how aggressive we were to pressure to win important balls, and I think that's how the third goal came."
This battle of NASL giants got off to a wild start, with winger Emmanuel Ledesma being shown a red card just 19 minutes into the match. With the Argentine and former Cosmos wingback Hunter Freeman going for a 50/50 ball, Ledesma flung a high boot near Freeman's face, resulting in the booking. Even with Ledesma protesting that the foul was the first of the match for him, the Cosmos would go down to 10 men.
It would only take five minutes for more cards to come flying. A two footed tackle on Eugene Starikov saw Hunter Freeman also earn a straight red card, much to the former Cosmos player's displeasure. The rest of the half would not surmount to much more than a midfield scrap, with both teams heading to their respective locker-rooms deadlocked at 0-0.
The deadlock would be broken in the 64th minute as right back Ryan Richter was fouled in the box by Kwadwo Poku. Ayoze stepped up to take the penalty, but his effort rebounded off the bar and right to the late arriving Eric Calvillo, who emphatically finished his opportunity to the top of Daniel Vega's net. Calvillo said post-game that he gives all credit for the rebound to someone who wasn't even on the field at the time.
"That first goal is all credit to my coach, Gio. He screamed at me and told me to run in, so that's exactly what I did. The bounce came right to me and I was able to finish my chance."
The Cosmos lead would last a mere four minutes, with Open Cup star Poku taking advantage of lax Cosmos man-marking to level the score at one. The scoreline would not stay level for long, with Eric Calvillo sending the crowd at MCU into a frenzy with an incredible individual effort from the outside of the box to give the Cosmos a 2-1 advantage.
79' Wow.

2-1 | #NYCvMIA pic.twitter.com/eBSmh7gUf0

— New York Cosmos (@NYCosmos) July 30, 2017
The goal marks four goals in three games for the 19-year old midfielder from Palmdale, California. Calvillo has seen his playing time grow extensively in 2017, with a litany of injuries keeping other midfielders competing for minutes on the sidelines. The youth national team midfielder has taken his chance well, growing both in talent and confidence exponentially in a matter of weeks. Calvillo tried to put in to words what the past month has meant to him.
"Oh, it's been a dream come true. Thankfully I'm getting my opportunity now to play, especially with the injuries we've had and the guys that aren't here. Thankful that Gio has given his trust and confidence in me to play me and start me. I'm just trying to work very hard for my team, and scoring the goals is something that I haven't done in awhile, so I'm happy to get back in to that and help my team any way I can."
"I come out every game with the belief and trust that my teammates and coaches put in me, and show everyone I'm here and hopefully have a great future in this game."
Cosmos newcomer Kobi Moyal would finish the game off in the 90th minute, taking Daniel Vega one on one and slipping a shot past the keeper to bring the scoreline to 3-1.
The Cosmos begin a long road trip next week by traveling out to NASL newcomers San Francisco. Miami FC is set to face FC Cincinnati in the U.S. Open Cup quarterfinals on Wednesday.