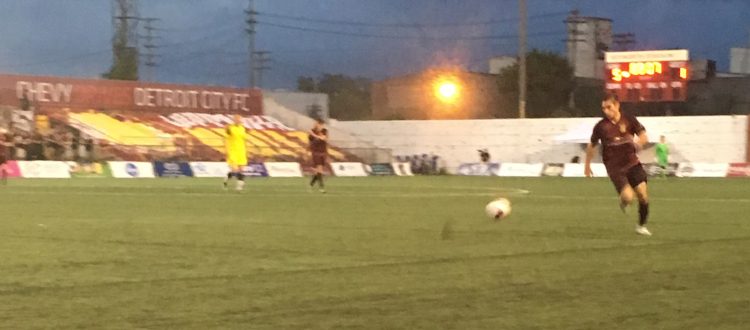 Detroit City FC Dissects Dakota Fusion FC 5-1, Will Play Duluth FC Next Round
Shawn Claud Lawson and Sebastian Harris both netted a goal from the field of play and a penalty kick, and Roddy Green added a goal of his own as Detroit City FC demolished NPSL North opponent Dakota Fusion FC 5-1 in front of 6668 screaming Detroit fans, and four who drove up with the Fusion from North Dakota.
"We responded really well", said Detroit head coach Ben Pirmann. "We could have had a goal as soon as the game started, but we played through it. Cyrus (Saydee) was a magician in the midfield for us. We really had to wear them down first before we could score." Pirmann paused. "We really just need to avoid the silly mistakes."
Play started really early in the first minute as City speedster Tyrone Mondi was taken down in the box about 30 seconds into the match. Protests from the City supporters and bench were unheard from the official, and he awarded a corner to City.
Dakota's captain Zaheer Al Abase fired a cross in the 5th minute into the Detroit box for their leading scorer Jade Johnson, but his ball flew over everyone's head out of bounds.
Detroit soon turned around for a quick counter attack and almost scored in a beautiful fashion as Green found Lawson in the box, who quickly executed a rainbow over a defender. His next touch sent the ball ricocheting off the crossbar and over.
Dakota almost took the lead in the 9th minute. One of the silly mistakes Pirmann spoke on was focus, and it nearly bit City as Johnson dispossessed a Detroit defender and drove towards the box from the left corner. However, his shot was aimed right at City's Fernando Piña, and the Detroit keeper easily dealt with it.
As early as the 14th minute, Detroit had a five to nil advantage on corner kicks, and they continued to press the Fusion backline with many runs. Eventually that pressure would backfire for the moment. Dakota earned a throw in after a shot on Piña was saved. Al Abase received the ball on the right wing, took two dribbles into the box and unleashed a missile into the back of the net to make it 1-0 to the Fusion in the 19th.
Just as easily as Dakota flexed the reason they scored 37 goals this season, they also showed why they gave up 27. After Lawson found Mondi for a shot that carried over in the 25th, Dakota's Stephen Harris took a goal kick. It was intercepted by Cyrus Saydee who lashed a perfect through ball to Lawson on the right side of the box through the almost stationary Dakota defense. SCL took one touch before beating Harris low and left to tie up the game.
It went from bad to worse for Dakota in the 35th as Sunaj Beljulji recklessly lunged in on Saydee as he broke into the Fusion box. A penalty was rightfully awarded, and Beljulji was lucky to avoid a red card, as he had no chance at cleanly getting the ball. Seb Harris stepped up and sent Stephen Harris the wrong way to give Detroit the lead, 2-1.
Goal @DetroitCityFC! Seb Harris sends the keeper the other way to make it 2-1 in the 36th #NPSL pic.twitter.com/QdwFpHSVMW

— FletcherNostradmus™ (@SaintFDW) July 23, 2017
//platform.twitter.com/widgets.js
Halftime couldn't have come quicker for Dakota, who looked on the ropes after the PK call. They had structured their team to play behind the ball…which made very little sense considering that they were down 2-1. Apparently, they thought they were still in halftime when the game resumed, because Detroit worked the ball up the field and Bakie Goodman controlled a pass and fed Shawn Claud Lawson at the top of the box, Lawson faked a shot, and found a wide open Roddy Green in the right part of the box. Green rolled the ball to his left foot, and curled a ball past the helpless Harris to make it 3-1 Le Rouge in the 47th minute.
"We were really reactive in the first half," said Pirmann. "I feel like we picked it up in the second half. Shawn, Cyrus, Roddy and Bakie all helped press and force Dakota into mistakes."
Detroit had multiple more chances as they strung together many crosses that just missed, like Mondi's cross to Green who just mishit it with his forehead over the net in the 69th. A dubious penalty called in the 76th further doomed Dakota. Lawson appeared to be taken down in the box, and the referee seemed to have a talk with himself as he allowed Dakota to dribble the ball out of the box before blowing the play dead and pointing at the spot.
In true soccer fashion, Lawson stepped up and had his initial PK attempt saved (BALL DONT LIE!!!!!), but was collected enough to stand in their and poke the rebound home to make it 4-1 in the 77th.
Goal @DetroitCityFC! Lawson's initial shot is saved but he sticks with it and pounds it home. 4-1 Detroit in the 77th #NPSL pic.twitter.com/1IeGuc5wNW

— FletcherNostradmus™ (@SaintFDW) July 23, 2017
//platform.twitter.com/widgets.js
After the ensuing kickoff, it seemed Dakota totally unravelled as Ben Eastwell, listed as a defender but playing up top, flew full speed into City's Piña on a 50/50 ball, and was rightfully shown a straight red card.
City would tack on a final goal in the 81st, after a Dakota foul on Lawson just on the left edge of the box. Mondi stepped up and delivered a cross right to Seb Harris who smashed it home to cement Detroit's victory.
Stephen Harris tried to add a sixth in the 85th, but his header clanged off the cross bar, and the rebound by Jeff Adkins might have set a record for exit speed out of the field of play.
When the dust settled, Dakota had been outshot 19 to 4. In a playoff game. Dakota took ZERO corner kicks while conceding ELEVEN. The only thing that they beat Detroit in was saves (seven to two) and fouls (17 to 8)…and long aerial through balls. Almost every pass they played was a long through ball to Johnson in the air. Almost none of them were successful, but Dakota just plugged away at it. While we at Midfield Press were astounded, someone shed some insight for us.
The worst part is that this happened to them in the conference play too, only Detroit are more clinical

— NPSL Northerner (@NPSL_Northerner) July 23, 2017
//platform.twitter.com/widgets.js
So it's just a thing Dakota does….which is a shame because the highlights of Jade Johnson made him look real nice, but you cant look like anything if no one can bring the ball up the field.
The win propels Detroit City to the next round of the playoffs and after Dayton Dynamo's upset 1-0 victory over Erie Commodores with an 88th minute goal, Detroit will go on to play Duluth FC this Friday.