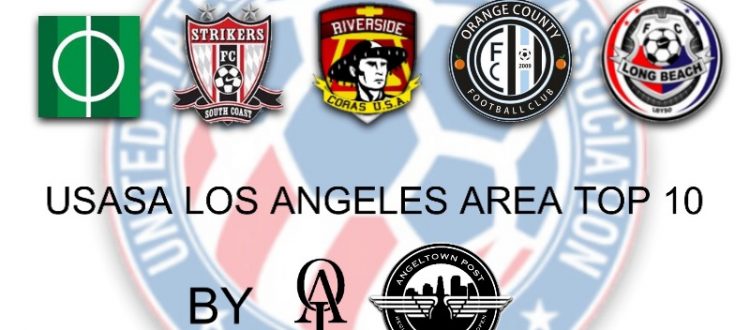 This is the first attempt to rank USASA teams in the LA area, that I know of. This ranking measures, especially, team performance across the affiliated USASA leagues (NPSL, PDL,* UPSL, SoCal Premier, etc). More weight is given to clubs playing beyond their league conferences, for example. Simply put, with more success outside of league play, comes more merit.
First off, my metric encompasses clubs throughout the Greater Los Angeles area, made up of its counties: Los Angeles, Orange, Riverside, San Bernadino, Ventura.
Results against clubs in the area, regardless of league, are especially favored.
Clubs competing in cups beyond their league, and winning in those cups, are also weighted favorably.
Clarification
I'm going to lay this down once, to eliminate misperceptions in the future. I don't subscribe to the notion that the NPSL is a better league, in general, nor by default. The NPSL has improved greatly in presentation and perception off the field, but this doesn't necessarily translate to on-field success. I'll give you two or three examples of how NPSL clubs haven't delivered on the field.
The NPSL's Sacramento Gold fell to La Máquina of the UPSL in last year's Open Cup. Prior to that match, the Gold went on TV in Sacramento saying that they were going to come down here to win. Fast forward to Open Cup 2017 qualifying and the NPSL's Orange County FC fell to "La Machina" [sic], on September 17, 2016.
OCFC got a "rematch" in February, and lost that too.
So what? Why do I make a big deal about this? To not assume that teams in a startup league like the UPSL, or any league, are inferior by default. This is too common a characteristic in American soccer and among its fans, even front offices.
The Top 10, Defined
1. Moreno Valley FC is the defending USASA Region IV Champion. This means they're the best California team outside of the professional leagues (USSF divisions 1-3, do not confuse this to be anything other), and they've demonstrated it in the State Cup. Last year they defeated LA Wolves, the club that defeated the USL's OC Blues, later-rebranded-as Orange County SC in last year's Open Cup. Performance is telling, and especially against other regional standouts. "Mo Val" recently defended their state title successfully versus UPSL standout Santa Ana Winds FC in Norco, and they have another title defense coming up against Eric Wynalda's L.A. Wolves.
2. L.A. Wolves have done some significant revamping since last year's Open Cup exit versus Santa Ana's La Máquina. They've brought on Eric Wynalda as head coach, perform consistently well in the UPSL, and are alive in two other competitions, the State Cup and the Open Cup. They have a chance to eliminate the sitting State Champion in Moreno Valley, and the have a chance to advance in the Open Cup versus San Diego Zest of the PDL.
3. La Máquina currently sits in third in the UPSL, and also has had a lot on their plate recently. They're still alive in the Open Cup, and will travel to face Fresno Fuego at Chukchansi Park. They're no strangers to travelling to face PDL teams. Last year, La Máquina eliminated Portland Timbers PDL, in Oregon. La Máquina was recently eliminated from the State Cup vs San Nicolás SC of Santa Barbara, by a score of 1-0.
4. Santa Ana Winds FC sit in 2nd in the UPSL and are having a turnaround season, having rebuilt their club with players from the reputable Santa Ana College Dons program. Winds FC won a 2017 Open Cup qualifying match over La Habra City, before being eliminated in the 2nd qualifying round by La Máquina. Santa Ana managed to grind out wins in the State Cup, including a 1-0 win over Real Sociedad Royals of the SoCal Premier League, and a momentous 3-2 comeback over UPSL leader Strikers South Coast. Their creative individual skills were not enough to best regional powerhouse Moreno Valley FC in the State Cup quarterfinals.
5. Real Sociedad Royals are 2nd in the SoCal Premier League, and like in-league club Outbreak SC, are accustomed to competing in extra-league tournaments. They've won Open Cup qualifiers in the past, and topped the best team in the UPSL in Strikers South Coast, effectively eliminating them from the State Cup. The only thing keeping them from being ranked higher than Winds FC is their loss to the Santa Ana side in the group stage of the State Cup. The Royals were eliminated from 2017 Open Cup qualifying by L.A. Wolves, 4-1.
6. Outbreak SC, of Huntington Beach, sits in 3rd in the SoCal Premier League, and has an upcoming Open Cup match against FC Golden State Force of the PDL on May 10. Outbreak qualified for the Open Cup by defeating in-league Buena Park FC and San Fernando Valley Scorpions of the UPSL.
7. Strikers FC South Coast, another Huntington Beach club, while at the top of the UPSL with goal differential, fell twice in the group stage of the State Cup. In one loss the club blew a 2-0 lead to Winds FC, who exposed them by taking control of possession, and turned the game in their favor 3-2. Strikers fell to Real Sociedad by the same score, finishing last in the State Cup group stage, but did edge out Santa Barbara club San Nicolás in the State Cup, in which the latter is a semifinalist.
8. Riverside Coras are dominating the NPSL Southwest Conference, which includes conference leaders OCFC and FC Arizona. Surprisingly, to this writer, the NPSL Southwest is the only competition Coras are participating in. Coras had a UPSL squad, and nave focused on the NPSL, which is the right thing to do in my book, but are absent of the Open Cup and the State Cup (more on this later).
9. Orange County FC is having an impressive debut season in the NPSL, sitting 2nd behind Coras. The Irvine club had a chance to bump Riverside out of 1st, in their upcoming match, but went down to 10 men. They were still able to tie Coras on two occasions, the second time while down to 10. OCFC is undefeated and features ex-Máquina player José "Chila" Montes and ex-Sueño MLS Winner Armando "Mambo" Flores of Santa Ana, CA, among others. OCFC lost an Open Cup qualifier to La Máquina, of Santa Ana, in September 2016, and a rematch in February 2017.
10. FC Long Beach is a semifinalist in the State Cup and has won 3 matches in that tournament, in which they defeated Los Angeles United Soccer Club, of the L.A. Premier League, along with Chula Vista and Newhall Premier, but were pummeled by L.A. Wolves, which is revealing. They have an upcoming match with San Nicolás SC. FC Long Beach appears to be a non-league club, described as the men's club of the Long Beach Youth Soccer Association. Due to this fact there's no telling how this club would fare in leagues like the UPSL, NPSL, or the SoCal Premier's first division. Their only measure against a UPSL club is an 8-0 loss to L.A. Wolves.
*PDL teams weren't in season when this was originally published at The Angeltown Post, and are too early in their season to gauge. However, the LA PDL teams Ventura County Fusion and FC Golden State Force, have upcoming US Open Cup games on May 10 versus Moreno Valley FC (UPSL) and Outbreak SC (SoCal Premier).
Closing thoughts
As a fan, I argue that more interleague play, outside of Open Cup one-offs and the like, are a necessary part of "growing the game," which every league and club claims to want to do. It's a win-win when leagues and clubs cooperate. Maybe there should be an invitational for LA area clubs. Anyway, whether observers agree with my assessment or not, USASA clubs in the LA area need prodding to produce even better matchups in the LA area. The NPSL Southwest Conference has improved greatly with its recent expansion teams. The So Cal Premier's best will always be there pecking at the top.
Remember, before you blow a gasket, rankings are never stagnant. As boxing referee Mills Lane used to say, "Let's get it on."
What do you say? What's your top ten?