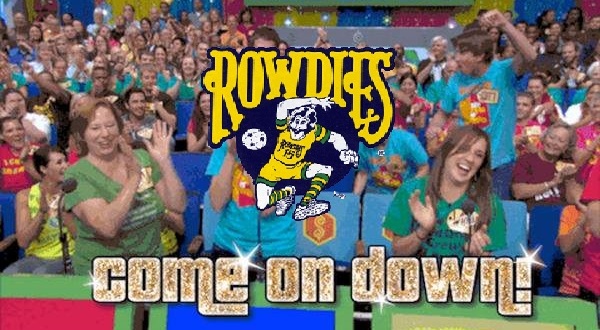 Fury's Next Opponent: Tampa Bay Rowdies, Come On Down!
Tampa Bay Rowdies, Come On Down!
Familiar Foes
The Tampa Bay Rowdies are no stranger to Ottawa Fury. The two clubs have known each other since Thomas Rongen strutted along the Rowdies technical area sporting a bowtie and Marc Dos Santos brilliantly orchestrated his football philosophy onto the nation's capital. The two clubs have a 2-5-2 record against each during their three years together in the NASL.
A Bit Of History
The Tampa Bay Rowdies, formerly FC Tampa Bay, were formed in 2008 and are named after the original club by the same name that played in the first instalment of the NASL from 1975-84. They helped form the current model of the NASL in 2009, and were one of the league's top clubs along with the New York Cosmos. Despite being named 'Tampa Bay', the club actually plays out of St Petersburg, Florida, and are hoping to bring #MLS2STPETE, one of the reasons owner Bill Edwards moved the club to the USL.
Lets Play Ball!
Take me out to the ball game… Despite AL Lang Stadium in Florida being a soccer only facility, the stadium itself and its stands are a baseball stadium. The club have been working hard to convert the building into a soccer specific stadium. They have one of the best pitches in the league, but that might not help against Fury's strong bullpen and Lance "Bats" Rozeboom going fourth in the rotation. The combination of a quality grass pitch mixed with 7000 Rowdies fans living up to their name could make for a great atmosphere on Saturday evening, and a potentially fast and energetic match
.
Familiar Faces
Former Ottawa Fury defender Kyle Porter is currently a member of the Rowdies roster. Porter spent 2016 with Ottawa Fury but was released at the end of the season. Joe Cole is another familiar face to those who are fans of various English clubs and the English national team. Cole has been with Tampa since 2016 and brings along the experience of three Premier League championships, three FA Cups, two English League Cups and 56 international caps.
Off To A Strong Start
Ottawa Fury will be hoping to put an end to Tampa's strong start to the 2017 USL season, with the Florida club starting off with two wins, two clean sheets and five goals scored. The Rowdies have had the home pitch advantage in their first two matches and will likely be well rested ahead of Saturday's match. Fury will need to be much stronger defensively this week if they are to hold back a strong Rowdies offence that scored three goals in the opening twenty two minutes last weekend.