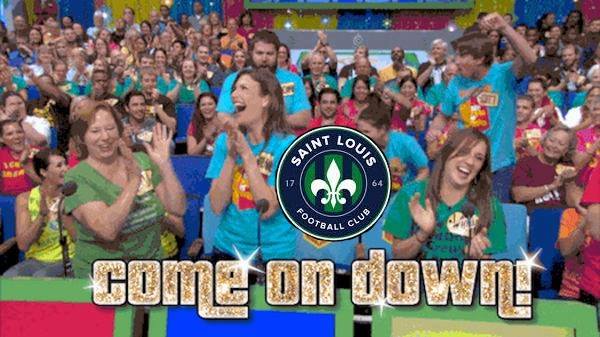 Fury FC's Next Opponent: St Louis FC, Come On Down!
Welcome to "Come on Down!" a weekly pre-match summary of Ottawa Fury's upcoming opponent. The first contestant will be St Louis FC, Come on Down!
Bit Of History
St Louis, Missouri; home of Maya Angelou, Chuck Berry, Nelly, and a soccer team that will be hosting Ottawa Fury's first win in the USL, St Louis FC.  Despite their logo saying 1764, St Louis FC kicked  off their inaugural season in 2015, with the Fleur-de-lis playing out of Toyota Stadium. They were affiliates for MLS's Chicago Fire up until this year. During the 2016 season the Missouri club finished 14th  in the USL Western Conference, roughly the same spot they will be sitting after Saturday's match
That Goal…
Fury fans will likely still have Ryan Williams goal fresh in their memory, it was quite a stunner, and happened against St Louis FC in February of this year. #Easy
Been There, Done That
Fury has already beaten St Louis FC this year, handing them a 2-1 defeat during pre-season play. Ryan Williams scored a stunning goal (video above), however the Englishman will be injured for Fury's match on Saturday. While February's match was just a friendly, it showed that St Louis will be a tough first regular season match for Ottawa Fury and the Canadian club will need to be organized to ensure they find a positive result on the road.
Last season St Louis FC had El Salvadorian striker Irvin Herrera in their roster, scoring fourteen goals, just two behind USL Golden Boot winner Okoli. Since his outstanding season last year Herrera has made a loan move to Ottawa Fury's old stomping grounds in the NASL, joining former rivals and recently salvaged New York Cosmos, meaning Fury's defense can sleep easy on Friday night.
Familiar Face
St Louis FC have recently acquired former Ottawa Fury FC goal keeper Devala Gorrick.  Gorrick was Ottawa Fury's first number one keeper in the NASL, playing 12 matches in 2014.  After being replaced by Romulad Peiser, Gorrick made a move to the USL where he found a lot of success with the Switchbacks. He is one of the leagues top keepers and will be working hard to make life difficult for Fury's strikers. Despite a poor finish in the standings last year, St Louis has spent the off season building a squad that is much more capable of battling for a playoff spot in 2017.
Kick Off
Along with being behind in skill, strength and passion, St Louis FC is also one hour behind on the clocks, meaning Saturday night's match will kick-off at 8:30pm EST and will be broadcast on the USL's Youtube channel, Rogers TV or TSN 1200.