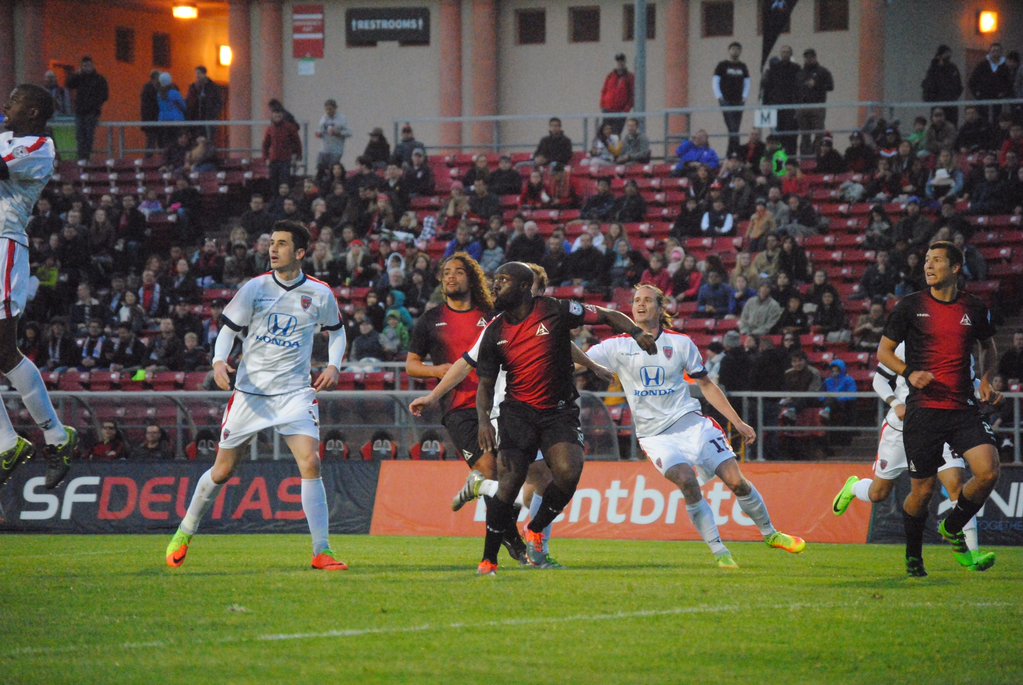 Deltas Player Ratings: March 25th
Photo Credit @theProjectfc via @footysf
Romuald Peiser 7
The 2015 NASL Golden Glove winner came up with a couple of fantastic saves back to back early in the second half, as well as another huge save in stoppage time to preserve the draw for the Deltas.
Kenny Teijsse 5
Helped to set up the Deltas' first ever goal in club history with a nice pass to Danny Cruz that lead to the goal. However, there were a few times when he lost track of players running in behind him, and he could have done more to help prevent the opposition from scoring.
Nana Attakora 6
Led with confidence and cleared his lines when he had to. He seemed in control most of the game, but didn't have too much to do the whole night.
Reiner Ferreira 4
Was most at fault for the goal that was conceded. He lost track of who was behind him and got beat in the air by a much smaller player. As well, he lost Justin Braun running off his back shoulder in the first half, which could have given Indy the 1-0 lead at that point.
Karl Ouimette 6
Did what he had to for most of the game. Could do better to prevent crosses being sent in and didn't offer much going forward.
Michael Stephens 6
Didn't put his imprint on the game like he is capable of doing. He pressed well in the first half and was part of the teams overall good first half performance, but like the team as a whole, he fell off in the second half.
Cristian Portilla 6.5
Was dominant in the first half. He won back every loose ball in the first half, keeping the overall pressure up. He also put in a few dangerous crosses early in the game off of free kicks and corners.
Kyle Bekker 7
Scored the Deltas' first ever goal off of a play that began with him playing the ball out wide left before he made a perfectly timed run to finish. He played a very dominant first 45 minutes. Also, he had the Deltas best chance of the second half from a long-range effort that missed just wide.
Jackson 7
Was the most dangerous player for the Deltas for much of the game. He beat his man one on one, often creating some dangerous crosses in the box. The final ball wasn't always there, and he was subbed off after picking up an injury late in the game,
Tommy Heinemann 6
Was decent heading balls on and in his hold up play, contributing to the Deltas' dominate first half. He never really threatened the goal enough, the way a center forward needs to do.
Danny Cruz 6.5
Was the creator for the Deltas' goal. He made a great run, let the ball run across him, and then pulled a perfect ball back for Bekker to make it 1-0. He was very active in the first half, popping up in more places than just his starting left wing spot. He was subbed off in the second half, as he didn't seem to be as active as the game wore on.
Pablo Dyego 5
Picked up a yellow card less than 30 seconds after coming on. However, he created one of the Deltas best late scoring chances that could have won the game.
Tyler Gibson 5
Stepped into more of a defensive midfield roll after coming on for Jackson. He did everything he needed to help the Deltas shut the game down and secure the point.
Devon Sandoval N/A
Came in as a cameo with less than a minute left.
Marc Dos Santos 7
After only 8 weeks, he put together a team that not only drew, but had its chances to take home all 3 points against a side that returned a good number of their core players from the team that went to the final last year.