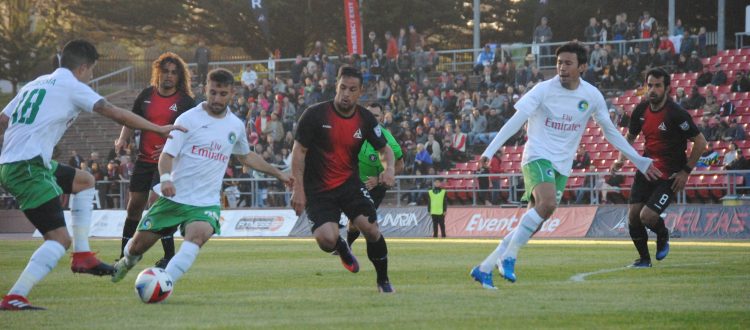 The Deltas Lose Shutout Streak and Extend Scoreless Run
Photo Credit @theprojectfc
The Deltas suffered their first loss in Club history to a moment of magic from Emmanuel Ledesma of the New York Cosmos. A balanced game needed a touch of class to separate the sides, as there wasn't much else to separate the two on that day. Head Coach Marc Dos Santos felt they might even have had control of the game until that moment, saying "first half was equal, second half in one direction, and then a moment of brilliance of a player. They weren't doing anything, they were under pressure all second half, and there is a moment of a club and a team that has the means to do that, nothing tactically, only to do with quality."
The Deltas lined up in Marc Dos Santos' typical style, a way in which they weren't really going to allow a goal with their tight team defense, unless Ledesma did what he did. The team came into the match on a 247 minute shut out streak dating back to their second match when they conceded early. This was extended by 67 minutes in this match until Ledesma chipped Peiser for the lone goal of the game.
On the other hand, the tight defensive system isn't producing goals at a high enough rate to win games. The Deltas have now been held without a goal in their last 3 matches. The last goal they scored was in their second match of the season back on April 8th when Tommy Heinemann scored late to seal the 3-1 victory.
When asked about what it will take for the Deltas to finally get on the end of one of the many dangerous crosses they put in the box, Dos Santos had to say, "Yeah I agree with you [that there were a lot of dangerous crosses from Portilla and others]. There was a good ball there on the second post for Pablo. We didn't get on the end of it. Unfortunately we needed more. We tried you know. We put balls in. There was pressure on them, but it wasn't enough tonight."
Overall Dos Santos wasn't too disappointed with the Club's first loss saying, "No [not disappointed], I just felt that we deserved more, that we at least deserved to tie the game. So it's unfortunate, but we need to know, and we need to be big in losses. It's our first loss since we are together. We just need to be big in moments like that."
The Deltas will look to rebound next week when they travel to North Carolina FC. While not a major concern yet, the Deltas' inability to score goals in the last 3 matches will diminish the efforts of their tactically disciplined team defense to secure the full 3 points.