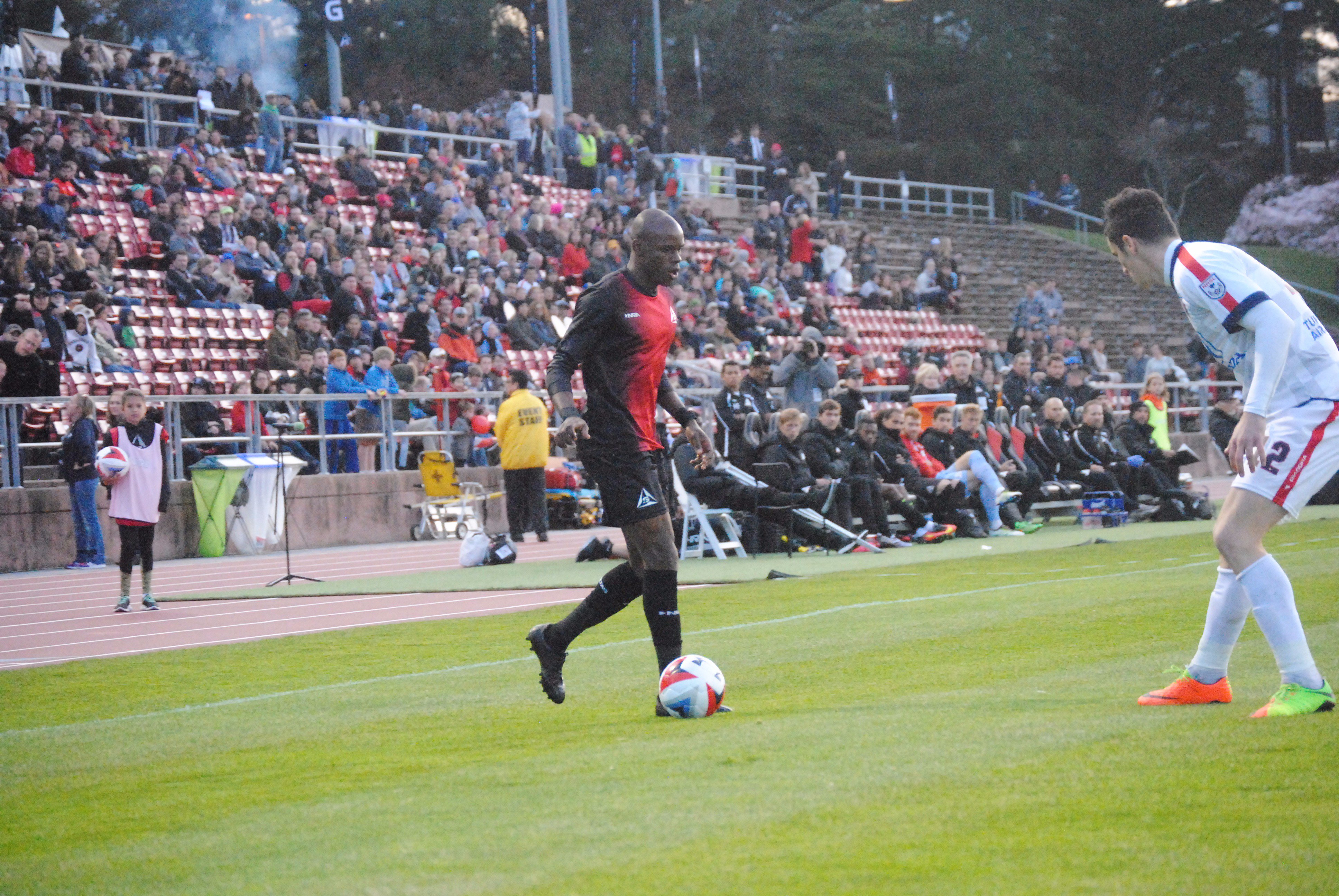 Deltas get Deserved Point in Inaugural Game
Photo Credit @theProjectFC via @Footysf
The SF Deltas finally kicked off their inaugural NASL campaign with a 1-1 home draw against Indy 11 at Kezar Stadium. This was definitely a game of two halves. The Deltas clearly fed off the home crowd's energy in the first half, but seemed to feel the pressure of the opening night in the second half. "At the end of the day, the result was fair. We didn't deserve to win, but we didn't deserve to loose," said Head Coach Marc Dos Santos. "We were the better team, more under control in the first half. In the second half, they were the better team."
The Deltas controlled the game with Jackson creating some chances early and Cristian Portilla serving in dangerous free kicks. It was Indy however that would get the first big chance of the game in the 25th minute, when Justin Braun was played through beating Deltas defender Ferreira for pace, before dragging his shot just wide.
The first goal of the game came in the 31st minute when Kyle Bekker finished on a play that he started. Bekker played the ball wide to Kenny Teijsse who slipped in Danny Cruz who then played the ball back to Bekker for the goal. Bekker now will forever be the first goal scorer in Deltas club history.
The 1st half would finish 1-1. With just the single shot on target from either team, the one that found the back of the net.
Indy 11 came out for the second half and flipped the match taking the game to the Deltas. Deltas goalkeeper Romuald Peiser was forced into his first two saves of the match early in the second half, in the 49th minute after a scramble in the box and in the 51st off a free Indy header.
This Indy pressure would lead to a goal for Tanner Thompson when he headed home from between two Deltas defenders who had switched off. "In the wide channel, we give a little too much space, and then what is disappointing is that the player who heads the ball…is one of the smallest players on their team," said Dos Santos about the goal. "So I feel it was maybe a lack of focus and concentration."
The game went on to finish 1-1, a good result in the eyes of Head Coach Marc Dos Santos. "At the end of the day, overall, we have to be proud of our first game. We are 8 weeks old. We can't forget about that, and never in the game we felt that we don't belong here. Remember they played in the final just last year."
The atmosphere was also special says the Head Coach. "I think the environment and Kezar and what this means here… I think San Francisco is a little bit more than a city that could dream to go to higher places. It's a city that people are excited for soccer. The crowd was absolutely fantastic."
Bekker as well thought the crowd was fantastic, but was disappointed not to get the win. "It's a good feeling. I think we had a very good first half. Obviously it's nice to score, but I think the whole team is a little upset at the way we came out in the second half, and obviously we wanted 3 points. We have a bunch of guys who want to win, but aside from that the fans were amazing."
The Deltas drew an impressive 4,133 to their inaugural game at Kezar Stadium, which is close to the 2016 NASL average.