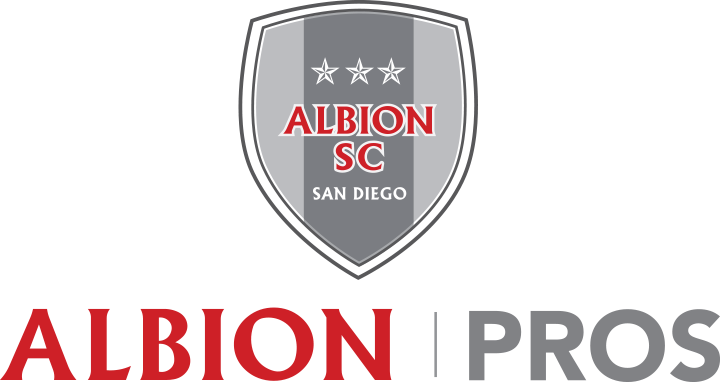 Exclusive: ALBION SC Close To Bringing NASL To San Diego
Founded in 1981, ALBION SC has been a mainstay in the San Diego soccer community for decades. The organization has over 3000 youth soccer players in its system, and has been noted for the incredible player development and development of teams at the highest level in the country. ALBION SC has produced over 10 US National Team players and many professional players, most notable Ariel Lassiter playing in the MLS with the LA Galaxy. The club has played in 10 national championships at the youth level and is part of the US Development Academy for National Team and Professional Player Development. In 2016, they launched the ALBION PROS in the National Premier Soccer League as a step towards developing a full development pathway to professional soccer for players in the San Diego area. ALBION PROS is off to a successful start, drawing approximately 2000 fans per match, an outstanding figure for the NPSL. CEO Noah Gins credits this success to the roots of the club, connecting the dots in the community and utilizing the 9000 immediate fans built into ALBION SC. On the field, ALBION PROS posted an undefeated season, winning the Southwest Conference and advancing to the National Quarterfinals in the first year out.
As they were launching the NPSL club, Chairman Andreas Roell and CEO/Executive Director Noah Gins knew the next step would be to add a full season professional team in the North American Soccer League or United Soccer League. ALBION SC is now finalizing plans to take that step with the NASL.
The NASL deal was delayed by a few months due to the well publicized issues faced by the league. If not for the issues of the last few months, ALBION SC might have already joined. "We continue dialogue with NASL. We are seeing the stability and are liking the direction. At one point, there was a rush to try to get teams in the league for Fall 2017. That has backed off, which is a good thing. Everyone is targeting Spring of 2018," said Noah Gins.
Roell has organized strong financial backing for the NASL move among three high net worth investors who built their wealth in industries such as insurance and real estate. In addition, this group has strong community and political ties with deep relationships with city officials. The group is close to securing a venue for Spring 2018 season, and has recently moved into higher end training facilities for its NPSL and youth teams at the Olympic Training Center.
Albion is not the only group with intentions of bringing NASL soccer to San Diego.  Former Newcastle United and Chelsea striker
Demba Ba told Eric Wynalda on SiriusXM FC
,  "Me and a group of investors, a couple of players as well in the project, are doing something for San Diego now.  We are finalizing now and are close to getting the license.  We are working with the guys from Club 9 Sports.  We have a LOE from the NASL.  We are very close to finalizing the team in San Diego, which will be something big.  We have some players in our group of investors, one of the most famous guys you know is Eden Hazard.  Very close friend of mine and he's excited as well."
ALBION SC and Ba's group are presently two different entities seeking admission into the North American Soccer League, however Gins would not rule out the possibility of a deal being struck for them to join forces in some way. Ba's group certainly has name recognition and money, and while ALBION SC also has the financial backing, they offer a local investor group and deep roots in the community from their longstanding successfully built youth system.
Gins shared that there is not currently a set name for the ALBION SC-backed NASL club but could likely remain fully as the ALBION PRO side. A decision on a name or who might take specific staff positions would be unlikely to happen until the investor group is finalized and the commitment has been made to move forward in the league. Beyond the possibility of joining forces with Ba's bid, ALBION SC has several interested parties in talks to join the final investor group.
With multiple MLS, NASL and USL groups looking to bring full season pro soccer to San Diego, it may be the hottest potential pro soccer market in the country right now. Gins believes an NASL club could be successful alongside an MLS or USL franchise in San Diego County. "With the Chargers leaving, there will be a void for at least 2-3 years before MLS comes in, and even then, we'll see what the landscape looks like. We envision being the team of San Diego, from a soccer and sports fan perspective. I think whatever happens with USL it will be directly related to what happens with MLS. I don't think it will be something that will compete with the NASL now or down the road," Gins said, also indicating that he saw Liga MX's nearby Club Tijuana as positive, additive force generating more soccer interest in the market.
The prospect of local rivalries with the San Francisco Deltas and a potential Orange County NASL club are another positive for ALBION SC. "We've talked to the Deltas for some time now," said Gins. "We are trying to engage with them with the NPSL team now. In general, we definitely would have some sort of relationship built based on who is in their front office and geographically speaking. One of our potential investors has done business with Brian Andres Helmick in the past."
Should ALBION SC launch a team in the NASL, they will offer a fully integrated development system from youth leagues to the professional ranks, uncommon in US club soccer, but the norm in the world's most successful soccer countries. "It is a pathway," said Gins. "It is built on what the rest of the world has done. You have academy teams that filter into your reserve team and then into your first team. A true, full development pathway into the first team where you can see talented 16, 17, 18 year olds debuting with the first team on a regular basis."
ALBION SC hopes to finalize a deal with the North American Soccer League soon.