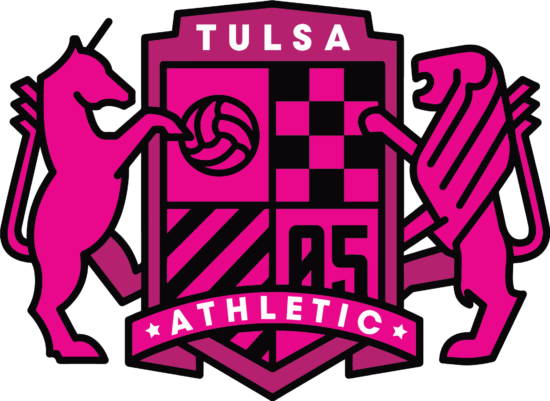 Letter to the Editor: A Brief History of the Real "Athletics"
This Letter to the Editor is written by Sonny Dalesandro, Owner, Tulsa Athletic.  It shares the club's experience in a dispute with the Oakland Athletics of Major League Baseball over the use of the name "Athletics."  Given the fact that A's owner Lew Wolff also owns the San Jose Earthquakes of Major League Soccer, one might have thought their organization would be more sympathetic to a lower league soccer club.  Given that that Oakland A's have been on the wrong end of petty squabbles blocking their business such as their desired to move to San Jose, one would think they would be less likely to use such strong arm tactics.
A BRIEF HISTORY OF THE REAL "ATHLETICS"
Our club. Our crest. Our beef with the Oakland A's
In 2012 one of my best friends and I purchased the rights to a soccer franchise in the National Premier Soccer League, a fourth division league. I was coming out of a relationship that left me a little worse for wear and my friend's wife decided, by any mid-life-crisis standard, it would be safer for him than buying a motorcycle. She was wrong.
We leased an abandoned baseball stadium from the county, let some artists spray paint the outfield wall, put some food trucks in the outfield next to a beer garden. We named the club after our Sunday league team, itself named after the street where we played as kids. Boston Avenue Athletic Club, or the Tulsa Athletics, as it's known in these parts, was born out of a simple idea: you can build something big with passion and community.
Before we knew it, our vision was a reality. An average crowd of nearly 3,500 people, led by a raucous supporters group and a highly competitive team on the field, helped tout Tulsa as a re-emerging market in the American soccer landscape.
Then came the phone call. When I heard it was a lawyer from a major league sports team, I thought my intern was fucking with me, but as soon as I got on the line, I realized it was actually some higher power fucking with me. The lawyer grilled me, asking all types of probing lawyerly questions: Did we recently trademark our crest? Yes. Do we sell miniature bats? Umm… Do we ever play baseball games? What? She then informed me that her client was none other that the Oakland A's. You know, those guys from the Brad Pitt movie about how major league teams should just do a bunch of boring math instead of buying people who are good at baseball. I hung up and yelled at my intern for not screening calls properly.
The legal letter that followed took a more ominous tone, and as I read through it I learned that the Oakland A's had filed an official objection to our trademark application. We were allowed to be called 'Athletics', but now our crest was being opposed. Apparently, ours was indistinguishable from the Oakland A's crest, but you be the judge:
Can't figure out which is which? Hint: check out the hot pink one with a lion and a unicorn battling over a soccer ball. Pretty confusing stuff if you're color blind, aren't familiar with the Modern English Alphabet, or you don't believe in unicorns.
Unfortunately, my intern slipped up again and I soon found myself on a "settlement call." I told the lawyers (by now they had multiplied) we had spent a great deal of time and effort establishing ourselves and that changing our crest and brand would require some compensation. That's when I learned that they actually wanted US to pay THEM in order to use our version of the letter "A." Apparently they own the letter "A". Someone warn Sesame Street. I kept pressing, and we got to the real issue with our crest. They claimed it was creating "confusion in the marketplace."
Confusion in the marketplace.
At which point, I imagined the following conversation:
"What time do the Yankees play Oakland tonight?" asked Larry as he exited the prop plane on the tarmac of Tulsa International Airport.
"7:30," replied Blake.
"Tell me again why we're in Tulsa, Larry?"
"The game, man! We're here to see the Yankees-A's game."
"You sure the Oakland A's play their home games in in Tulsa?"
"Well, why else would their crest be all over the place? You know, that hot pink one with the unicorn? Can't you just see Ricky Henderson sliding into second."
But brand confusion is a serious issue. That's why you see all those confused Detroit Tigers fans wandering the streets of Hull, in search of Comerica Park. And all those drunk angry Glaswegians descending upon Arlington, Texas, demanding entrance into Globe Life Park to support their beloved Rangers. NPSL teams Rhode Island Reds and Seacoast Mariners should also heed this warning, as droves of baffled Cincinnatians and road weary Seattleites will almost certainly be cramming through the turnstiles to watch their boys of summer chase after another pennant.
An attorney friend of mine looked at the case and commented how ridiculous it all is. How one doesn't own Old English Text. Or the letter "A". But she also told me that I was bound to lose. Which I knew from the very beginning. With all their money and lawyers, the Oakland A's can draw this out forever. So we concede. The Tulsa Athletics are built on love for the sport and love for our town and we don't have time for this bullshit.
I want your attorneys and your organization to know that even though you're getting your way, you'll never be able to do anything to take the spirit from our club, born organically and through a grassroots movement.
With that we would like to reintroduce ourselves to the world. From this point forward we will be competing as Tulsa Athletic…and this pink unicorn is staying (So long as English clubs Charlton Athletic and Grays Athletic don't mind).
Yours in soccer,
Sonny Dalesandro
Owner

P.S.- Support your local American club regardless of their level, be vocal about U.S. pro/rel and be an active part of grassroots tribal growth.