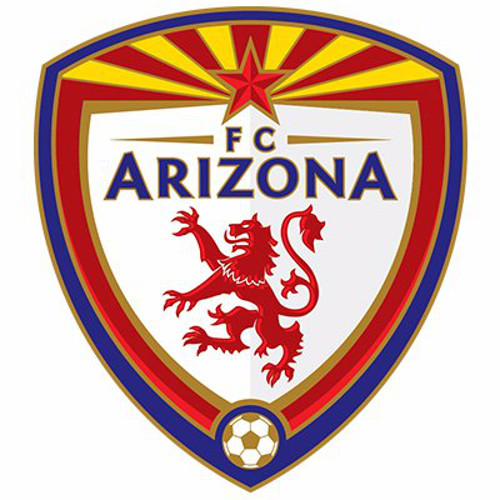 FC Arizona Has Big Ambitions For Pro Soccer In The Phoenix Area
XI Questions With… FC Arizona
Phoenix is the 12th largest metropolitan statistical area in the United States, with a population of over 4.5 million residing around Phoenix, Scottsdale and Mesa, Arizona.  Yet when MLS commissioner Don Garber rattles off his ever growing list of expansion candidate markets, Phoenix is rarely mentioned.  Phoenix Rising FC of the United Soccer League, until recently known as Arizona United SC, has played in the northern part of the Phoenix area in Scottsdale and Peoria, drawing a reported 1,470 fans on average across 15 home matches last season according to the Big List at Kenn.com.  Local entrepreneur Scott Taylor is launching FC Arizona in Mesa, offering another option, based in the eastern part of the market, to the Phoenix area's many soccer fans.
FC Arizona will be a fully professional operation in the National Premier Soccer League.  Taylor envisions the NPSL as a long term partner for FC Arizona, though he plans on elevating the first team to the North American Soccer League within a few seasons, keeping the club's reserves in the NPSL.  He has investors lined up for the step up in leagues, but the first order of business is a successful launch in NPSL.
Taylor is matching his ambitions with action by building an impressive team.  He has brought Northern Ireland international Aidan Davison on as manager.  Davison enjoyed a long career in English football as a goalkeeper with a number of well-known clubs, earning three caps with the Northern Irish national squad along the way. His managerial experience includes the Hull City reserves as well as FC Jax Destroyers of PDL.  The club's first player signing is goalkeeper Andrew Weber, who spent the 2014-15 seasons in MLS with the Portland Timbers, and had prior stints with the Seattle Sounders, D.C. United, San Jose Earthquakes and Montreal Impact.
Driven by a passion for the game and for his community, Taylor is working hard to lay a foundation for a successful 2017 launch for FC Arizona that will serve as a platform for bigger things to follow.
Midfield Press was able to speak with Scott Taylor, owner of the FC Arizona, to discuss his goals for the project.  
1. What inspired you to start FC Arizona?
I really become involved in soccer only about 3 years ago, when my son Wade's rec team was formed, when he was 8 years old. None of the other dads would volunteer to coach. So, reluctantly, I stepped up and did it with a very talented 16 year old center back from our neighborhood assisting me, we had a lot of success that season in terms of wins and also teaching these 8 year old boys the game, and as I studied the game in order to teach the boys. (We kind of learned together.) I developed a love and passion for the game, and when the game is done right, it truly is an amazing sight to see!

Now, with a better understanding of the game, I started watching EPL, MLS, La Liga, and Champions League games on TV. Any chance I could see live soccer, I jumped at the chance. Whether that was in Tijuana with the Xolos, while on vacation with buddies in Baja Mexico, or on a trip to Orlando, we saw Orlando City at the Citrus Bowl. If I was by a pro soccer team, I would see the match. The climax for me, is when my wife went to Scotland and England and saw a few matches. I was hooked after that trip and knew
I had to bring this amazing experience of watching good soccer live, to the people of Arizona. From that moment on, I started figuring out how to make it happen and FC Arizona is the result of that. I did research for a couple years. And I am lucky that we have a great team of people involved, who I am very proud of. So, we are excited to bring this to the people, so they can experience it themselves and have a hometown team to cheer for.
2. How did you come to choose the NPSL as the right place to launch the club?
It is a well run league, they gave me some market exclusiveness which I feel is very important to being able to build a brand, and we see it as a pathway to the NASL.
The NPSL deserves a lot of credit for what they have accomplished. I feel like they have given small town America access to be able to see live matches, in their hometown and there is something real and honest about that.
3. Where will the team play its home matches?
At John Riggs Stadium, seating capacity 6,000 at this time. On a campus of a very large College, called Mesa Community College in the Eastern Suburbs of Phoenix. With an enrollment of 22,000 students it is one of the largest Community colleges in the country. I have studied what FC Cincinnati and Orlando City have done with engaging the college population and we will be doing similar things.
4. How are preparations for the 2017 NPSL season coming along?  Are there any teams in the Southwest Conference that you think will be natural rivals to FC Arizona?  Any early signs of support for the club?
Preparations for 2017 are coming along great. We have open tryouts this week, and had 95 guys enroll to tryout. We are thrilled with our first signing, with an MLS goalkeeper, who is still in his prime. We are ahead of schedule.
I think conference rivals will happen organically, but I am sure we will compete hard with Albion. People from Arizona spend ALOT of time in San Diego, so I see that as rival for sure. I do know our fans will travel this Summer to see the team and make a trip to the beach. You drive through Mission Beach in June and it seems like there are more Arizona license plates than California. They call us Zonies, but we add a huge amount to their Economy. I do see Albion as a rival for sure, I know they will be serious competition for us. I went to a Albion match last summer and was impressed.
5. With Phoenix Rising FC of USL in the northern Phoenix area up in Scottsdale, and FC Arizona based in east of Phoenix, in Mesa, do you see competing with them for fans or do you think there is a separate and distinct part of the Phoenix metro market that you can each serve?
I get asked this question often, and without getting into details. We aren't worried about them. I will just simply say, we are focused on what we can do to be better. I have handpicked some of the best people in Maricopa County for each role in the club and they are all fantastic. We have much bigger plans than NPSL, this is just phase 1 of a bigger plan.
6. Why go with "Arizona" as the brand rather than "Phoenix"?
Very good question. It was definitely intentional. The simple reason is we plan on being a team for the whole state, and reaching out with exhibition games around the state, we have 3 Exhibition games in the planning phases for Northern Arizona, with high level teams from either the UK and/or Mexico, for next summer after the NPSL season ends. Again, we have a much bigger plan and we plan on branding the club as a team that the whole state can be proud of.
7. You mentioned to American Pyramid blog that you have ambitions to bring the team up to the North American Soccer League, while keeping a reserve squad in the NPSL.  Do you have sufficient investors for this now, or would it require further investment?  Have you been in touch with the NASL about expansion and started the vetting process? Or is this just a big hairy audacious goal at this point?
Rather than talk, we would rather show people what we can do. We definitely have a vision, and we plan to execute that vision based on what we know has worked with other clubs in other cities, but tailored to our market. We plan on doing things the first year right and seeing how the community responds at the gate. Yes, I have 2 very, very large local investors waiting to see how 2017 goes and if it goes well they are all in.

I have exchanged emails with the NASL front office, they are aware of us. We are interested in breaking down some barriers in US Soccer, that just because a team isn't in MLS, doesn't mean they are not quality. That is how the public perception is, and we plan on changing that in a big way.
8. Whenever a team is going to play in the Southwest, heat is an issue that always comes up.  How do plan to manage the heat issue for players and fans?
We will work with the conference to schedule the Home games in Spring. It is under 80 degrees here until the 3rd week in May, then we will go on the road, end of May through June. Makes sense for our fans, conference opponents and players. These California teams will only need to come out to Arizona once a season.
9. Phoenix is the largest MSA without Major League Soccer on the way to town.  Whenever Don Garber rattles off his list of cities up for MLS expansion, it seems Phoenix never makes the cut.  Why do you think MLS is not focusing on Phoenix as much as a similar sized market such as Detroit?
Because, it has been tried here before with the wrong ownership groups. Starts first with ethical behavior, and knowing the local market well. I have studied the past mistakes and I won't be making them.
10. We have recently seen informative write ups on the financial and operational aspects of successfully running a lower league team by the owners of the Kingston Stockade (NPSL) and Minneapolis City SC (PLA) in an effort to "open source" a soccer success formula to communities around the country.  Have you worked with any other groups to learn the best practices of running a soccer team in the US?
I have talked to many of the right people, spent 2 years researching and reading the best practices. This isn't something casual, I got into. We have really planned this out. Our head coach and I spent 2 days last year at the NPSL AGM and attended the Non-voting meetings and learned a lot there from everyone. Sean McDaniel, of Chattanooga FC, has been a great guy to talk to, as well.
11. What else should the readers of Midfield Press know about your club?
We have very big plans for the club, but rather than talk, we will do.
More on FC Arizona:
(Editors Note:  In reference to Question #5: Phoenix Rising FC played in Peoria in 2016 – in the Northwest region.  They last played in Scottsdale in 2015.  Since the interview, PRFC has announced that they are building a new stadium next to the Big Surf Waterpark on McClintock Dr – about a 12 minute drive from where FC Arizona will play at John D. Riggs)