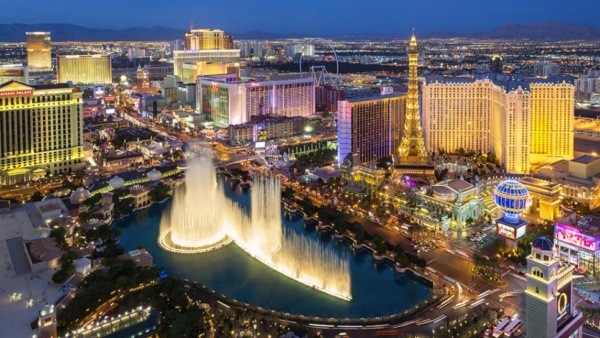 Exclusive: Las Vegas Football Club Aims To Bring Pro Soccer To Town
It would appear that a serious effort is underway to bring professional soccer to Las Vegas, Nevada. Midfield Press has learned from public records that an entity named Las Vegas Football Club LLC was filed in April 2015 by Las Vegas law firm Kolesar & Leatham. The entity has also registered the trade names LVFC, Las Vegas Football Club and Las Vegas F.C. with State of Nevada for a "professional soccer team, youth soccer academy [and] soccer coaching services." Robert J. Caldwell, an entertainment and sports lawyer with Kolesar & Leatham, previously reserved the entity name Las Vegas Quicksilvers, which was the name of the NASL team which operated in Las Vegas during the 1977 season, along with the domain name lasvegasquicksilvers.com. The same attorney reserved the entity name Las Vegas Scorpions FC and registered the domain names lvscorpionsfc.com and lasvegasscorpionsfc.com last November. Kolesar & Leatham declined to comment when approached by Midfield Press.
After the San Antonio Scorpions gave the North American Soccer League short notice that they would not be returning to the league for 2016, there was an effort to acquire and move the Scorpions franchise to Las Vegas, as reported in January by Empire of Soccer. As Bill Peterson commented to Empire of Soccer, there were some items that the Las Vegas group needed to finalize before the league could approve the transaction. It is unknown whether Las Vegas Football Club is the same group that attempted to purchase and relocate the Scorpions. However, sources tell Midfield Press that the Las Vegas Football Club group would be sufficiently capitalized to support a franchise at either the NASL or USL level, such that funding does not appear to have been one of the unresolved issues.
The biggest impediment to placing a team in Las Vegas appears to have been the lack of a suitable venue. UNLV's Sam Boyd Stadium has been recently renovated and is of a professional standard, but its size (about 35,000), high rental costs and remote location would not be a good fit for a NASL or USL team. The stadium, home of the original NASL Las Vegas Quicksilvers, regularly hosts professional soccer matches, but crowds at the remote stadium (including a May 2016 friendly between New York Cosmos and SD Eibar) have been sparse. Cashman Field, a AAA baseball stadium located in downtown Las Vegas, has also been discussed as a possible soccer venue. Cashman has hosted MLS preseason friendlies in each of the last two seasons. In the last year, potential MLS investor Jason Ader and officials representing the USL have both been publicly linked to the venue. Cashman may be an attractive size for soccer (about 10,000), but is reported to be in poor condition (the Las Vegas 51's AAA baseball team is trying to build a new facility in the Summerlin suburbs) and might require a substantial investment for renovations and repairs. UNLV's on-campus Peter Johann Memorial Soccer Field would appear to be too small (about 1,750) for either NASL or USL minimum requirements.
Sources confirmed that Las Vegas Football Club is comprised of a number of serious and well-respected local business leaders who are "soccer people" and passionate about the game. There was no information provided about when or where the team expected to start play, nor whether the team expected to play in the NASL or USL. The group does not expect Las Vegas to be a candidate for the next round of expansion for Major League Soccer, but they are said to believe that the market is ready now to support an independent professional soccer team. We are informed that neither Jason Ader nor Justin Findlay, who headed Las Vegas' unsuccessful MLS bid, are involved with the Las Vegas Football Club group.
Bill Peterson recently told Sports Illustrated that "We're talking to potential owners on the west coast—three different cities. Some are more advanced than others. All of them have a chance of getting admitted. We still have two conversations on the East Coast—they're not in Florida—which if they make sense you would want to do it." Midfield Press previously reported that we have been in touch with active NASL expansion groups in Los Angeles and San Diego. Joe Sumner, the son of the musician Sting, has been linked with an Orange County NASL effort but recently told Midfield Press that it is only in an exploratory phase at this time. The San Francisco Deltas are set to become the league's first west coast team in 2017 and their presence is a positive to all of the other groups looking to expand NASL in the west.