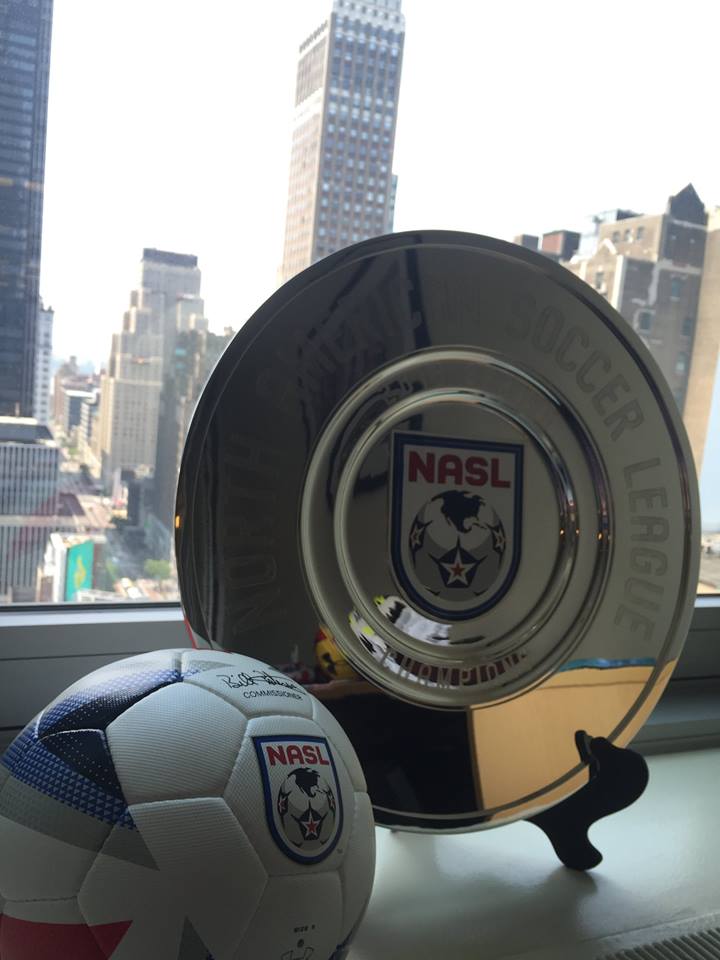 Indy Eleven: Reliving the Spring Season Championship
INDIANAPOLIS:
After the 3 years the Indy Eleven obtained it's first silverware to become the Spring Season Champions and to host a semifinal in the upcoming Championship Playoff later this year. Now it's time to recap how we got there. Here we relive the 10 matches that defined Indy Eleven's Spring Championship run and also look forward to fall.
Week 1: Indy Eleven at Tampa Bay (0-0)
It all began in Tampa this was Indy's first chance to hit the field in NASL competition in the 2016 campaign this match was the first opportunity to see the heroics of new Indy Eleven Goalkeeper Jon Busch taking on Tampa Bay star Tom Heinemann one on one and what end out to be Indy's first of 6 draws for the Season. Busch would get 36 touches during the match, 3 saves, and a clean sheet to open up his account for Indy Eleven. The Club would be nationally televised for the first time of the season through One World Sports to add to the festivities.
http://https://www.youtube.com/watch?v=zNwI1rUBTT0
Week 2: Indy Eleven Versus Ottawa Fury (Home Opener) (1-1)
April 9th couldn't come faster. The home opener was a bit slower game than others would expect given Ottawa got destroyed by the Cosmos the week before and all eyes were on Indy Eleven's Ottawa signings Ubiparipovic, Falvey, and Paterson in how they would react facing their former Club Ottawa. Following a scoreless first half Ottawa would score the first goal of the night from Idan Vered in the 55th Minute. Indy Eleven would seal the tie with a goal by Nemanja Vukovic in the 82nd making it the first goal of the season for the club.
http://https://www.youtube.com/watch?v=xhDaOKBm1mo
Week 3: Indy Eleven Versus New York Cosmos (2-1)
A match that started slow for Indy turned out to become a night full of history as Indy Eleven would win for the first time against New York in extra time. Eamon Zayed would score his first brace for Indy (90 minute penalty) plus a goal in extra time to send the help seal a top 4 spot for Indy Eleven in the early stages of the season. This was the first time a team in the match up would ever beat the other after numerous draws between Indy and New York since 2014. Definitely good moral for an up and coming NASL rivalry.
http://https://www.youtube.com/watch?v=1scq2J5JNFU
Week 4: Indy Eleven at Rayo OKC 2-1
It was a battle of expansion sides as Indy Eleven would take on NASL expansion team Rayo OKC in Oklahoma City. This match would see Vukovic's second goal of the season along with Indy Eleven Columbian star Reinoso score a goal to cap off the 2nd win of the season.
http://https://www.youtube.com/watch?v=VGfKNoI9VtQ
Week 5: Indy Eleven Versus FC Edmonton (1-1)
Indy Eleven's 3rd home match of the season would bring about the club's 3rd draw of the season as Greg Janicki would score Indy's first goal of the night in the 22nd minute of the match followed by Keegan's equalizer that would seal the draw for both clubs. Of course the Eleven would thank Edmonton for beating Fort Lauderdale in Week 10 to seal the Spring Season Title later on.
http://https://www.youtube.com/watch?v=ptSo5S7RWGg
Week 6: Indy Eleven at Fort Lauderdale 0-0
Week 6 would see another fantastic performance by John Busch as the Club would go scoreless against Fort Lauderdale after a rain delay.
Week 7: Indy Eleven pulverizes Minnesota United 4-2 at Home
Week 7 was a true beauty as Indy Eleven would seal another fantastic home victory in a team effort to help propel the team to it's 3rd victory of the season. The Evening's Scoring for the Eleven came as follows:
Éamon Zayed

16

(Assists: J. Braun)

O. Gordon

49

(Assists: Éamon Zayed)

J. Braun

75

N. Paterson

90+7
Minnesota would score twice in the campaign at one point tying the game completely before Braun's goal in the 75th and Paterson's goal in extra time.
http://https://www.youtube.com/watch?v=RCLsZxeGPTQ
Week 8: Indy Eleven at Jacksonville Armada (1-1)
Week 8 would see Indy Eleven's first goal in florida of the season of the 4 draws against the Floridian NASL Clubs all thanks to Justin Braun in the 73rd minute.
Week 9: Indy Eleven goes scoreless against Miami FC (0-0)
The week before Justin Braun opened up the Floridian account for Indy Eleven versus the Armada. Week 9 would be another big week for Jon Busch to help keep Indy's undefeated spring campaign alive.
http://https://www.youtube.com/watch?v=FkdV8ZZafvg
Week 10: Indy Eleven versus Carolina Railhawks (4-1)
Earlier in the week the league made it obvious that Indy Eleven would need to score 4 goals against Carolina and to make sure that Fort Lauderdale would not score 6 against FC Edmonton. Tim Hankinson would answer the call by coaching Indy to 4.
Indy Scoring Data:
Éamon Zayed

16

(Assists: N. Vukovic)

J. Braun

45+1

(Assists: N. Vukovic)

Éamon Zayed

65

(Assists: O. Gordon)

Éamon Zayed

85

(Assists: Duke Lacroix) 
Carolina would answer once in the 29th minute by Nazmi Albadawi.
Indy Eleven would go on to become the "presumptive Spring Season Champions" on Saturday Night before FC Edmonton would beat Fort Lauderdale on Sunday to seal the Spring Season and seal Indy Eleven's Spring Season Title.
http://https://www.youtube.com/watch?v=lCdUC06Sq_s
(Video Courtesy of WIBC)
2016 Midfield Press Indy Eleven Spring Season Awards:
Midfield Press Indy Eleven Spring Season Forward MVP: Eamon Zayed
Eamon would become the NASL Spring Season Golden Boot Winner scoring 6 Goals to open up his account with Indy Eleven to help seal the deal for the club in pivotal games such as the New York Cosmos victory, Minnesota victory, and finally the Carolina Victory. Eamon clearly solved the Striker opening become in the Club's top scorer of the season thus far.
Midfield Press Indy Eleven Spring Season Midfielder MVP: Justin Braun
Justin Braun proved to be a fantastic signing for Indy after playing in the USL for the 2014 and 2015 seasons scoring 12 goals for Sacramento Republic FC. Now with Indy Eleven he managed to score 3 important goals for Indy Eleven and be there to attack the flanks for the club in pivotal moments. During the Spring Season Braun started all 10 games and made an impact versus Jacksonville to end the Floridian Goal drought.
Midfield Press Indy Eleven Spring Season Defensive MVP: Jon Busch
We had to go with Busch in this instance due to the impact that he has made for this club since he was announced in the winter to take over for former Indy Eleven Goalkeeper Kristian Nicht. Busch came in for great experience in Major League Soccer from Columbus Crew, Chicago Fire, and San Jose Earthquakes. Busch last played for Chicago Fire appearing 12 times. As for his work with Indy Eleven he would manage to have 3 Clean Sheets to begin his time with Indy Eleven.
Midfield Press Honorable Mentions:
The first honorable mention goes to Nemenja Vukovic for his 2 goals and 2 assists for Indy Eleven this season. The second honorable mention goes to Omar Gordon for his contributions to the Club in his short time after playing the Red Stripe Premier League to go on loan for the Summer to play for Indy Eleven.
Finally, We have to mention Tim Hankinson and Co. And Peter Wilt for their fantastic contributions to Indy Eleven this season and beyond. The Club wouldn't be here if it weren't for you.
Contributor's Thoughts:
If you were to tell me following the signing of Tim Hankinson that we would become the Spring Season Champions I would have probably told you that if it were to happen I would be a very surprised individual. I believe that this club has built a fantastic foundation for the success over the years from all angles of the Club. It's amazing to say after 3 years we can finally have our first trophy to bring home to Indiana. The first major Trophy in the City since the Indiana Fever (Indy's WNBA Team) won the WNBA Finals in 2012. It's amazing to see how far have been able to go thus far and a healthy fall season should prep us well for the Playoffs.
(Video credits goes to the North American Soccer League for Highlights)