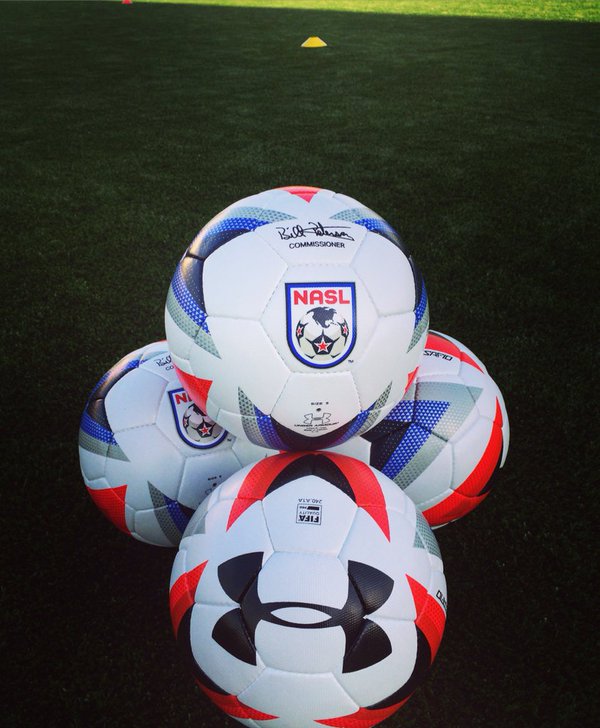 NASL Spring 2016: Week 6 Predictions
We are roughly midway through the Spring, and it's pretty clear who the top teams are. In fact, can divide the NASL into three parts: Florida, Canada, and the rest. Nearly all of 'the rest' are at the top of the table. Still, things can quickly change and never doubt the Floridian drive to play spoiler. I shouldn't be so hard on Florida, but almost all of it is a quagmire. Hopefully, the talent in the four cities representing the league there will be able to get on an upswing for the second portion of the Spring.
Canada is fairing little better than. In fact, you might have heard, Alberta is ablaze. We all need to chip in and help out our neighbors to the north. Even though Ottawa and Edmonton are on slight streaks, it's doubtful they'll be able to pull out of the tailspin soon enough to make an impact in the Spring. However, both teams are looking far better positioned than their Floridian brethren.
It'll be a super Saturday with all matches being played that day, so clear your schedules and monitor your Tweets. Here are my predictions for Week 6.
Saturday, May 7th
Ottawa Fury v Minnesota United 
2:00 pm EST
ESPN3 
TD Place Stadium, Ottawa, Canada
It's always fun to see Minnesota play Ottawa no matter where it is. The rebuilding Fury are coming off a win (granted against Miami FC) while Minnesota had a bye week. Ottawa is also entering the second match of its four game home stand, something that's got to raise the spirits of the team. Minnesota, on the other hand, is looking to extend its shutout streak to four games after blanking Edmonton, Ft. Lauderdale, and New York. Given the woeful state of Ottawa's attack, it's entirely likely that Sammy Ndjock will leave TD Place Stadium with three hundred and sixty goalless minutes under his belt. Having said that, I realize I've just jinxed the team. In all honesty, unless Minnesota play down to the Fury's level there's no reason to believe it won't win this match. With vastly superior players at every position and a traveling fan base that's looking forward to seeing Jonny Steele fail yet again, I can't see Ottawa winning this one.
Jacksonville Armada v Rayo OKC 
7:00 pm EST
beIN Sports 
Community First Park, Jacksonville, FL
Somehow Jacksonville fields between 2-4 forwards every match yet fails to threaten in front of goal. There are a few reasons for this, but my current favorite is just how unwilling the Armada's wingers are to provide service to the strikers. The team is quietly pissing away the talent of its strikers. The wings are horrid places when watching Jacksonville and given the team's speed and technique, it shouldn't be. The Armada will host their opposite in Rayo OKC. Defensive midfielder Richard Menjivar is now regularly listed as a right winger, which…not quite… Winger Billy Forbes routinely slots on as a second striker. And leftback Michel has been more dangerous in the league when pushed up the field as a left midfielder. This mutability is working for Rayo in the sense that it's producing goals. Goals for Rayo and goals for opponents, but whatever. If Jacksonville is going to right their ship, then they need to do it against Rayo. However, after Wednesday's disgustingly languid performance at home against FC Edmonton, I have no confidence in this team to pick up three points so look for a draw.
Carolina Railhawks v Ft. Lauderdale Strikers
7:30 pm EST
ESPN3
WakeMed Soccer Park, Cary, NC
A loss last week to the New York Cosmos brought the Railhawks back down to Earth. However, it won't be long before they're flying again…if that's what a railhawk does…what's a railhawk anyway? Regardless, there is no way that Carolina's attack will be stymied by the worst team in the league. Yeah, that's right, Ft. Lauderdale are the absolute worst. Not just in Florida, in the league and that's a huge disappointment because this team should be better. Yet, somehow expecting PC to do everything, being undisciplined, and languishing with the ball instead of actually building up any sort of cohesive play leads to a lack of points. But there is a chance for the Strikers to come out of this looking better than they are. Carolina has been know to crack on the road and often immediately after a hard fought loss, the team is still in the doldrums the next week. Strikers aren't a good team yet, but they are opportunistic. If Carolina doesn't focus, doesn't press this lazy southern Florida team, then it won't get the three points it deserves. I don't expect that to happen, Caroline wins on the road.
Photos: Mike Pendleton, @phat7deuce
Indy Eleven v FC Edmonton 
7:30 pm EST
ESPN3 
Michael A. Carroll Stadium, Indianapolis, IN
Indy are a vastly better team under Tim Hankinson and Edmonton are starting to gel which will make this match entertaining. I'd like to say that the Eddies will keep its winning streak going but, honestly, when nearly all of your offense comes from your backline, it's doubtful. Unlike Jacksonville or Ottawa, the strikers for Indy are finding their form and actually living up to expectations. Edmonton centerbacks Albert Watson and Pape Diakite will have their hands full dealing with strikers Eamon Zayed and Jair Reinoso; on the other side of things, Indy's defense looks plenty strong enough to see off the Eddies still paltry attack. Look for Indy Eleven to pick up three points at home.
Miami FC v New York Cosmos 
8:00 pm EST 
ONE World Sports 
FIU Stadium, Miami, FL
There are three players on Miami FC that have been performing well enough to take note of–Ariel Martinez, Jonathan Borrajo, and David Vega. Everyone else in Miami's gameday eighteen are atrocious. I can see no scenario where Miami beats the Cosmos. Quite simply, Miami lack the fight, finesse, and organization to seriously challenge the New York. Miami could only pick up points if Cosmos B came out to face them. And even then…