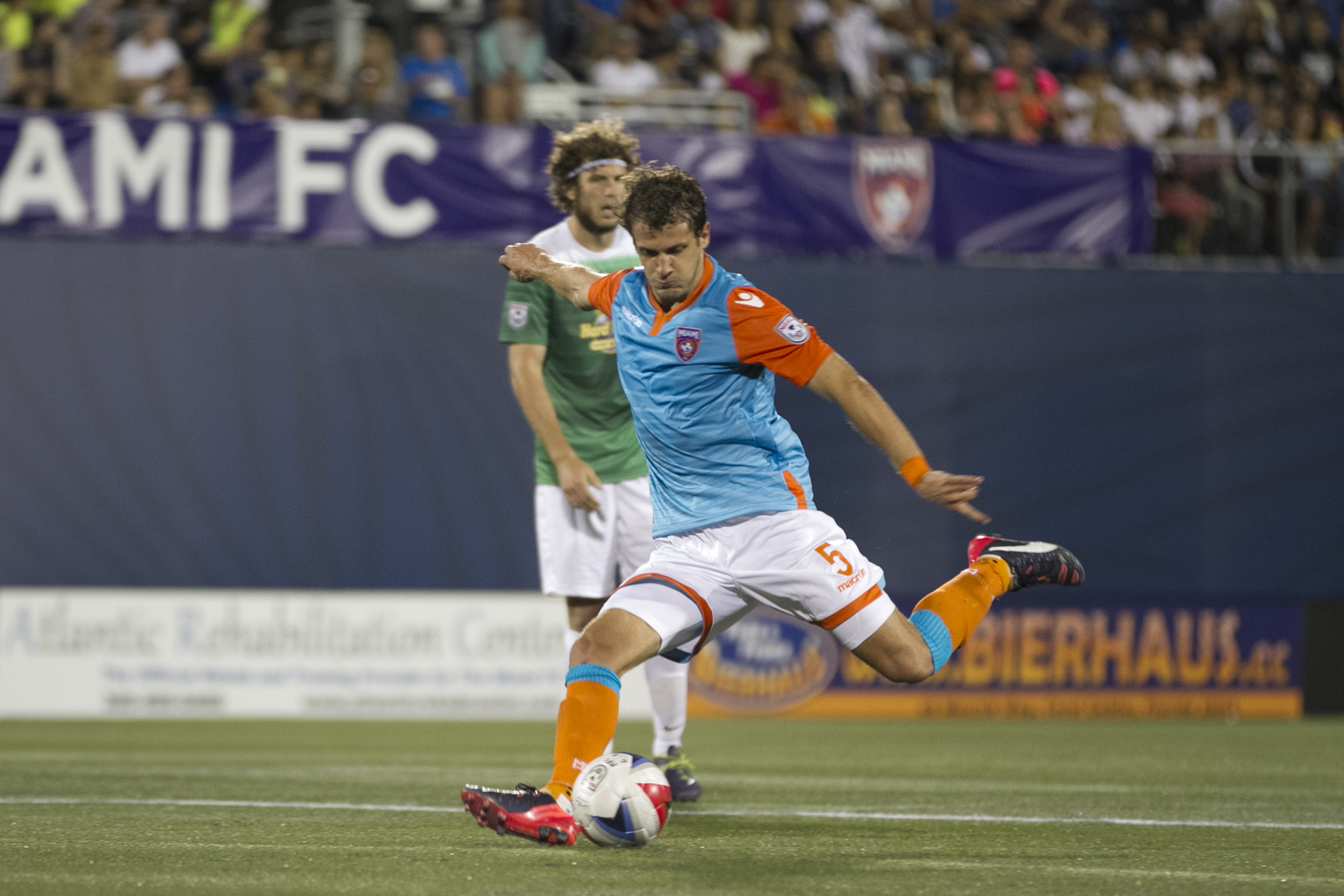 Mason Trafford Returns To Ottawa with Miami FC
Miami FC will make their first trip to the Great White North this weekend as they take on Fury FC in Ottawa's 2016 home opener.  It will be the first time that Miami FC have made their way to the Canadian capital, however for one player it will be familiar stomping ground.   Beyond holding a Canadian passport, Mason Trafford spent two years with Ottawa Fury FC before making the move to Miami FC this off season, and the return will be somewhat bittersweet for Trafford and Fury supporters.
Virtually everyone knows about the exodus that occurred in Ottawa this winter, and many fans were quick to say they would not welcome back those players who left with open arms.  Tom Heinemann was allowed to talk to others clubs before the season had ended, while the likes of Colin Falvey, Richie Ryan and Sinisa Ubiparipovic handed in transfer requests; however Trafford's case was somewhat different.
Trafford, like many players with good agents who know the game well, had a clause in his Fury contract that would be triggered when another club made an offer matching that of his contact.  The exact fee mentioned in his Fury contract is unclear as the league and clubs do not release contract details or transfer fees, however what is clear is that Miami FC met that transfer fee, meaning that Fury FC had their hands tied and legally and/or contractually they had to allow Mason to make the move.
When asked what returning to Ottawa as an opponent would feel like, the Canadian center-back said "I'm really looking forward to it. We [Fury FC] had a special year in 2015 and I have great memories of playing at TD Place."  Mason was voted Fan Player of the Year both years in Ottawa and will be hoping for a friendly reception upon his return.  "Being in the visitors' locker room will be strange, but I'm looking forward to a good game. Hopefully the fans that were so good to me for 2 years will give me a great reception!"
Looking ahead to the match with Ottawa Fury, Trafford will be lining up some forwards that he has worked with in the past, such as Paulo Jr and Carl Haworth, but the Canadian defender doesn't feel as though that will give him an advantage as Fury manager Paul Dalglish utilizes his forwards differently than Dos Santos did during Trafford's tenure. "They're both talented players and guys you have to keep an eye on. I know their tendencies from having played with them, but I wouldn't say that's a huge advantage. The game is always changing and everyone has to adapt to what the game gives. Although current results haven't quite gone in either teams favor, both teams play an attractive style of soccer and I think it will be a really exciting game."
Mason has mentioned before that one of the big draws for going to Miami FC was that he was able to work under Italian legend Alessandro Nesta, and hopefully learn from the former AC Milan defender.  "It was a big draw.  It's been amazing learning from someone of his pedigree. He brings with him another level of experience and a winning mentality at the highest level of world soccer. This is a special thing, especially in North America, and it's been incredible learning from someone like that."
Trafford has had the unique opportunity of being part of an NASL expansion squad for the second time, having spent the first two years of Fury's NASL existence as a main stay in their roster. When asked what it felt like to be part of an expansion side again Trafford said "When you are a part of an expansion side, I think everything you do has significance. We are the first ones to start writing the history and building the culture of the club. With that comes a responsibility, but no more than any other club."
Trafford is convinced that Miami FC can reach success just like Ottawa did in their second year, and he is thrilled to be a part of that effort.  "Everything we do as players reflect back on the club, and we're just focused on building a winning team. It's a challenge, just like it was with Fury FC, but one I embrace. Miami FC can do great things in this league, and I want to help make that happen."
Mason seems to have settled down well in Miami, and has become a main part of Nesta's starting XI after recording some of the most minutes in the NASL over the past two seasons.  "The club has been very professional so far. Everything is setup so we can try to have success right from day one. We know the challenges of being an expansion side, but there's belief in our group that we have a very good team, and I think the fans and the city can see that."
It hasn't been the easiest starts for Miami FC, giving up some points and still searching for their first win as a franchise, however Trafford believes the club are moving in the right direction. "Everything is being done the right way here, so I'm confident in the future of this club. We are taking it one game at a time and learning from our mistakes. We've been improving every match and I think this team has what it takes to make a real impact on the league."
Ottawa Fury will host Miami FC at 2pm on Saturday at Lansdowne Park as both clubs look for their first win of 2016.  For more NASL interviews, news and opinions, save www.midfieldpress.com in your bookmarks!