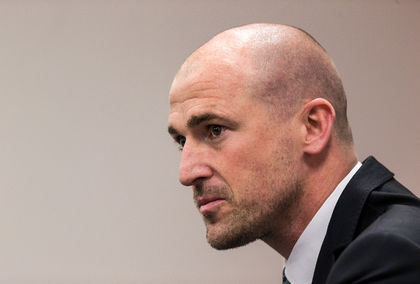 Dalglish Shoulders Blame For Poor Results, Looks Ahead To Home Opener
Ottawa Fury will host Miami FC in their home opener this Saturday, after playing their first four matches of the season on the road, and with a 0-1-3 record they will be hoping the home field advantage is enough to help them build up their confidence and find a win.  In two interviews with TSN 1200, Ottawa Fury manager Paul Dalglish discussed some of the complications of playing on the road and some of the advantages to playing at home.
Long Away Days
One of the disadvantages to playing for Ottawa Fury is the long travel days to virtually any NASL city.  Most trips require a flight to Toronto, and although it is a quick flight, it is sometimes just the first of many.  If lucky, Fury may be able to find a direct flight to final destination, however often times they require another stop over (usually in DC or Atlanta) before catching their final flight.  With security, customs, delays and wait times, sometimes a travel day can be over twelve hours long.
"It's a tough league to win league on the road with the amount of travel we have to do" Dalglish told TSN 1200.  For Dalglish, it appears the first four matches have been a wake-up call in terms of what he can expect from his players on the road, "Playing a high tempo high pressure games for 90 minutes away from home is unrealistic."
Dalglish isn't afraid to shoulder some of, if not all the blame for Fury's run of poor results in the first four matches, although he does say the results do not necessarily reflect the performances. "The results haven't gone the way we wanted them to go, but we haven't played as badly in the games as the results have suggested. I've got to take a whole lot of blame really for the results in the first four games. [With] the amount of travel we have to do, maybe I've asked a bit too much of the players in the first four games in terms of playing a high tempo offense on the road."
Beyond taking the fault for poor results, Dalglish says that he has addressed the problem and, along with his coaching staff, believes he has found a solution to dealing with the lengthy travel and the toll is takes on his squad. "It's been a real learning experience for me and I have to adapt and improve, and I am prepared to do that moving forward" the Fury gaffer commented.  He believes addressing the tempo of training on pre-travel days and altering some training schedules will hopefully allow for his players to be as rested and prepared as possible ahead of away games. "The first four games are on me.  The four games have been a steep learning curve for me. We've done a deep analysis of everything and we've agreed on a way going forward"
Making Home A Fortress
On the reverse side of the coin, Dalglish hopes that by having a stint of home games he can get the most out of his squad, and have them playing the high tempo, pressing, attacking style football that he promised when he took over five months ago. "We've been waiting for this moment" Dalglish said of the home opener.  "I'm really confident that guys are going to put a show on.  We want a high energy game, a high tempo game.  We want to entertain people and we want to see a team that's full of passion."
Dalglish has had a taste of what Ottawa Fury fans can offer at home matches having taking in the clubs semi-final last year vs Minnesota. "I can't wait. It was one of the attractions of the job at the first place was to get to play at TD Place in front of the supporters.  We want to make TD Place a fortress."
Although Dalglish shouldered the blame for Fury's loses, he insists it is the players that will ultimately win the games, when the wins come.  "Coaching is over rated; players win you games.  It's them that play the game.  Our job is to point them in the right direction."  Dalglish will hope that playing in front of the home crowd will be enough to give his squad the confidence to go and find their first win of 2016.  "It's your players that win you games, so you've got to make sure they are going into the game in the right frame of mind."
With all but one of their remaining Spring Season matches in the NASL taking place at Lansdowne Park, Ottawa Fury will need to ensure they take advantage of the home field and push themselves off the bottom of the standings and into a playoff hunt.