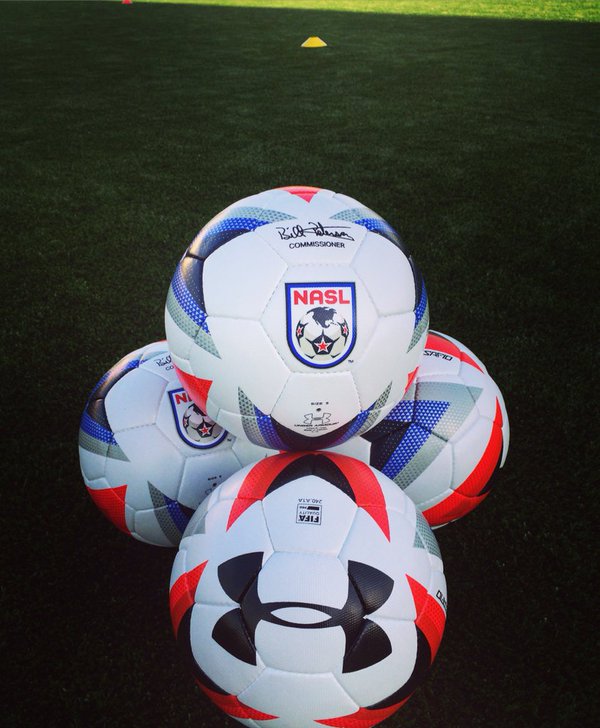 NASL Spring 2016: Week 4 Predictions
As we enter the middle of the Spring season, we're going to start seeing some major reshuffling in the table. It's going to be fun and frustrating. 
Friday, April 22nd
Miami FC v Rayo OKC
8:00 pm EST
ESPN3
FIU Stadium, Miami, FL
Miami have been stunningly underwhelming. For instance, even though striker Dario Cvitanich has scored in every match so far this season, he's been a non-factor in attack (two of his three goals are penalty kicks). Although attacking midfielder Ariel Martinez has shown a frenzied pace, very little has come out of Miami to impress. This has been reflected in their record to date, two draws and a loss. It makes it odd then that we can look at a team like Rayo OKC who have also failed to tally a win and conclude that it is the more threatening team. Rayo failed to kill off Edmonton when they were a man up and then had the misfortune to lose to Carolina in a goal bonanza. It's simple really, Rayo have scored more and surrender fewer goals than Miami. 
Rayo OKC picks up its first win.
Saturday, April 23rd
Ft. Lauderdale Strikers v Jacksonville Armada
7:00 pm EST
ESPN3
Lockhart Stadium, Ft. Lauderdale, FL
A lot of people thought that the Strikers were going to come out of the gate strong. A productive preseason and talented new signings gave good reason to feel bullish on them. The team has only played two games, so we have to pump the breaks a bit on the negativity. However, in the ten match Spring, one point out of six is dire. Not only that, but Ft. Lauderdale looked terrible in each of its matches. I think part of this is because too much is being heaped on PC to be the team's golden boy. 
I could imagine a labored draw in the works because playing at Lockhart always looks sad for either team. But the Strikers lack momentum as well as a cohesive presence, unlike Jacksonville, who I think will pick up their first road win of the season.
Tampa Bay Rowdies v Carolina Railhawks
7:30 pm EST
beIN Sports
Al Lang Stadium, St. Petersburg, FL
Carolina are still the hottest team in the league. Even though on paper, they've just gotten by their opponents, when you watch the matches you can't help but be impressed with just how dangerous the trio of Austin Da Luz, Nazmi Albadawi, and Tiyi Shipalane is. The team is in form and in the driver's seat for the Spring title. Although the Rowdies should be doing better than they are (an eternal mantra for the team) they have been steadily improving. Yet hanging your hat on a one-nil win over lowly FC Edmonton is rather daft. Striker Tom Heinemann is still failing to warrant minutes and while Tampa Bay's defensive line has had moments, I can't see this team beating the Railhawks. However, the Railhawks could end up beating themselves. Against Ottawa last week, even though Carolina threatened again and again, its finishing was less than stellar.
But I think the return of Brian Shriver to Al Lang Stadium will be interesting, and I think he'll come out ahead of his counterpart Heinemann. Carolina wins.
Minnesota United v New York Cosmos
8:00 pm EST
ONE World Sports
NSC Stadium, Blaine, MN
Minnesota haven't faced that impressive of opposition the last two weeks. Edmonton was easily swept aside two weeks ago and last week Ft. Lauderdale was shambolic in defeat. Facing the Cosmos will be a real test for the team. If Minnesota hopes to win the Spring, then it must beat the Cosmos (especially after losing the season opener to Carolina). New York will be looking to bounce back after a stunning last minute loss to Indy Eleven last week. Like Minnesota, the Cosmos opened the season against very weak opponents and then had their bell wrung by a surprisingly good Indy. 
These two teams are rather even across the board, so I'm going to have to go with a draw.
Sunday, April 24th
FC Edmonton v Ottawa Fury
4:00 pm EST
ESPN3
Clarke Stadium, Edmonton, Alberta, Canada
Perhaps the least interesting match of the weekend will be this battle for the bottom. It's been hard on the Canadians so far this season. I can't imagine that changing for either side. Ottawa lack anyone in attack who can impress or finish. Edmonton seem unable to organize themselves anywhere outside the middle third and even then, there is no creativity or urgency. Things need to change for both sides.
It's going to be a messy match. Edmonton have yet to score a goal but Ottawa have given up the most thus far this season. I can't see either side doing anything of note, so I'm going with a draw.