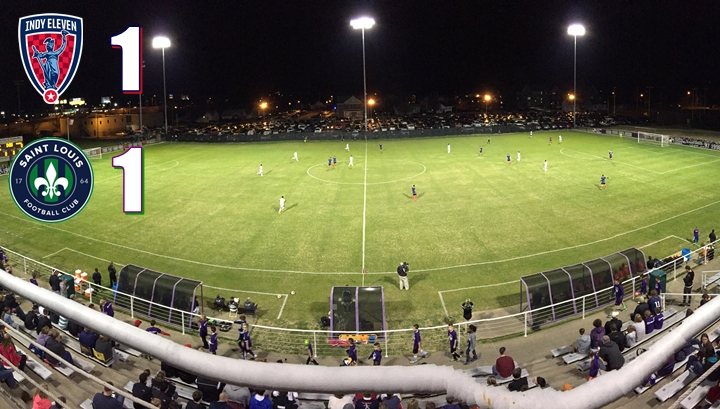 Reliving the Magic in Evansville (Eleven/STL Recap)
EVANSVILLE:
On Wednesday night at Arad McCutchan Stadium, the Eleven took on USL sophomores Saint Louis Football Club under the lights in Southern Indiana. The game finished in a 1-1 draw that would only further the progress of the club's preseason campaign. This match was the first professional match of its kind in southern Indiana and ended up having a decent turnout from the city of Evansville, American Outlaws Evansville, The Brickyard Battalion, and the St. Louiligans.
The first half ended goal-free with sweet saves from Eleven newcomer Jon Busch. The energy of the match changed in the second half as Saint Louis forward Irvin Herrera popped in a goal in the 46th minute. Indy Eleven veteran Don Smart got things rolling, equalizing in the 64th minute. They finished the match in a 1-1 draw on a historical night in southwest Indiana.
Indy Eleven also tested out Colombian forward Jair Reinoso in Evansville last night. He has diverse experience from South America, Europe, and Asia in countries such as Argentina, Bolivia, Colombia, Chile, China, and France. Reinoso has scored 91 times domestically through out his career.  
Scoring Summary: 
STL – Irvin Herrera (unassisted) 46'
IND – Don Smart (Duke Lacroix) 64'
NOTE: Substitutions were unlimited in this match*
Indy Eleven Starting Eleven (4-2-3-1, L -> R): Jon Busch (Keith Cardona 70'); Nemanja Vuković (Nicki Paterson 70'), Greg Janicki, Colin Falvey (Cory Miller 60'), Lovel Palmer (Neil Shaffer 83'); Gorka Larrea (Marco Franco 35'), Brad Ring (Dylan Mares 60'); Duke Lacroix (Dragan Stojkov 70'), Eamon Zayed (Sinisa Ubiparipovic 70'), Justin Braun (Wojciech Wojcik 60'); Jair Reinoso* (Wojciech Wojcik 60')
* = trialist
Saint Louis FC Starting Eleven (4-2-3-1): Mark Pais; Parker Maher, James Musa, AJ Cochran (Sam Fink 32'), Richard Dixon (Jake Bond 72'); Chad Bond, Tyler David (Drew Connor); Schillo Tshuma (Mitch Lurie 72'), Jamiel Hardware (Mike Ambersley 72'), Charles Renken (Kentaro Takada 72'); Irvin Herrera (Jermie Lynch 72')
Indy Eleven will continue its preseason campaign on Saturday March 19th with a scrimmage against USL Eastern Conference finalist Louisville City FC. The closed-door affair in the Indianapolis area will take place at 2:00 p.m.  ET.  Details on if it will be open to the public or not are subject to the club.