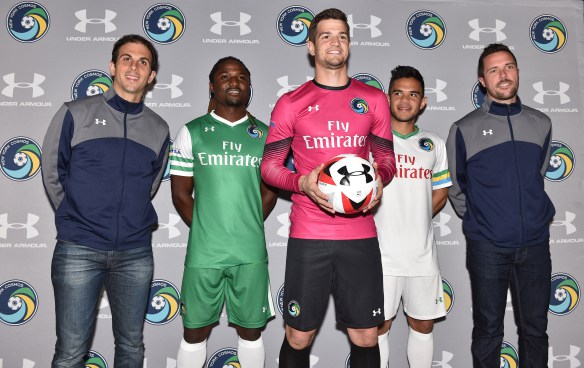 Kits Revealed, changes made, more to come for the Cosmos
The Cosmos unveiled their new kits on Wednesday, part of their partnership with Under Armour. While we had previously mentioned that distribution would be a part of the deal, we hadn't anticipated the amount or scope of changes that would follow.
Empire of Soccer reports that while Cosmos gear will feature in the Under Armour Brand House in SoHo, it will also be carried in other Under Armour stores and includes the possibility of them appearing in Canada and Mexico. But that's not all.
"We are working with other partners who have purchased the jerseys for resale. Modells, Soccer.com and then obviously the Cosmos, their online store and stadium," Under Armour Director Sean Flynn told Empire.
For the last three years, outside of a short-lived stint at Modell's in 2015, you could not find Cosmos gear outside of attending a match at Hofstra or ordering online and waiting for delivery. Now, we're talking about ready access across New York and beyond.
And those aren't the only changes.
Visit ThisIsCosmosCountry.com to read the full post.