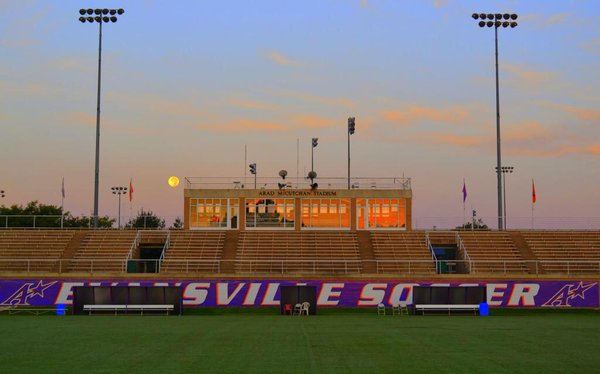 A Bright Future for Soccer in Evansville?
On March 16th at 7:30 PM CT will be the very first time two professional soccer clubs, Indy Eleven and Saint Louis Football Club, go head to head at Arad McCutchan Stadium at the University of Evansville. What could this mean when it comes to the future of Soccer in the River City?
Before we go deeper into the topic let's outline Evansville, Indiana's Soccer background:
Evansville has a reputation for producing MLS Caliber talent with Josh Tudela (Evansville North/LA Galaxy, Scott Cannon (Reitz Memorial, Columbus Crew/Tampa Bay Mutiny) and Steve Klein (New England Revolution/Vancouver Whitecaps)
The University of Evansville produced the likes of International David Weir who played a storied career in England and Scotland.  His most successful years were at Everton Football Club in Liverpool where he scored 10 times in 235 appearances with the Toffees.  He finished his playing career at Rangers FC  scoring 4 times in 162 appearances. Currently Weir is the Assistant Manager at Rangers Football Club. During his playing career he would go on to win 3 titles with Rangers FC.
Evansville's first professional soccer team was the Evansville Crush founded in 2010. The team was a member of the Premier Arena Soccer League (PASL-Premier), the development league for the Professional Arena Soccer League (PASL), and played in the Midwest Conference. They played their home matches at the Metro Sports Center. In 2013, the team was replaced by the Evansville Kings but lasted only one season.
Evansville currently has two MLS Development Clubs with likes of Sporting Kansas City and Chicago Fire.
At the High School Level Reitz Memorial High School's Girl's Soccer Team has won 4 state titles including  (1988-89, 1996–97, 2008–09, 2012-13)
In 2015 Evansville organized the City's American Outlaws Supporter's Chapter AO Evansville that meets at Ri Ra's Evansville for USMNT and USWNT Matches.
We got the chance to catch up with AO – Evansville Vice President Ryan Huff to talk about the upcoming friendly and the future of Soccer in Evansville.
Logan: What do you think the upcoming friendly means for the City?
Ryan: It's huge. It's a huge opportunity to grow the game in the city of Evansville and gain some interest as well.
Logan:  Do you think the City could get behind a Professional or NPSL Club?
Ryan: They said hockey would never work in a basketball and football town mainly surrounded by high school sports, but 8 years later I'd say that's changed rather quickly so why can't soccer work here?  I think a lot will tell in the upcoming friendly as to what kind of a fan base we have.
Logan: One of the City's successes is the creation of AO Evansville. Perhaps maybe creating something like Racing Indy FC (Now the Brickyard Battalion) coming together?
Ryan:  Absolutely.  Our AO chapter is doing fairly well with numbers, having been in the works for a little over a year now and finally becoming official late last year.  We could use that as way to drum up and gain support for the game in the city to show potential owners that we have the fan support here, and could support our own team.
Huff concluded the interview saying  "An NPSL team could be a great start for pro soccer in Evansville. Evansville has a long history with sports but never a professional or semi-pro team (at least to my knowledge).  This would be a great way to start and maybe help gain some interest from the NASL and USL some time in the future."
Personal Thoughts from the Author:
Having lived in Evansville and graduated from Evansville North High School I can tell you that there is a great deal of interest in the sport from the younger generation here. A Professional or Semi-Professional Club in Evansville could help bring the City together and in turn, improve a City with a redeveloping culture. The games could easily be played at the University of Evansville and could bring in a lot of local profits. Essentially, Evansville is a place where once you visit a piece of it will always be with you. It's a unique and diverse community built for the World's Game.
If anything, the best concept being promoted is Indiana. With the growing interest of the culture of the Indy Eleven and the club's Indiana heritage, there is a number of possibilities that could come from this event.
The upcoming friendly between Indy Eleven and Saint Louis FC will see the likes of a rejuvenated Indy Eleven squad under the new leadership of experienced manager Tim Hankinson. The cost of admission to the match is $5 and tickets are first come first serve.
Finally the University of Evansville put together a fantastic promotional video for the event that is a must see for all soccer fans: