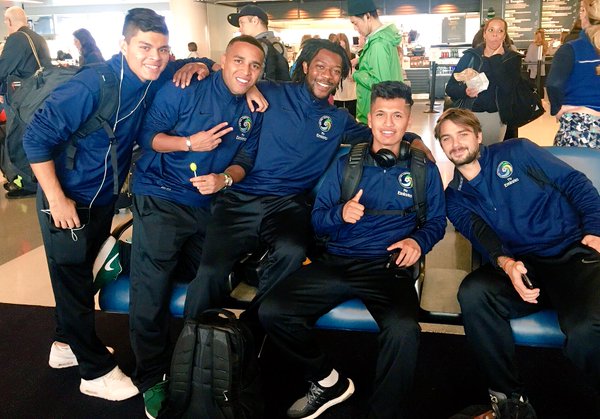 Plenty of New Faces on Cosmos Preseason Tour
With the first match of the California tour set to kick off in just two days, there's some interesting things to keep an eye on when it comes to the Cosmos roster.
Cosmos roster:
The Cosmos unveiled their travel roster of signed players for the three matches in California:
GOALKEEPERS:
Jimmy Maurer, Kyle Zobeck, Brian Holt
DEFENDERS:
Hunter Freeman, Carlos Mendes, Rovérsio, Ayoze, David Diosa, Alexis Velela
MIDFIELDERS:
Michael Lahoud, Andrés Flores, Sebastián Guenzatti, Danny Szetela, Ruben Bover, Adam Moffat,Juan Arango, Yohandry Orozco, Eric Calvillo, Jimmy Mulligan
FORWARDS:
Jairo Arrieta, Lucky Mkosana
Most recent signig David Ochieng did not make the trip and will meet up with the team upon their return from the San Jose game.
Non-Cosmos players:
From a photo taken at the airport before the team's departure, Niko Kranjčar appears to have made the trip. It seems he will continue his training with the Cosmos after scoring a goal in their recent friendly with LIU. I am personally hopeful that he and the Cosmos can come to terms and a contract gets signed.
The club also released the names of three trialists currently on the tour.
Adrian Ruelas is a Mexican-American attacking player who has represented both countries at the youth level. The 24-year-old went through the Santos Laguna academy before joining the senior team. Ruelas has also been sent on loan to other Mexican sides, like Chiapas and Verazruz, and was even loaned to Celtic. However, it appears he's had difficulty finding consistent playing time, having one Ascenso MX match played for Celaya last March.
Striker Norberto Ochoa, 25-years-old, spent last season with Mt. San Antonio College and UC Riverside. He scored seven goals and added two assists in his 14 starts (19 appearances total) for the latter
Goalkeeper Paul Blanchette, 21-years-old, spent last season with Loyola Marymount University. Named co-Goalkeeper of the Year of the West Coast Conference, Blanchette also set the school's single season shutout record (8), became the school's all-time leader in shutouts (19), and left with the most wins in his position in the program (26).
In another bit of interesting news, Yasmani Duk appears to have finally left Bolivia to join the Cosmos for preseason.
Visit ThisIsCosmosCountry.com to read the full article.