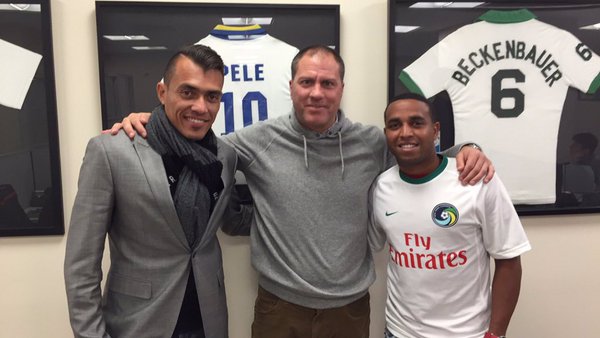 The New York Cosmos' Juan Arango and Yohandry Orozco in their own words
The Cosmos are starting to develop a Venezuelan flavor with the recent signings of Juan Arango and Yohandry Orozco, members past and present of El Vinotinto, the Venezuelan national team. While Orozco currently has 25 caps with them, Arango left the national team as their "eterno capitán", leading the team in caps and goals.
Joining Giovanni Savarese, himself a former Venezuelan international, the duo will seek to build on the successful 2015 season that ended in a league title and hopefully aim for a deeper push into the US Open Cup, where the Cosmos have been stopped at the Round of 16 for the last two years.
TICC recently had a chance to sit down and ask the new signings a few questions. Here's what they had to say.
"I've seen very little of the league," said Arango when asked about the NASL. "They didn't really show it in Europe and I saw very little in Mexico. But it's very interesting because of the big players who have come. The players have moved it to a level that makes it very interesting."
So why New York? Why the Cosmos?
"I like New York, who's not going to like it? I'm with a club that has a name, and even though they are not in MLS, big players have come like Pele, like Raul, like Marcos Senna who are symbols of the Cosmos. And because I have a great friend as the coach who gave me the chance. We spoke about this possibility and I came here."
Speaking of MLS, we had to ask if he'd received offers from teams there.
"I really don't know. I didn't ask my agent if there were offers from MLS, but I had spoken with Gio who wanted me to come here and I liked the idea since we had played together some time ago on the national team," said the midfielder. "The possibility happened and I joined."
"I don't think I'll be out wide," he also said in regards to where he might play. "It'll be more central, but I don't know where exactly yet. Maybe a central attacking mid. I'll talk it over with Gio, but there are still two months to discuss it, to train in the position he wants. There's enough time."
We took the conversation back a bit and asked him to share his experiences with us, primarily where he'd felt he learned the most and where he had experienced the most development.
"In each club I learned little by little. I was in Mexico in 2000; I was very young, and the experience was difficult. Being in Spain, I had been playing outside of my country for some time and had picked up some experience and it went much better. And in Germany, I developed very much."
Orozco also felt that Germany really influenced his development.
Visit ThisIsCosmosCountry.com to read the full article!