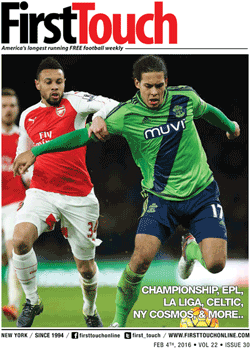 Cosmos Country Report on First Touch
We're happy to announce you can now find us on First Touch!
In their own words, First Touch is the USA's longest running free weekly soccer magazine. Now in its 21st year serving the New York footballing community, First Touch continues to provide excellent analysis of all the top European action along with in-depth coverage of local teams and leagues.
TICC is happy to have linked up with First Touch. They are a quality source for soccer coverage in New York and we don't know why they'd spend time on us. Everyone knows who they are and it's a honor for us to write the Cosmos Country Report for them.
Make sure to go visit First Touch Online or grab a copy in your local soccer bar today!