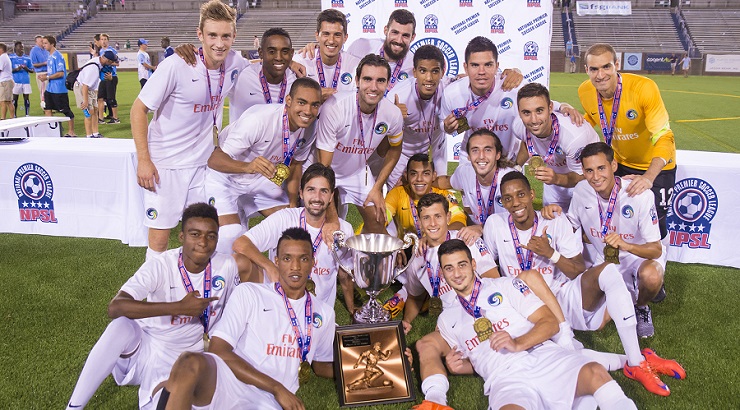 Continuity, Change, and a Championship – A Look Ahead at Cosmos B in 2016
The stage was Chattanooga's Finley Stadium on a warm summer evening.
No more than 20 seconds into the first extra time, Ibrahim Diaby swung his right boot through a backheel feed from Miguel Herlein on the edge of the 18 to stun the raucous record crowd of 18,227 into near silence. He sprinted towards the sideline, teammates in tow, in utter jubilation of the wonder goal he just scored.
Just before the stroke of halftime, Uwem Etuk found Julian Stahler on a breakaway for a tap in. As the ball rolled into the net, Stahler tore off his kit and sprinted towards the opposite sideline, knowing what the goal had meant.
And with this, the title had been sealed.
New York Cosmos B ended their rock and roll inaugural season by overtaking traditional NPSL powerhouses Chattanooga FC 3-1 on August 8th. It marked Alecko Eskandarian's first title as a coach, and the hard-fought, undefeated season saw the MosB boys net 49 goals while conceding only 7. All in all, it was a very impressive season for the boys in green.
However, where does the B team stand this season? In a league known for its turnover and change, what does the squad look like roughly three months away from kickoff? First, let's start with who's sticking around this year:
Alecko Eskandarian's technical staff will be returning for the 2016 NPSL season. Among the names to see on the sidelines are assistant John Fitzgerald, goalkeeper coach Steven Diaz, team administrator Brian Walsh, Cosmos Country's derby hero (and athletic trainer) Mighty Mike Mayamoto, and Athletic Trainer Aphrodite Daphnis.
In between the sticks, fan favorite Kyle Zobeck (who featured last NPSL season due to injury rehab) will be a part of the Cosmos plans in the upcoming year, although it is likely he will be mainly competing for the backup keeper position on the first team with Brian Holt. This certainly opens the possibility of New Jersey native Johnny Morales, who earned time early in the first half of the season, to get into the mix.
Most of the back line that allowed only seven goals all of last season will be returning in 2016. Daniel Evuy, Uwem Etuk, former Notre Dame standout Andrew O'Malley, Gonzalo Rodriguez, Esetban Llamosa, and Nick Costa are all looking to build on last season's defensive success.
The midfield, just like the defense, looks to have a good amount of continuity in 2016.
This article was written by Steven Hamlin. Visit ThisIsCosmosCountry.com to read the full post.