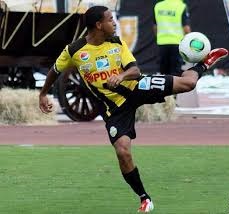 Official: Yohandry Orozco signs with the Cosmos
After an early report from Empire of Soccer suggesting as much, the Cosmos announced Yohandry Orozco as their newest signing today. The Venezuelan attacking midfielder was the second such signing in two days with the signing of another Venezuelan attacking mid, Juan Arango, coming just the day before. Orozco had also apparently attracted the attention of FC Dallas
Orozco is 24-years-old and, like Arango, has spent time with the Vinotinto, the Venezuelan national team. He has 25 caps, five of them coming in the most recent round of World Cup qualifiers and has scored three goals across all appearances.
His career has taken him from Venezuela, where he began his professional career with Unión Atlético Maracaibo and Zulia FC (another club Arango played for), before following in Arango's footsteps to the Bundesliga, where he spent three seasons with VfL Wolfsburg but only manged seven appearances. He returned to the Primera División of Venezuela, where he logged 68 appearances and 15 goals across two seasons for Deportivo Táchira, helping the club to a league title last season. He also made eight appearances in Copa Libertadores last year.
Visit ThisIsCosmosCountry.com to read the full article.