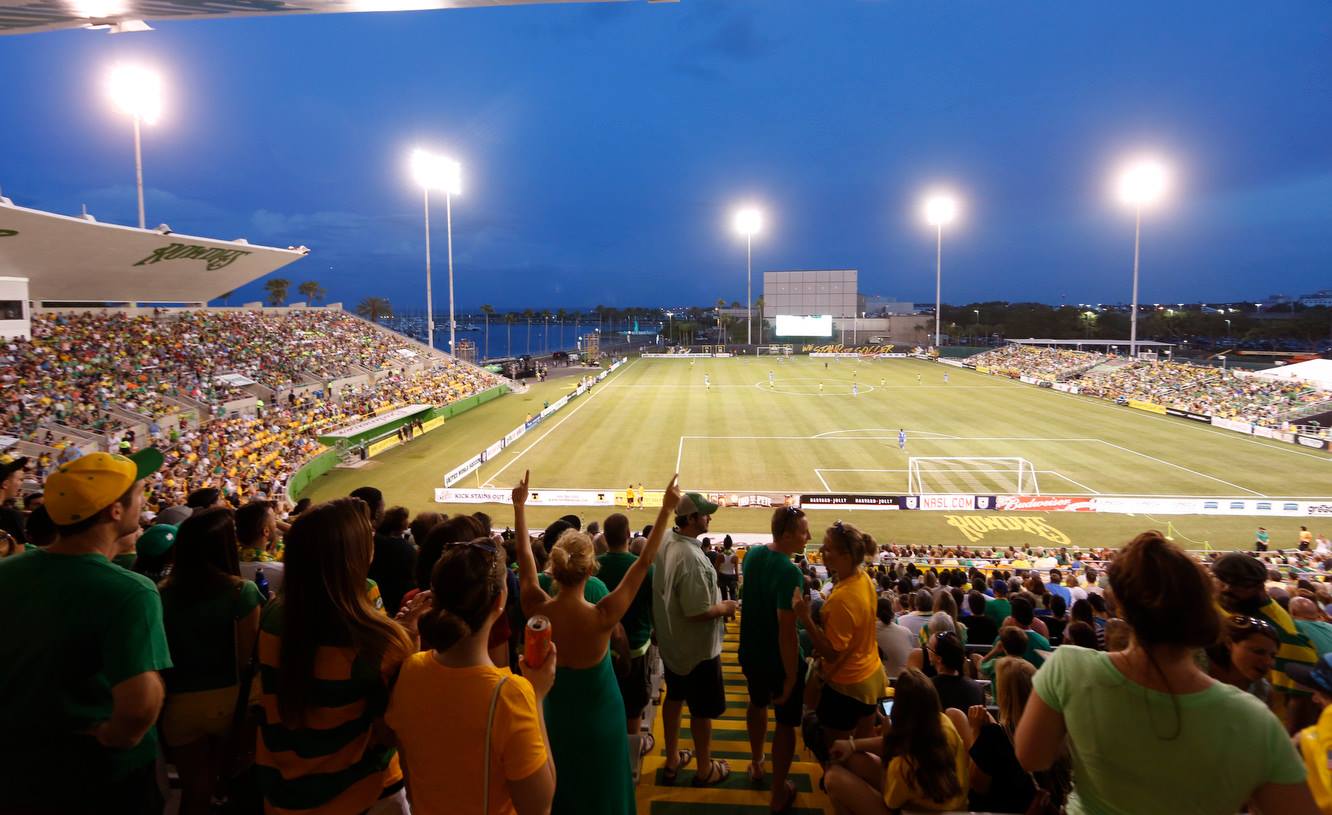 Pushing Your Team Forward: 5 Steps All Rowdies Fans Should Follow
With the new NASL season fast approaching, many Tampa Bay Rowdies fans are itching to get back into the stands at Al Lang Stadium to cheer on the Green and Gold. Great optimism seems to always rear its head during every offseason when the team makes a few head-turning signings, announces their upcoming schedule, unveils their new kits, and so on. However, there are also fans who feel that the club has plateaued not just on the pitch but outside of it.
Over the years, I've interacted with many of the Rowdies' most faithful supporters who either want to see the team join Major League Soccer down the road or just want them to be the best that they can be in the NASL. Regardless of where you stand, there are those of us who think that we the fans have very little to no say on the direction and future of our club. It can be easy to be cynical considering that we have an owner, Bill Edwards (whether you love or hate him), who is implementing his own vision of what he believes is right for the club, to the dismay of many. Of course, he is the one who has his own money on the line, but the fans are the ones who can take his investment to the next level. Let's not forget that we do, in fact, have a voice in all of this.
Whether you want MLS back in Tampa Bay, a new stadium, a rise in local popularity of the club, or all of the above, these are the steps that you can take as a supporter to ensure the Rowdies' future:
1)- Purchase Season Tickets – Just because you don't buy season tickets, doesn't mean you're a terrible fan. No one should criticize you if you cannot afford them or if you have legitimate reasons for not being able to attend most games. However, if you can, buy them as soon as possible. Apart from the extra perks and the savings you'll receive versus buying individual tickets on game day, they are one of the best indicators of success that a team can show local politicians and investors when looking to build a new stadium, as well as other improvements.
In fact, this is what helped Minnesota United FC convince local politicians to support their new stadium plan. The Loons had about 1,600 season ticket holders in 2014. That number more than doubled in 2015, which convinced skeptics that soccer could thrive in Minnesota and their stadium plan for St. Paul was approved. Yes, they were awarded MLS in early 2015 which can explain the substantial rise in season ticket sales; however, no one can argue against the fact that the number of season ticket holders was the main factor in pushing their stadium plan over the top. More butts in the seats mean a bigger bargaining chip, which takes us to the next step on this list. Visit their website at www.rowdiessoccer.com or call (727)222-2000 for more details.
2)- Invite Your Friends and Family to Games – Don't have any? I cannot help you there. If you are one popular guy or lady, give yourself a hearty fist bump; you can bring them along to enjoy the most unique sporting event in the Tampa Bay area, which is how you'll need to package the experience for them. Obviously, we all know through our own experience as fans that this is absolutely true. If they've never attended a soccer game in their lives, educate them a bit and then tell them why you go to games at Al Lang Stadium. Offer to buy their ticket for any game they're able to attend and, perhaps, a beer (You're welcome, Free Beer Movement!).
 The Rowdies' average attendance in 2015 was 5,648. Imagine if everyone had brought just one extra person with them last year; that alone would solve most of the issues this list was written to combat. Personally, I know quite a few people who became instant Rowdies fans after someone invited them to attend a home game. Some became season ticket holders and have paid it forward by bringing other first-timers to a match, thus completing the soccer supporter circle. Now, why do they get hooked? Is it the majestic, Zen-like play on the field? The beautiful smiling faces on those who walk up and down the concourse? Perhaps, but most people would likely point to the awesome atmosphere.
3)- Show Your Team Spirit – We wouldn't have one of the best stadium atmospheres at Al Lang if it weren't for all the fans who show up to bring the noise, wear the colors, and show their support for our players. You do not have to be a member of or stand with Ralph's Mob to support the team (even though I highly recommend that you do!). It doesn't matter where you're at in the stadium; don't be shy in showing your support. So, bring a flag, hang a word banner up on the railings, paint your face, stand out in the crowd, etc. As long as it's in good taste (for the most part) and in accordance with stadium rules, you'll be set!
 Now, showing your support for the Rowdies is not reserved just for game day. Show your pride by wearing your Rowdies gear as much as possible any day of the week. Prominently place that car magnet on your beloved ride where everyone in traffic can see it. Casual Friday at work? More like Rowdies Appreciation Day! The point is that you want to provide exposure for the club as much as possible. If people ask you any questions about the Rowdies, educate them. If you know them well enough, you can put step #2 into action right then and there.
4)- Attend Team Events – We all understand that you have a life outside of game day. You have a job, family, and your other social life that you need to maintain. A match day at Al Lang Stadium is your temporary escape from all of that. Besides home games, a new kit unveiling party, player appearances, and away game watch parties are just some of the events we'll very likely see this year. Do your best in trying to attend these events. Many of them are done in tandem with a team sponsor, so you'll want to go and show your support. Good attendance at these events will not only help to reinforce the sponsor's partnership with the team, but it may actually encourage other suitors to want to throw their hat into the sponsorship ring. Having more sponsors equals more money coming into the club and this can have positive implications for the future.
Also, it's important that you attend public meetings involving the city or county council that concern the team. With recent rumblings about the future of Al Lang Stadium, you'll need to show your support by attending these meetings when you can. When there's more visible support for the team seen at these meetings, it can help influence the powers that be. Your attendance is their reminder that support exists for what they're voting for, which can be louder than anything you voice.
5)- Use Social Media – If you are looking to get the latest news and updates from the Rowdies, there's really no better way than through social media sites like Facebook, Twitter, Instagram, and Snapchat. You obviously know this already since you likely came across this article via social media. What you may not have noticed, specifically on Facebook, is that there are a number of other public and closed (reserved for Tampa Bay fans only) group pages that focus on everything that has to do with the Rowdies or Tampa Bay soccer in general. These are great places to share your opinions and ideas with other fans while, at the same time, strengthening the ever growing soccer community in the Tampa Bay area.
It won't take you long to find people with opinions about the team on Facebook and Twitter, so don't feel like you'll be the only person with one. Let your fellow peers, or even the team itself, know how you feel about a certain issue. How will they know if you don't say anything? Through this medium, you can also interact with local politicians and media. You can bring certain issues up to them directly that concern the team. With all this being said, the one thing I want from all of you is to be civil. Do not be a troll and do not attack others because they do not share your opinion! Many times, you'll just have to agree to disagree with others.
The things noted on this list are by no means exclusive to Tampa Bay Rowdies supporters. If you're reading this but support another club, by all means use this information to help reinforce your resolve as a fan. Professional soccer in North America will remain unsteady unless all fans do their part to strengthen their respective club.
You need to realize that you are an important part in the existence of the team that you support and you have more power than you realize to get things done. It's not easy by any means, but if you really want to see things advance and improve, you will have to do your part. Don't wait for things to just fall onto your lap. If each of us pulled our own weight, the pay off can and will be grand.
Sources:
http://www.bizjournals.com/twincities/blog/sports-business/2015/04/minnesota-united-season-tickets-sale-surge.html