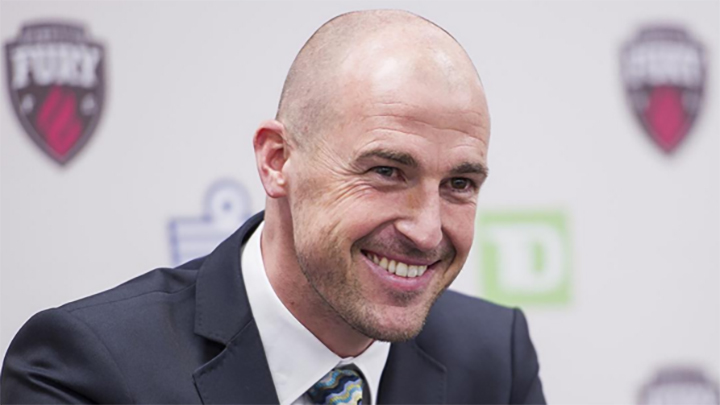 Dalglish Unleashed Part 2: Turnover
Welcome to Part 2 of Dalglish Unleashed!   A three part interview series with Ottawa Fury manager Paul Dalglish.  Part 1 – The Beginnings covered Paul's journey into coaching and his football philosophy.  Here in Part 2 will we take a look at the turnover seen at Lansdowne Park this off season, and how Dalglish has replaced key squad members. Part 3 is going to examine Dalglish's tactics and how he hopes to line up for 2016.
Dalglish Unleashed: Part 2 – Turnover
Exodus 
When Paul Dalglish was named the new Ottawa Fury manager, it was on the heels of devastating 3-2 loss to New York in the NASL Championship Final.  The club had outperformed all expectations and at times out played teams that paid more for a single player contract than Ottawa spend on their entire teams salary; and the coach it was all accomplished under, Marc Dos Santos, had already announced his departure.   By the time Paul Dalglish started his job with Ottawa, he already had three transfer requests placed on his desk, all by key starting players.   It wasn't the easiest of starts.
"When I first came in I didn't expect there to be as much transition as their was." Dalglish explained.  "If I thought about it, I probably should have expected it really, because it's every single team in the league that's having the same amount of roster turn over."   Fury received transfer fees for a few players this off season, giving them more money to put towards the players budget.  "It's normal at this level, but the one thing is that if a player comes and sits down and looks you in the eyes and tells you they don't want to be here because they want to earn more money somewhere else, and you can receive a transfer fee for that player that allows you to strengthen the squad like we have done, then when you take emotion out of it, it makes business sense to make that deal happen."  Dalglish explained the importance of moving a player who has requested a transfer; "One; you've got more money to spend on the team, and two; you're not paying a player that doesn't want to be here."
Dalglish explained that although Ryan Richter, Richie Ryan, Colin Falvey and Sinisa Ubiparipovic handed in transfer requests, he doesn't blame any of them for their decisions, its simply just part of the game. "I understand Richie Ryan and Colin Falvey's reasons for wanting to go, I understand Ubiparipovic and Richter's reasons for wanting to go. Falvey and Richie Ryan were financial reasons, and I get it. We even helped them achieve it, but it was on our terms." Dalglish said.  At the time of Ryan's move to Florida, it was reported by Chris Hofley of the Ottawa Sun that Fury had in fact knocked back a few offers from Jacksonville for the Irishman's services, meaning Fury weren't ready to let their club captain go unless it was for the right price.  Falvey appeared to have an exit clause in his contract that would have allowed him to leave Fury for a team outside North America, but he opted to stay in Ottawa past the clause's expiration date, allowing Fury to collect a transfer fee for the Irishman when he moved to Indy Eleven.  Both Ryan and Falvey had strong 2015 seasons and were offered much more lucrative contracts within the NASL.
The Replacements
Dalglish feels as though the club have done a good job replacing those who left.   Its not easy to lose your club captain and central midfielder, its not easy losing half of the center-back duo that set defensive records, or the right back who played every minute of every game.   For a lot of fans, it seems like replacing this players may be near impossible, but Dalglish feels as though he has done a great job doing so so far, and that the players he has replaced last years with are younger, stronger and much more athletic.
"If you start looking through the team, we have replaced all the players with younger players" Dalglish said as he broke down his signings thus far.  "We have replaced Ubiparipovic, who was 32 with a player who is 27 in James Bailey. We've replaced Richie Ryan, who was going to be 31, with Jonny Steele who is 29. We have replaced Falvey with Timbo who is 24.  Jonny Steele has played in the MLS and played for his country. James Bailey has played in the Championship and was bought for a lot of money for Derby. Timbo was under contract with Coritiba in the top division in Brazil. We have replaced players with younger high profile players. Unfortunately that is the nature of it, players will come and go but the fans and the club need to remain constant"
While Dalglish was explaining his new signings, you could tell that these are players that the Scotsman is excited to work with.  With more of a budget to play with in Ottawa than he had at Austin, Dalglish feels as though he not only has the opportunity to put together a strong team, but also a team that can play exciting, entertaining football.   He discussed the athleticism in his new signings, describing Obasi and Porter as big and fast, Balchan as very athletic, and over all the squad is very versatile.   This was Paul's goal, allowing the club to keep a small roster number (20 minimum, 21 maximum, rounded off with academy youth) means they can spend more on the players contracts that they do have while being able to play people in multiple positions.   Players like Kyle Porter can play forward, wing or full back, meaning when the injuries start to pile up, as they always do, the squad has reasonable coverage.
Dalglish believes that it is still a learning process for a lot of Ottawa Fury fans and supporters, as many are not used to following a team that has such high turn over, but he had this to say; "Its a two year old franchise. I think people are still learning what it means to be a supporter of an NASL team.  One of the most important things is to support the team first and foremost. The individuals will come and go, the coaches will come and go, the players will come  and go. The fans and the club are the only things that remain constant. So the fans and the club are the most important thing.  It's just the level we are playing at."
Fury fans may get a chance to see some of these new signings during pre-season, which Dalglish says should be announced any day.  It will be up to the players to earn their starting spots through pre-season, but it certainly appears as though Dalglish is excited to get this team training and see what they are capable of.    To see how Dalglish plans to line up tactically, and the type of football Fury fans can expect this year, stay tuned for Part 3 of Dalglish Unleashed only on Midfield Press!