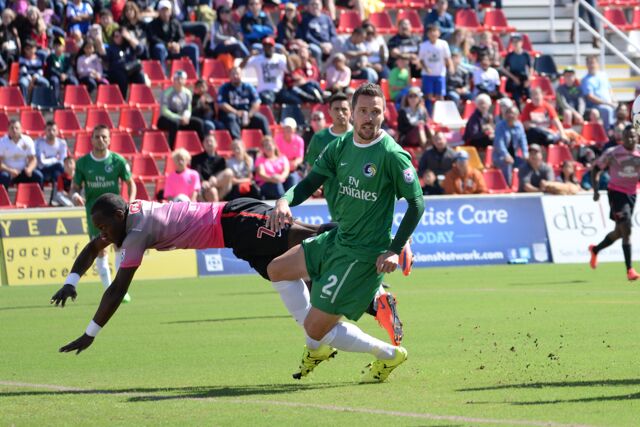 Recap: Cosmos stomp Scorpions, stay alive for top spot
San Antonio Scorpions 1-2 New York Cosmos
Goals:
43' – Billy Forbes (SAS) – Assisted by Omar Cummings
62' – Marcos Senna (NYC) –Penalty Kick
78' – Ayoze (NYC)
Cautions:
32' – Hunter Gorskie (NYC)
41' – Zourab Tsiskaridze (SAS)
89' – Walter Restrepo (NYC)
89' – Nana Attakora (SAS)
Substitutions:
63' – Lucky Mkosana in for Gaston Cellerino
70' – Giuseppe Gentile in for Omar Cummings
70' – Rafael Castillo in for Marvin Chavez
73' – Eric Hassli in for Joseph Nane
75' – Andres Flores in for Raul
90' – Sebastian Guenzatti in for Walter Restrepo
Highlights:
[youtube http://www.youtube.com/watch?v=peTV43TkAoo&w=560&h=315]
Major Themes:
The Cosmos entered the match needing a win to stay within reach of the first place spot in the combined table. Despite being out played for large portions of the game and having their right side repeatedly exposed, they were able to force a win through a questionable penalty and a perfectly hit free kick. The win keeps the Cosmos two points behind the Fury as they head into the final week of the season.
The Scorpions were mostly playing for pride and to be the spoiler. They nearly accomplished it as Billy Forbes found the net first and the Scorpions looked the better side for much of the match. However, the rest of the Scorpions offense failed to support Forbes' efforts and their offensive substitutions did not make any impact at all. The game concludes their home matches for the season.
In Form:
Billy Forbes – The midfielder was a terror on the right, forcing a professional foul from Hunter Gorskie to save an earlier goal before finally finding the net after shaking off Hunter Freeman to beat Jimmy Maurer. He was a threat throughout the night and really exposed the right side.
Ayoze – The fullback is often a threat and pushes deep and did the same in this match. His performance culminated in his first goal of the season, a perfectly hit free kick off the goalpost and in.
Liabilities:
The Hunters – Freeman and Gorskie looked exposed on the right side. Gorskie required a yellow card to kill a potentially dangerous chance by Forbes and Freeman's coverage was shedded by Forbes just prior to the opening goal. This will bring up questions on the Cosmos right side defense as they prepare to enter the playoffs.
Gaston Cellerino – After two strong matches from the Cosmos' newest striker, Cellerino's form took a notable dip and was unable to muster a shot that would seriously threaten Daniel Fernandes. Cellerino was removed at halftime.
The Scorpions attack – Billy Forbes aside, the rest of the Scorpions offense was a letdown. Kris Tyrpak's effectiveness dropped in this match after his immediate impact in his first two games with the club, Omar Cummings remains toothless, Marvin Chavez did not seriously factor and the Scorpions subs (Giuseppe Gentile, Rafa Castillo, Eric Hassli) were ineffective.
Lessons Learned:
Gaston Cellerino should not start a game again without Seba Guenzatti in the starting XI. After two strong performances and clear chemistry between the two, Cellerino's form immediately faded.
Cosmos desperately need to secure the right side of their back line. Depending on who they face in the playoffs, that flank could be badly exposed.