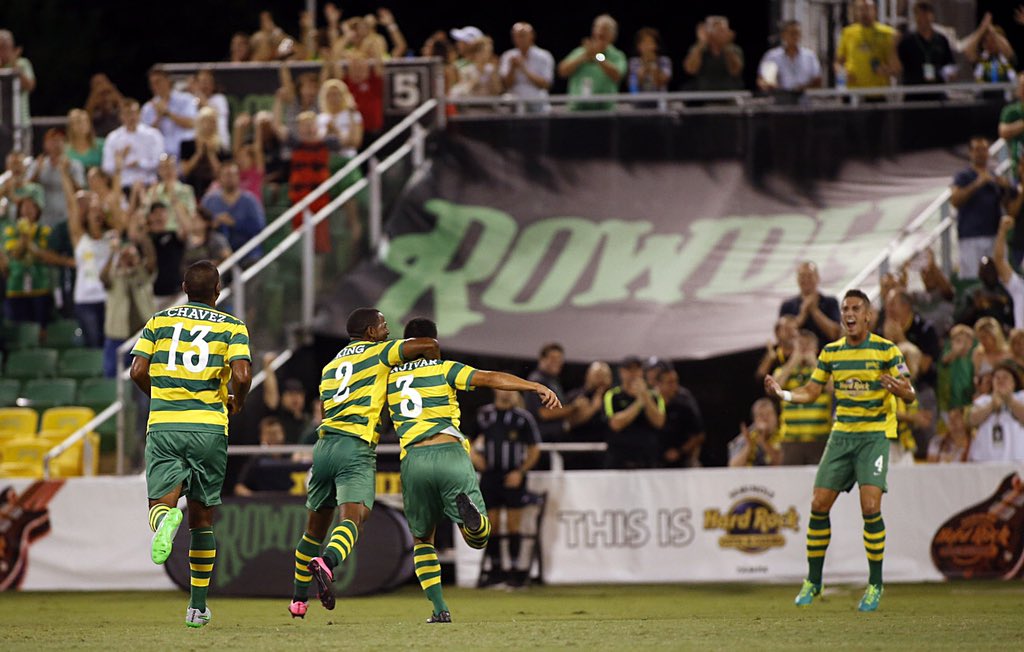 Recap: Rowdies Pull Off Win in Home Finale
Tampa Bay Rowdies 1 – Carolina Railhawks 0
Location: Al Lang Stadium, St. Petersburg, FL
Cautions:
TBR – None!
CAR – None!
Substitutions:
TBR – (F) Santos for (F) Hristov 60'
(M) Saragose for (M) Adu 90'
CAR – (M) Jackson for (M) Engel 46th'
(M) Thompson for (M) Perez 74'
(M) Catic for Osaki 82'
Goals:
12′ – Menjivar (TBR)
Highlights:

Major Themes
– The Rowdies just have a way of winning at home. Even when they're not the better team. Unfortunately for them, they will not see Al Lang again for the rest of the year.
– A lineup and formation change for the Rowdies was both welcome and telling for the future of several players. More of that below.
– For once, the referees weren't terrible. Jose Carlos Rivero let both teams play pretty loose and kept control of the game through cautions and fast turnaround. A welcome change of pace from what we've seen most of the year.
– Carolina will be going through a transition both on and off the field, and this seemed like a team that was simply looking forward to the offseason. While they challenged several times, the lack of hunger was apparent from the start.
In Form:
M – Richard Menjivar – For once, Menjivar was not out on international duty, and his presence was felt early in the game. Picked up from a trade with San Antonio that sent defensive depth in Brad Rusin away, Menjivar has been solid in the games he has been present, but is often called away to represent the El Salvador National Team quite frequently. Fortunately for the Rowdies, the international experience has helped the 24 year old midfielder gain vision and exposure that he has brought back to the team.
M – Freddy Adu – What superlatives haven't been said about Freddy at this point? His play as the #10 directing the field was far above the level of talent that we see anywhere else in the league. However his fantastic work has only highlighted a serious lack of skill at the #9 / striker role, because each opportunity to score has been wasted on terrible play up front. The Rowdies reportedly have a 1 year option on his contract and the fans are begging the front office to exercise it immediately.
GK – Hunter Gilstrap – No one knows why Gilstrap was given the nod over stalwart Akira Fitzgerald, but save for the one missed goal, his performance was still above expectations. He was able to block several great and several weak shots as most keepers are expected to do, but was let down by a porous defense and struggling midfield that allowed a lot of penetration into the final 3rd of the field. Still, his play was worth of recognition and praise.
Liabilities:
M / F Georgi Hristov – We don't know how many times we're going to have to say this, but the Georgi we saw on the field Saturday, is not the one we saw at the beginning of the year, let alone over the past few seasons. He lacked a killer touch, seemed indecisive and timid in the box, and gave the ball away far too many times. Head coach Stuart Campbell may have thought that moving him to the top of the formation may give him the opportunity to shine and shake off a sincere lack of effort from previous games, but that experiment lasted a grand total of 60 minutes before finally and mercifully being ended. In the final year of his contract, it will be surprising to see Georgi start for the Rowdies again, let alone suit up. Fans may adore him, but his production on the field in the fall has been nothing short of awful.
M Tiyi Shipilane – Railhawks head coach Colin Clarke had every reason to be upset with the Jamaican National Team for pulling his leading scorer away during the year, as he would return far more fatigued and out of sync with the rest of his team. Shipilane has been an absolute standout for Carolina all year, but carrying two teams has taken a toll on him both physically and mentally. He simply looked exhausted most of the game, and without a significant amount of talent around him, buckled with the weight of the entire squad on his shoulders.
D Futty Danso – The normally stalwart defender simply had an off night where his presence just wasn't felt. Unfortunately Danso is 32 and with a change in ownership, the Railhawks may look to upgrade their defensive spine in 2016, leaving him in limbo.

You Won't See On The Highlights
– The Rowdies lack of depth – Despite having one of the largest rosters in the league, no one can reasonably look at both the strikers / forwards and say who the definitive starter should be, or name anyone on the defensive side who is capable of stepping in should a player go down. The release of Gale Agbossoumonde and Omar Salgado seem incredibly short sighted right now.
– Injuries are eating up the Rowdies – With Juan Guerra out, Maicon Santos reinjuring his foot, Marcel Saragossa's hamstrings made of old rubber bands, and the absence of Zach Portillos / Keith Savage due to season ending injuries, the Rowdies find themselves in a position no one would have thought they would ever be – worried about depth. Still one of the most talented rosters, it has been an inconsistent one at best throughout the year. Hopefully head coach Stuart Campbell has found the right combination of players to make a last grasp at the final playoff spot, and find a win in New York this weekend.
Lessons Learned
– The Rowdies can win at home, they can win on grass, but they consistently fall short on turf while on the road. Everything hinges upon their success in New York this weekend. Win, and they're in. Lose, and they're done. Tie, and you pray that Jacksonville takes care of Ft. Lauderdale in decisive fashion, because a draw gives the Strikers the final playoff spot thanks to goal differential.