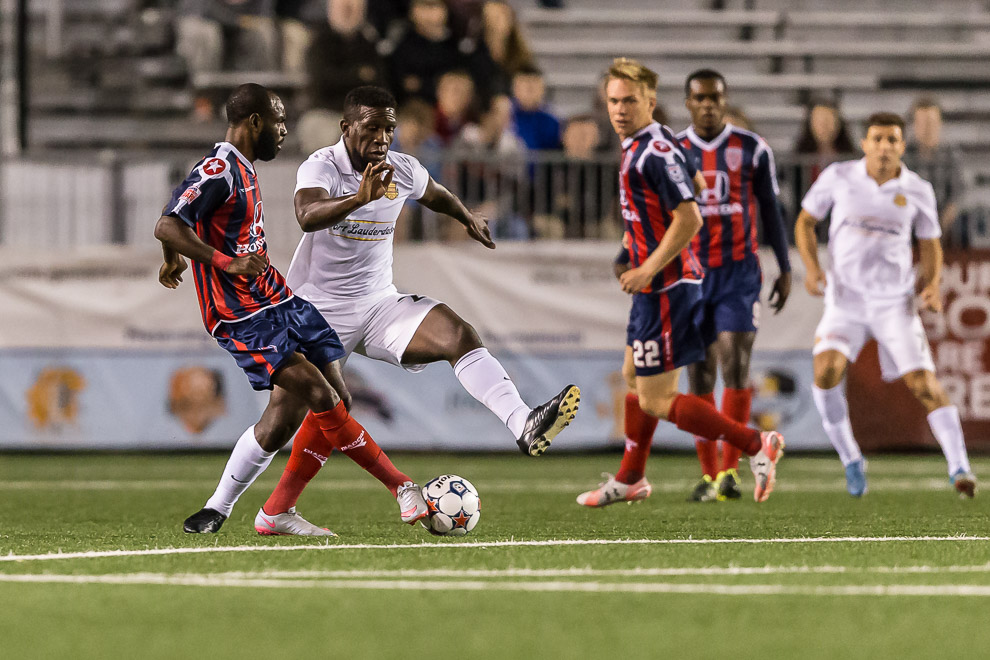 Recap: Indy fells a giant as Strikers drop invaluable points
Indy Eleven 2 – 1 Fort Lauderdale Strikers
Goals:
– 19′ Don Smart (IND)
– 43′ Brian Brown (IND)
– 59′ Jose Angulo (JAX)
Major Themes
– Indy had the run of the midfield in the first half and dominated the ball, keeping Strikers keeper David Meves' hands full. Don Smart and Brian Brown produced two excellent goals to put Indy ahead 2-0 at half-time. Fort Lauderdale produced a few "if only" moments likeShawn Chin's backheel pass to Freitas (ruled offside) but in general the Floridans looked out of their depth.
– During his half-time interview, Fort Lauderdale coach Gunter Kronsteiner had the helpless look of a dad who's children were throwing a tantrum in an airplane. He made two changes to begin the second half including bringing on Jose Angulo who ended up scoring the Strikers' lone goal. Fort Lauderdale did put up a far more impressive showing in the second 45, pressuring Indy's defense who seemed to fall back.
In Form:
– Brian Brown (IND) – For a second game in a row, Indy's man up top looked threatening with a very high workrate. He scored a perfect header off a Mares free kick to give Indy their second. Brown almost scored a spectacular second goal right before half time but the referee called the play back for hand ball.
– Zach Steinberger (IND) – The loanee remains one of the NASL's most impressive acquisitions in 2015. While he didn't directly impact the scoresheet in this game, Steinberger did create several chances and keep the Strikers defenders busy.
– Jose Angulo (FTL) – The lone bright spot in the Strikers' performance, Angulo once again showed his super sub stripes by scoring after coming on in the second half. It's worth noting that Angulo's scoring efficiency is a goal every 130 minutes played while Pinho scores every 140 minutes.
– Kristian Nicht (IND) – Das Boot has had his fair share of blunders over the course of this year but he was in fine form in this game. Of particular not is a jumping save he made when Dani Sanchez took a spectacular shot from the halfline.
Liabilities:
– The Strikers' Midfield – Once again Fort Lauderdale have shown they are simply not up to task to replacing PC. They have lost every single one of the three games they've played without him (10/26 – MNU, 10/21 – SAS, 10/25 – IND). The Strikers once again looked sluggish and unable to produce the fast flowing soccer that's been the key to their success this year. Indy had their run of the midfield and overran the Striker's defense as a result.
You Won't See On The Highlights
– Kleberson (IND) – You won't see him on the full match tape either. Indy's marquee signing Brazilian is now 90 minutes from having missed the entire 2015 season injured.
Lessons Learned
– Woe be to Indy's late season opponents – Last year Indy went unbeaten in the last 5 games of the season with 3W-2D-0L. This year they're 2W-2D-1L in their last 5 with one more to go.
– Fort Lauderdale's fate now rests in the Cosmos' hands – New York must take points off the Rowdies for the Strikers to make the playoffs. Fort Lauderdale sit one point behind Tampa with only one game to go for both teams. Even if Tampa cannot win their game, the Strikers face the daunting task of defeating Jacksonville at home.