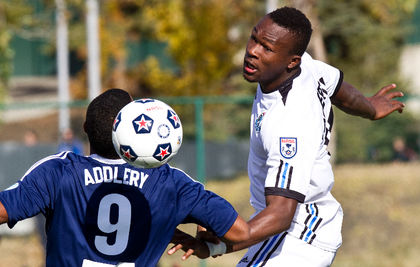 Recap: FC Edmonton grab late goal to draw Armada
FC Edmonton 1-1 Jacksonville Armada
Goals
Watson (OG) – 77′
Roberts – 90′
Highlights
Major Themes
After a loss to Ottawa Fury midweek, Jacksonville were officially eliminated from playoff contention, along with FC Edmonton who fell just short.
FC Edmonton were playing their last game of the year as they have a by-week on the final matchday of the season.
Jacksonville went ahead when Watson deflected a ball into his own net
Edmonton would go down a man in the 67th minute when Jones would lash out at Barrett violently.
Roberts grabbed a late goal for FC Edmonton to draw them level to finish of their season.
In Form
Roberts header was perfectly placed into the top corner of the net, out of reach of diving Sierra.
Johnson was dangerous down the left flank and although his shot was deflected for an own goal, his run to get into the position was well timed and won.
Liabilities
Jones apologized after the match for kicking at Barrett in the 67th minute.   Jones was already on a yellow car and earned his red through unnecessary violent conduct.
Lesson Learned
FC Edmonton were close to earned a spot in the NASL Championship, however they were unable to hold onto their strong start to the Fall Season and push for fourth position.
Jacksonville Armada have one game remaining and will be looking to save face by earning a win and avoiding finishing last place in their inaugural season.